No more slip-ups allowed as PSG crash out of Coupe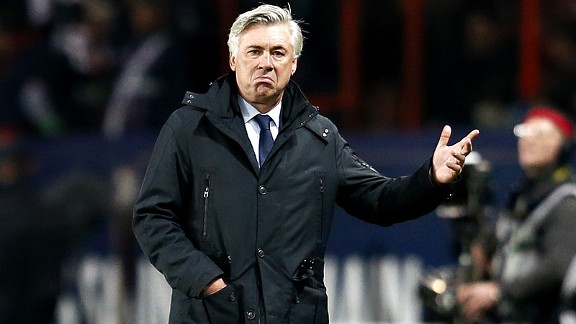 Kenzo Tribouillard/AFP/Getty ImagesA loss in the Coupe de la Ligue means less potential silverware for Carlo Ancelotti's PSG side. It also means increased criticism for the Italian boss.
Despite a dominant performance at the Stade Geoffroy Guichard, Paris Saint-Germain were frustrated by a stubborn Saint-Etienne side and eliminated from the Coupe de la Ligue on penalties after 120 minutes of stalemate. While not entirely surprising given the nature of the match, the defeat is bad timing for Carlo Ancelotti's men as it now puts them under tremendous pressure ahead of Saturday's tricky visit to a improving Nice side under Claude Puel, and then the Group A showdown with Porto in the Champions League on Tuesday. The result now raises questions of the overall team chemistry given the presence of Zlatan Ibrahimovic on the pitch for the defeat, coming just days after inspiring his team to shake off talk of a 'crisis' in the capital.

Coach Ancelotti was philosophical about the defeat: "We just couldn't score when we had the chances. My team was good, and so was the football we played. I have no complaints of the players. We're disappointed with losing but the team carried themselves very well."

Opposing goalkeeper Stephane Ruffier in particular was PSG's nemesis, saving Brazilian defender Thiago Silva's spot-kick in the resulting penalty shootout. Ancelotti though refused to blame his players, instead crediting les Verts' determination.

"Ruffier is a good goalkeeper, he played very well, but then again all the Saint-Etienne players did," he said. "It was an entertaining and balanced match, and they won on penalties. Good luck to them."

While Ancelotti's comments are true and the team did in fact play some good football at times, a nagging persistence remains that this team is still not reaching its full potential. Criticism has been aimed at the Italian in recent weeks which is absolute folly, it takes more than a few months to construct a successful team and nobody can debate his track record as a tactician. The problem currently is that the capital club needs time to mature and critics are too quick to poke holes in the team's results because of their star names.

Despite the disappointing result at a relatively crucial stage of the campaign, it is worth noting that Ibrahimovic and one of PSG's better performers on the evening, Ezequiel Lavezzi, have yet to play five matches together. Still, they were able to put in an impressive showing in attack despite a lack of goals and are showing signs of striking up a strong understanding. The fine tuning between the two will prove to be the difference so balls like the Argentine's overhit pass to Ibra in extra time on Tuesday night will next time result in a perfect ball for the Swede to sweep home. It is not far off, it just requires time and games.

The exit from the Coupe will no doubt prove costly, not only in terms of players wanting to leave because of further limited first team opportunities but also because of the pressure it now puts on Ancelotti. The Coupe was by no means the club's priority at the start of the campaign but the exit now means that there is one less potential piece of silverware to play for in what would have been a favourable last four had PSG won in the Loire. Ancelotti won't be under pressure from the club's hierarchy just yet, but if les Parisiens lose their grip at the top of Ligue 1, then questions will start to be asked of the Italian no matter how ludicrous that sounds. Antoine Kombouare was booted for less.

For the moment there is no need to panic, a strong victory over Nice and top spot at the expense of Porto next week will erase the disappointment of the defeat. But given that Lyon and Marseille meet later on Wednesday with the winner re-taking top spot from PSG, no more slip-ups can be tolerated if Ancelotti wants to avoid any further 'crisis'. Rome wasn't built in a day but modern football owners don't have the same sort of patience. Time is money, and Ancelotti will know this better than anyone with speculation over Jose Mourinho's future at Real Madrid raising the possibility of the Portuguese's arrival in Paris once more. Mourinho is the man who can guarantee success in a relatively short space of time, and Ancelotti is someone who knows all too well the consequences of finishing second best once too often.