How's Zlat? Ibra Makes Teammates Better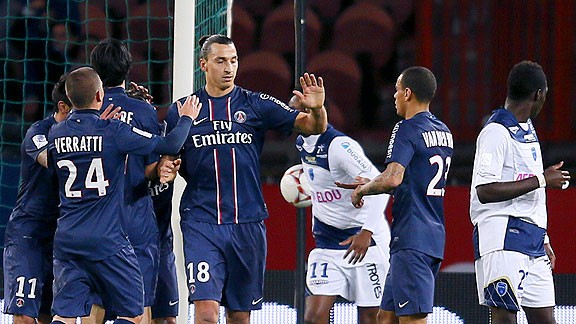 Kenzo Tribouillard/AFP/Getty ImagesZlatan Ibrahimovic is the straw that stirs the drink for PSG
It wasn't pretty, not as straightforward as the scoreline suggested, but Paris Saint-Germain extinguished all talk of Carlo Ancelotti's self-proclaimed 'crisis' to batter second-bottom Troyes 4-0 at Parc des Princes Saturday.

Fresh from his two-match break following his red card at home to Saint-Etienne at the beginning of the month, Zlatan Ibrahimovic put in a sumptuous display that did no favours to the argument that PSG cannot function without him right now, but provided three much-needed points for the French juggernaut.

- PSG end 'crisis', rout Troyes

Ancelotti can breathe easy after Ibra ran the show from start to finish, scoring twice and providing the other two in the rout moving the capital club back into top spot in the process, albeit temporarily. However, the Italian can also take solace from the impact the Swede has on the players around him when on the pitch. It is not just goals, assists and sublime skill that Ibrahimovic brings to the pitch when he plays; his mere presence lifts his teammates and challenges them to play at and above their highest level.

Take Marco Verratti, for instance. In recent games he has looked less assured and composed than in previous games. Ancelotti recognised this and noted his frustration with the diminutive Italian. That is not to say he has been poor in Ibra's absence, it is just that he looked far more in control, calm and collected against Troyes with the Swede alongside him, with the exception of a poorly timed challenge on PSG loanee Jean-Christophe Bahebeck which earned him a yellow card.

The same can be said of midfield partner Blaise Matuidi. Without the Swede on the pitch, the Frenchman's game is stunted and incomplete. But add the former AC Milan man's magic service touch and Matuidi is back on form and scoring from midfield. It is no coincidence the former Saint-Etienne man has scored three times this year and each time alongside Ibrahimovic. Perhaps it is more of a coincidence each time he has struck PSG won 4-0.

It is impossible to look past Ibrahimovic in a result like this because his impact is massive. Many questions were asked at the start of the season: Can he do it on a regular basis?; How will he motivate himself when faced with some of the league's lesser lights?' Those critics got their answer Saturday. Much is made of the so-called Ibra-dependence in Paris, but with a player of that calibre, it is hard to not single him out as the difference between a good PSG side and a distinctly average to bad collective of incoherent talent.

As Patrick Vieira said about him earlier in the week, Ibra is a winner, and his trophy collection and impressive list of former employers vouch for a truly special talent. Les Parisiens bought him for a reason and his is repaying their faith in spades and is the genuinely reliable, match-winning talent that Ligue 1 has rarely seen the likes of in recent past decades. He is doing what he does best; time now to leave the Zlat alone.

Whilst the talismanic Swede rightly enjoys the plaudits for Saturday's victory, credit is also due to Ezequiel Lavezzi and Maxwell in particular who were superb. Despite still not being fully match-fit, Lavezzi continues to work hard and it is impossible to not compare his and Jeremy Menez's work rates sometimes. The Argentine is so hard-working and determined (compared to Menez's often sauntering demeanour), with PSG now beginning to see the player that they paid so handsomely for this summer, grafting his way back into Ancelotti's side.

Maxwell, an unsung hero in defence this seasonm has now contributed two important goals in the last three matches and his presence on the left wing not only gives les Rouges-et-Bleus width, but also gives them balance at the back. The fact he was deployed in a more advanced midfield role against Troyes and found the net again is perhaps Ancelotti's way of solving the issue of the fullbacks by deploying a static Sylvain Armand, who almost acts as another centre-back.

All things considered though, it was a massive three-point haul for Ancelotti's side and it puts pressure on Lyon, Bordeaux and Marseille to keep their form going knowing Ibrahimovic will continue to fire PSG up the table. Now for Ibra and Co. to take that form into the Coupe de la Ligue clash with Saint-Etienne next week - another must-win, for very different reasons.