The Marmite man: Zlatan Ibrahimovic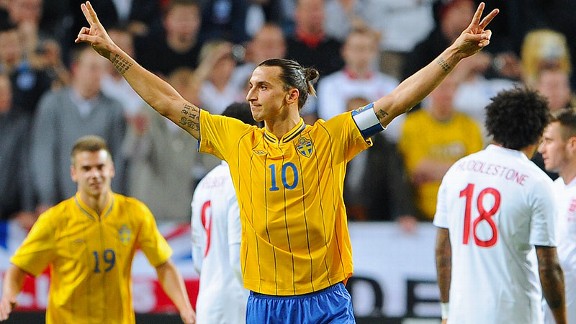 Michael Regan/Getty ImagesZlatan Ibrahimovic: Has proven himself in numerous leagues
Zlatan Ibrahimovic is like Marmite. You either love him or you hate him. Fans of Italy's Serie A revere him following spells with Juventus, Inter and AC Milan but equally Barcelona fans despise the player that despite only playing in Spain for one season, left for a second stint in Milan with 16 goals, a La Liga and FIFA Club World Cup title to his name.

- Ibra: England should respect me now
- Marcotti: Why does Ibra get so much stick?

Now with Paris Saint-Germain, Ibrahimovic has made an explosive start to life in France netting 12 goals in 14 games in all competitions and demonstrating his incredible ability with a string of devastating displays. His acrobatic wonder goal against England whilst on international duty for Sweden on Wednesday is being hailed by many as "one of the best goals ever seen" yet his detractors still insist that Ibra is not the world-class striker he is made out to be.

The Swede though is the only representation from Ligue 1 on the shortlist for the Ballon d'Or and, whilst he may likely stand no chance of beating Lionel Messi, Cristiano Ronaldo, Xavi or Andres Iniesta to the top prize, Ibrahimovic must surely be in with his best ever chance of success next year if he can maintain his superb form in the capital. Be it domestically, continentally or internationally, the towering striker has been in inspired form so far this season and building on last season's 28 goals in Serie A, he appears to be at the peak of his powers.

In a recent interview though, Ibrahimovic stated otherwise: "The results so far have been good with PSG, I'm scoring goals and providing them for others. I think it's been a good start for me even if I'm not 100% fit yet, mostly because I missed pre-season. I've been playing every three days since and my suspension has given me some rest. I think I can still raise my level and I know I can be even better."

If Ibra feels that he can do better, that is an ominous thought for Ligue 1 defences given his current form. Despite the odd off-day domestically, the Swede has generally been in superlative form and of the 10 goals he has scored, six have been match-winning and only one was a penalty (to rescue a draw at home to Lorient on his debut). Ibrahimovic has accounted for 56% of PSG's goals so far this term, and in the league he has scored a goal a game with 10 from 10. The 31-year old has been named Swedish footballer of the year for the seventh time in eight years (sixth consecutively) and believes that his experience in France is different to any other challenge he has faced in his career to date.

Speaking on Ligue 1 he said: "It's more tactical than it was in Italy and the game is more physical here in France. Every time I play in Ligue 1 I feel that everybody is as big as me and sometimes even stronger than me. They don't stop running! Maybe there's a less of a tactical culture here but that is not necessarily a criticism."

Ibra's sensational four-goal display against England on Wednesday rubbished press claims that the Swede has never managed to perform against a "big" club, notably the English sides in the Premier League. Whether all English sides are the benchmark for such a claim is beside the point, but he has won five titles with different teams across three separate countries so far. Following his goal against Dynamo Kiev in September, he has now scored for six different clubs in the Champions League. Still without European football's top club honour to his name though, it is undoubtedly the next aim for the mercurial talent.

For now though, Carlo Ancelotti's side will have to do without their star man when they welcome in-form Rennes to the Parc des Princes at the weekend. The Italian welcomes back a handful of players from untimely international action, but Ibrahimovic's goal undoubtedly provided the highlight of the midweek games. PSG though need to put his importance aside this weekend to beat Frederic Antonetti's men who, after a slow start this season, now are the form team in the division with five wins from their last six games. Once the two-game ban expires though, a rested and fully fit Ibra will return just in time for the thick of PSG's most challenging period of the season.