Some perspective needed for PSG critics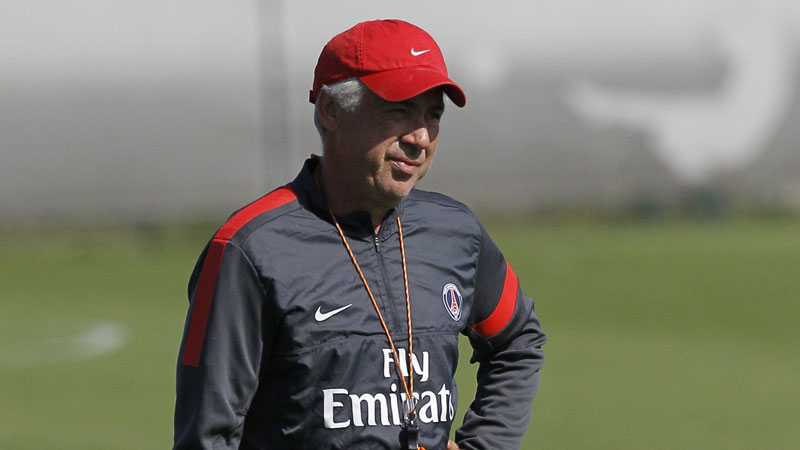 PA PhotosCarlo Ancelotti has done well with an overhauled side
So after 12 games, Paris Saint-Germain remain top of Ligue 1 with 23 points following Sunday's 1-1 draw in Montpellier. Second and third-placed rivals Marseille and Lyon are a point behind with a game in hand, but that match is the 'Olympico' which was postponed at the end of October meaning that only one of the pair can usurp the capital club. Regardless of that fact, both OM and OL have looked vulnerable at times so far this season, and if one side can capitalise on the rearranged fixture at the end of the month then Carlo Ancelotti's men will feel confident of being able to reel them in - Lyon in particular, as PSG prepare to entertain them at the Parc des Princes in mid-December. So why is everybody starting to question les Parisiens' title charge before it has even reached the mid-way point?

- Honours even amid polarising fortunes

Much has been made of the fact that PSG currently have a worse points total than at the same time last year under previous coach Antoine Kombouare. Indeed, the team are six points worse off, but by that point, eventual champions Montpellier were already breathing down PSG's necks on 26 points and Kombouare's side were not playing Champions League football. The difference between this year and last is down to the wholesale changes that Ancelotti has made since taking over, a point illustrated by the fact that PSG's team to face la Paillade on Sunday only featured four members of the side that won there so convincingly last September.

Worth remembering is that the six points that currently prove the difference were dropped in the first three games of the season when the team was still finding its feet and suffered consecutive draws against Lorient, Ajaccio and Bordeaux. Regardless of the quality of the new arrivals, it would have been unreasonable to expect the team to hit the ground running despite plenty of pre-season hype. The fact that Zlatan Ibrahimovic has so far managed to plunder 10 goals in his first 10 games demonstrates an impressive adaptation to life in Ligue 1 for a side now filled with players who, prior to this season, had no experience of domestic French football.

Speaking after Sunday's draw, Ancelotti said: "The team played well, we worked hard and were disciplined, showing a lot of intensity. It was difficult for us after Sakho's red card, playing 60 minutes with ten men isn't easy. I'm disappointed because, even with ten men, we put in a good performance and created chances. I can't criticise the players as they worked a lot."

It is that work rate that has seen PSG recover a slow start to the campaign to take the lead at the top of the table. Ancelotti's side are well-drilled and show more tactical discipline than they did last year under Kombouare, but the main positive so far this season has been the Italian's ability to finally solve les Rouges-et-Bleu's defensive frailties. Trust an Italian!

This term the capital club have conceded eight goals, the joint-best total in the league alongside Saint-Etienne, the team who ended PSG's unbeaten start to the season and Ancelotti's impressive unbeaten home run that stretched since his arrival. Contrast that with this point last season and the club are two goals better off in defence, but more pointedly can boast seven clean sheets to last campaign's four. Carletto quickly identified the side's weakness at the back and has remedied that by making PSG hard to beat, even if it has come at a cost going forward, with the Italian worried by the 10 draws suffered last year thanks to silly concessions.

The challenge now remains to build upon that defensive solidity and match that with an attack that is clinical and can win games by a considerable margin. Worryingly, PSG have only scored 18 goals so far this season and had 25 at the same point last year. Ibrahimovic has accounted for 10 of those, and last season's joint domestic top-scorer (alongside Olivier Giroud), Nene, had provided six goals and two assists by this time last season. Therein lies the key to the attacking conundrum: Ancelotti's side are in transition. It was always going to prove difficult moving away from an over-reliance on the Brazilian wing wizard and in many ways it makes sense that the team now look to Ibrahimovic, a more reliable source of goals with an omnipresent ability to impose himself on other teams. Despite the Samba star's impressive tally of 21 goals and 11 assists last year, nine of those were penalties and he was still unable to consistently carry the PSG attack.

Why then not play Nene and 'Ibra' together? Sadly, the Brazilian's 31 years of age don't make him a viable long-term option for the club. There can be no doubt that he had been the star performer for PSG since his arrival in 2010 and arguably still merits a place in the first team, particularly given the side's lack of width at times this year. But going back to the point from earlier, Ancelotti's PSG team are now in transition and once the likes of Ezequiel Lavezzi and Jeremy Menez adapt to function alongside Ibrahimovic, that attacking trio will represent the league's most awesome firepower. If Nene was still a part of the first team, it would have created another change to contend with in the long run.

PSG may not be turning up trees in Ligue 1 so far but they have become more consistent, if less entertaining, and most importantly, the defensive fortitude that was lacking last season is now there. It is just a matter of time before the attacking pieces in the jigsaw hit top form, hardly reason for the current doom and gloom surrounding the Parc des Princes.