Lavezzi to return against Zagreb?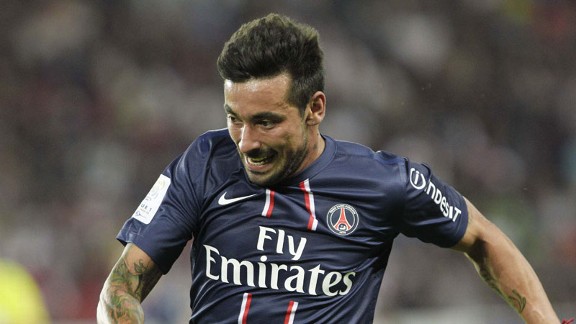 EmpicsEzequiel Lavezzi: Ready to come back into the fold
"Not fantastic, but efficient." That is what Carlo Ancelotti said in defence of his side at the press conference ahead of Tuesday's clash with Dinamo Zagreb at the Parc des Princes. Yes, perhaps this was true until last Saturday's defeat to Saint-Etienne, but now maybe it is time for Ancelotti to make some changes.

As Paris Saint-Germain gear up to face Zagreb, one returning player will be like a new signing for the Italian: Ezequiel Lavezzi. Although the Argentine only arrived in the summer, his start to life in the capital has been blighted by injuries and a suspension and the former Napoli man will be itching to finally show the PSG fans what he can do. Given the side's disappointing home defeat at the weekend, Ancelotti will want to see a reaction from his players and, with a point to prove, the Argentine international has the perfect opportunity to win back his place in the Italian's lineup.

Speaking ahead of the game Ancelotti said:
"Naturally, we must conserve energy where we can this season. Before Saint-Etienne, we saw the intensity was there against Marseille but I feel that we just wanted to get through Saturday's game. We have not fully developed our game yet this season, even if sometimes we have played very well. The individual qualities are there, now we need to focus on teamwork and continuity. Certainly I expect a strong response against Zagreb though."


Part of that emphasis on teamwork will come if Ancelotti can avoid constantly playing with a favoured bank of three midfielders and can give the attack an extra man so that it can function efficiently. Whilst Zlatan Ibrahimovic has been on fire since the start of the season, the attacking trio of 'Ibra', Jeremy Menez and Javier Pastore has looked stale at times. The Swede is available for selection on Tuesday despite his impending domestic suspension which starts away to Montpellier at the weekend, Zagreb though represents an opportunity for Ancelotti to start planning for his return.

Lavezzi could make his first appearance since pulling up injured against Porto over a month ago and his return could mark a change in formation for the capital club as Ancelotti seeks to inject some width into a narrow formation. Lavezzi, who is essentially a winger, may well find himself paired alongside Ibrahimovic up top, but his return will allow the Italian to play Menez in his more familiar role wide on the right. 'Carletto' could even opt to play Lavezzi in his favoured left wing role; Menez on the right with Pastore behind Ibrahimovic.

The use of Menez as a support striker, whilst paying dividends in the previous clash with Zagreb and then Marseille, is no long-term solution. The Frenchman is not a striker and if Ancelotti wants to play 'Ibra' alongside someone, then he should utilise Kevin Gameiro and Guillaume Hoarau for this and consider dropping Pastore who has recently under-performed. That said, continental football gets the best out of Pastore so perhaps Ancelotti needs to develop alternate strategies for domestic and European matches.

In Ligue 1, PSG often find it hard to break down their opponents and to demonstrate any real sense of urgency and purpose when going forward. If the Italian could accommodate the Argentine alongside a top two pairing or even better, Menez and Lavezzi out wide, then les Rouges-et-Bleus would become more formidable at home. El Pocho it seems could hold the key to unlocking PSG's awesome attacking potential even though, as Ancelotti's said, thus far they have been "efficient."

Whilst Lavezzi is likely to start on the bench, it is the perfect game for Ancelotti to welcome him back into the fold. A win for PSG means that they can guarantee second place if they beat Dynamo Kiev in Ukraine in a fortnight - unless Porto win there on Tuesday in which case les Parisiens will be as good as progressed. Last time out in Croatia it was an efficient but unspectacular showing, this time around though Ancelotti and the fans will want to see more authority.