Paris Saint-Germain beat Ligue 1 surprise package Stade de Reims on Saturday to take top spot in Ligue 1 for the first time. The capital club have swept up the table since their opening victory over Lille in week four and Zlatan Ibrahimovic currently leads the goalscoring charts with an impressive nine goals in eight games. However, it wasn't the Swede who netted the vital winner against Reims that sent Carlo Ancelotti's men top, it was Kevin Gameiro. That goal was the Frenchman's third of the campaign in only his second start, his other two coming in the recent victory over Sochaux.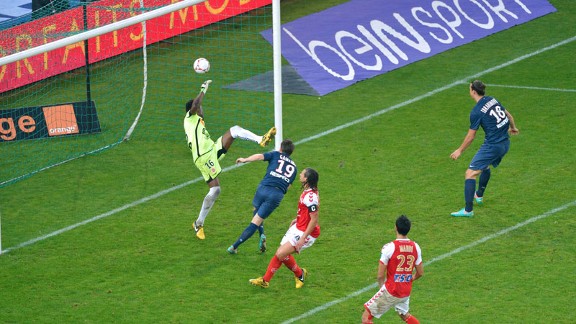 GettyImagesPSG's Kevin Gameiro scores against Reims

Before the Reims clash, a lot of talk surrounded the side's attacking options and whether Gameiro would start. Les Parisiens face a gruelling next fortnight with a tough trip to Nancy, a Champions League double header with Dynamo Zagreb, a home Coupe de la Ligue clash with bitter rivals Marseille and a home league game with Saint-Etienne to contend with. Carlo Ancelotti has rotated his squad to great effect thus far, but will he consider resting the talismanic Ibrahimovic to keep him in top shape?Ibra-dépendance?

Part of the polemic is the notion of PSG's "Ibra-dépendance" as it has been dubbed in the French press. Prior to the Reims match, 'Ibra' had accounted for 64% of les Rouges-et-Bleu's goals this season and many critics are suggesting that Ancelotti's side are over-reliant on the towering Swede. Yes, it did take until Javier Pastore's strike against Toulouse in week five for someone other than the former AC Milan striker to score, but Saturday's result suggests otherwise.

So are PSG guilty of Ibra-dependence? Gameiro was questioned about it in Friday's press conference before the match and, having fought his way back into the side following a summer of speculation, the former Lorient man was optimistic over his role in the side.

"We will see what happens when we have to play without him! He has played well and made a huge impact so far, obviously he is a very important player for the team. Sometimes we rely on him to win the matches for us but we have had to adapt our style to play with him. However, we mustn't forget how to play without him as well."

What then if Ancelotti decides to rest him for a game or worse, he picks up an injury?

Strength in Depth:

So far this season Ibrahimovic has nine goals in eight games, ten from ten if you count his Champions League contribution. Other goals have come from Alex, Thiago Silva and Javier Pastore in the Champions League and Pastore, Jeremy Menez and Gameiro in the league. The only player to have scored in games where 'Ibra' has failed to find the net though is Gameiro who now has three goals in seven appearances, of which two were starts.

One option currently available to Ancelotti is Gameiro, a fast, intelligent and lethal finisher on his day, who netted 11 goals last season. However, since the Italian's arrival in the capital he has lacked confidence and looked a shadow of the player who rose to prominence with Lorient. Ancelotti seems to have convinced Gameiro that he still features in his plans, but further insecurity could set in if his recent purple patch fades.

Guillaume Hoarau's situation is more precarious despite finishing last season with five goals in seven starts. The rangy front man is strong, an aerial threat and a completely different option to Gameiro, but again his confidence has taken a beating. Little over ten minutes of playing time so far this season suggests that he will have few chances to impress Carletto.

Peguy Luyindula remains at the club after a decent pre-season, offering experience and familiarity. However, his patchy relationship with the club which bizarrely saw him rewarded with a new contract despite taking his employers to court, suggests that he is only there in case of an emergency.

Gameiro then is the obvious choice either as a partner for Ibrahimovic, or an alternative given their differences. However, a fair rotation of Gameiro and Hoarau would give Ancelotti a degree of flexibility that would allow PSG to move away from their perceived dependence on the Swede. 'Ibra' is the focal point of team's play and their tactics have been adapted to accommodate his style of play so admittedly this puts a lot of emphasis on his role within the side. But when you have a proven match winner in your ranks as Gameiro alluded to, it is natural that he is first choice.

Ancelotti - Tinkerman?

There is no doubt that Ibrahimovic deserves his status as the undisputed starting striker, but there are benefits Ancelotti in rotating his squad over the coming weeks. Firstly, it keeps the likes of Hoarau and Gameiro positive about their chances at the club, knowing that they will get opportunities to prove themselves. This makes them more likely to consider staying until the end of the season than if they have played no football come January.

One scenario that could see Ancelotti's hand forced would be an early domestic or European cup exit which would see fringe players such as Hoarau and Nene most likely seek a begrudged exit unless their fortunes change drastically before the transfer window re-opens. A premature cup exit would leave squad players disgruntled at a lack of playing time when currently, Ancelotti has a perfectly balanced and varied pool of talent to rotate depending on the fixture.

PSG need progress on all fronts and Ibrahimovic is vital to that. However, given the volume of games that he has been involved in since the start of the season and factor in his international exertions as Swedish captain and it would be unreasonable to expect that he doesn't get at least a little tired. Utilising him in key league matches over congested periods thus keeping him fresh for European games and cup fixtures, could pay dividends for the Italian in the run-in to the winter break.