PSG hoping to put a cork in Reim's champagne football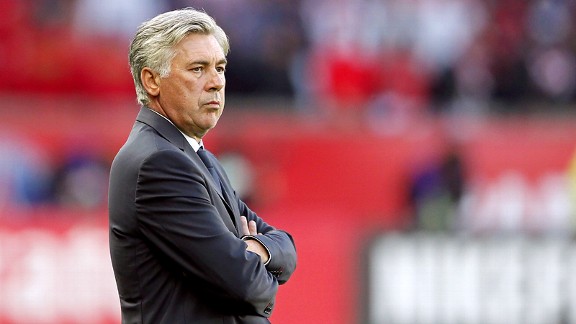 Kenzo Tribouillard/AFP/Getty ImagesPSG coach Carlo Ancelotti will have to shuffle his pack to cope with a grueling fortnight of fixtures
Paris Saint-Germain's players regrouped after the international break and now face a gruelling fortnight in which they have Ligue 1, Coupe de la Ligue and Champions League matches to consider. This Saturday's home tie with Reims is the start of a difficult run which will also see them travel to Zagreb before hosting the Croats two weeks later, host bitter rivals Marseille in the cup and also take on Nancy and Saint-Etienne.

Carlo Ancelotti is going to have to get the maximum out of his squad over the next 14 days and his rotation policy will need to come into play to ensure PSG get the maximum number of points available and can progress with in the cup. Marco Verratti is already suspended for the visit of high-flying Reims, but the diminutive Italian was in need of a rest so it gives the likes of Momo Sissoko and Mathieu Bodmer a chance to stake their claims for a regular place.

Elsewhere, despite his vital role on the pitch and mammoth contribution of nine goals so far this season, Zlatan Ibrahimovic could be in need of a rest if Ancelotti wants to keep him fresh for the visit of Marseille and the Champions League encounters with Zagreb. This then potentially means a chance for Kevin Gameiro to impress, and after his two goals against Sochaux and a lively second half performance in Marseille, he could be in line to start against Reims.

Speaking to the press ahead of the game, Gameiro said: "It will be a tough match against Reims. In football, you never know what can happen. They have shown great desire to play and to show Ligue 1 that they deserve to be here. It difficult facing teams like this because they are concentrated and motivated."

"Scoring goals is always good for your confidence. I hadn't received much playing time before Sochaux. Being patient is never easy for an attacker. I had the chances to score and took them, so it gave me confidence to show the coach he can still depend on me."

Gamiero is one a number of PSG stars that was linked with a move away last summer, Valencia reportedly came calling and did agree a fee with the club. However, Leonardo managed to keep the squad intact, but should the capital club be out of the running for one competition or more come January, the likelihood of him being able to keep some of the want away stars for a second time is slim.

For this reason a cup exit at this stage in the season is a potential disaster, not because it is a cup exit, but because fewer games for the club means more players are likely to be disgruntled come January because of a lack of match practice. With this in mind, Ancelotti would be well advised to prioritise the games such as Marseille in the Coupe de la Ligue, the double header with Zagreb in Europe and les Parisiens' tricky away fixtures.

Not that Reims shouldn't be given the respect that they deserve, they have been fantastic so far this campaign and are difficult to beat. However, PSG's squad has enough strength in depth to be able to cope with the challenge of playing difficult fixtures twice a week. If it doesn't after the money that has been spent on it, then Ancelotti has some serious problems.

This season is Reims' first back in the top flight of French football for 33 years and so far their football has been of the champagne variety, sitting in fifth place and only two points behind PSG. A large part of their success so far this season has been down to a rock-hard defensive unit as well as a surprisingly prolific frontline. Bolstered by a number of shrewd signings that included midfielder Antoine Devaux, Reims have enjoyed their return to the top-flight so far.

Speaking ahead of the clash, captain Mickael Tacalfred said: "It's a relief because we'd been waiting 33 years for Reims to return to Ligue 1. Last year, we celebrated the club's 80th anniversary and we chatted with Raymond Kopa and Just Fontaine about the club's history. Now we want to write our own chapter."

"Since our relegation to the third tier, the club have started again from scratch and are doing the basics properly again. We've rebuilt cleverly by signing good players but also the right people."

One of those signings is Diego Rigonato, the Brazilian midfielder who has scored three goals in four games since signing from Tours in the summer. Alongside him, young striker Gaetan Courtet has scored four goals already this term after battling back from testicular cancer last year.

Those two are the players Ancelotti and his men will be hoping to keep quiet, but Hubert Fournier's side will be a tough nut to crack. PSG though need a win after a Champions League loss and the draw to Marseille, les Rouges-et-Bleus should prevail here, but write Reims off at your peril.