Moura benefiting from Scolari's cold shoulder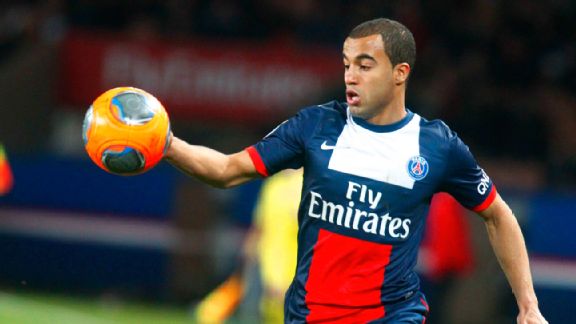 Xavier Laine/Getty ImagesPSG's Lucas Moura has excelled this season in France, but his World Cup hopes with Brazil are very much in doubt.
Last week, Paris Saint-Germain's Lucas Moura was omitted from a Brazilian nation team selection for the second straight time, this one for the friendly clash with South Africa in March. Having already missed the friendlies against Honduras and Chile last November, questions have started to be asked over the former Sao Paulo sensation's potential involvement in this summer's FIFA World Cup on home soil.

Still only 21, Moura had been a relative regular in the Selecao squads since he first appeared against Scotland in March 2011. Luiz Felipe Scolari, who took over as Brazil coach for a second time in November 2012, is not thought to be a great fan of Moura though. Despite selecting the jet-heeled attacking talent regularly at first, and also including him in last year's FIFA Confederations Cup-winning squad, Felipao marginalised the PSG star after a slow start to the current season.

- Report: Ibra lauded for Bayer destruction

"Lucas Moura? I do not comment on players that I have not called up," he stated when questioned last week over the player's absence from the squad to face South Africa. That was followed by an abrupt end to the discussion with a cutting "next question".

PSG boss Laurent Blanc is similarly critical of the samba star's individualistic style, recently saying after he had provided two assists in a 2-0 home win over Girondins de Bordeaux: "He made two goals. This is very good, but I would like to have seen him rewarded with a goal for himself.

"He provided two goals, but he could have scored a lot more. His ability to execute things and dribble at speed is impressive.

"He is an artist, but still a very young player. He has progressed tactically, even if it is something that he has only started to so since his arrival in Europe. He does some incredible things with the ball, but football is a team game. He is making an effort."

That thinly veiled criticism of the standard Brazilian domestic football perhaps explains to an extent why Moura's rapid ascent to the top has stalled somewhat since arriving in Europe.

It is true that upon arriving in France, after a short initial spell of excellent form that lived up to the hype that surrounded him following his 45 million euro move from Sao Paulo, the youngster struggled to fully get to grips with the tactical rigours of French football. But he also started to pick up a number of injuries after finishing the domestic Brazilian season and immediately joining PSG's push for a first Ligue 1 title in 19 years.

However, despite these criticisms of Moura, the Brazilian has started to improve since Scolari chose to ignore him and he has also started to prove himself as a team player to Blanc.

On Tuesday, it was Moura who provided the pass for Yohan Cabaye to score his first goal in PSG colours in the thumping 4-0 away win against Bayer Leverkusen in the UEFA Champions League. In just 11 league starts this season, Moura has scored three goals and provided seven assists. Only teammate Zlatan Ibrahimovic and AS Monaco's James Rodriguez have more at present, with both on nine for the campaign.

More pointedly though, Moura is played in a position that is up for grabs at PSG right now; the left side of the front three with Ibrahimovic and Edinson Cavani automatically occupying two of those berths.

So far this season, there has been a tug of war between Moura, Ezequiel Lavezzi, Javier Pastore and Jeremy Menez for who should be the starter in that role, hence his limited number of starting appearances. Although none have put the debate beyond doubt in terms of consistency, there is no hiding the fact that Lucas has done far more overall than any other competitor to secure that position and on a more regular basis.

Moura is a strange player; he contributes goals and assists in games that largely pass him by, yet he often looks outstanding in matches in which he does not always find the net or lay on a goal for one of his teammates.

Take two of PSG's most recent league encounters as examples: Against Bordeaux, in a game that Blanc's side struggled to create many opportunities or truly dominate a team that they had already beaten three times this season, Moura provided both assists in a laboured 2-0 win. That was despite an average personal performance in a game where few stood out, including opening goal scorer Ibrahimovic.

Yet Moura was brilliant in the 1-1 draw away at Monaco; looking like he was back to the same sort of form he showed early in his PSG career with some brilliant runs and magical passes and touches at an eye-watering pace. However, it was Pastore, starting on the left while the Brazilian moved to the right in the absence of Cavani, who scored the champions' only goal in the principality.

Compared to Moura's three league goals and seven assists, Lavezzi has four goals, but no assists and is the Selecao hopeful's nearest rival. Menez has scored twice and Pastore has found the net just once, but neither has laid on a single goal for one of their teammates. Admittedly, Lavezzi has now overtaken Moura in terms of goals scored, but the Brazilian's creative contribution as well as his improved form in front of goal is arguably more valuable overall. He has also proven himself extremely valuable from set pieces, providing four of his seven league assists from dead ball situations.

There is no doubt that Moura form has improved since Scolari challenged him to play his way back into the team ahead of this summer's FIFA World Cup. But will it be enough to secure his place in the final squad along with what will assuredly be a large PSG contingent? Perhaps he still has some way to go.

However, with Felipao continuing to ignore Moura but paying close attention to his Parisian teammates, he may soon be forced to welcome the star back into the host nation's fold.