PSG stand Valenciennes up on Valentine's Day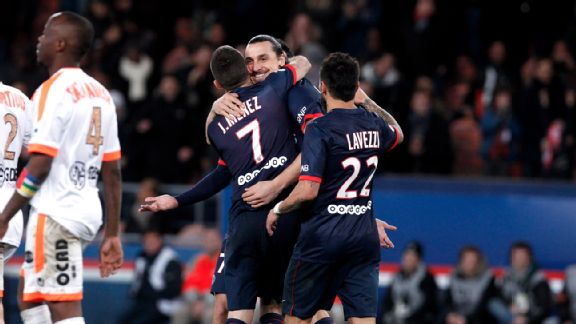 AP Photo/Thibault CamusZlatan Ibrahimovic scored PSG's second goal of the night in the 50th minute as the Ligue 1 leaders downed Valenciennes 3-0.
Paris Saint-Germain left Valenciennes broken-hearted on Valentine's Day as the French champions eased to a 3-0 win at the Parc des Princes to move themselves a provisional eight points clear at the top of Ligue 1. It was not a game for football romantics, but Laurent Blanc's side got the three points they needed against Ariel Jacob's limited outfit. After the 1-1 draw away at AS Monaco last time out, it was the perfect tonic for the capital club ahead of next week's trip to German in the UEFA Champions League.

- Report: PSG 3-0 Valenciennes

Ezequiel Lavezzi and Zlatan Ibrahimovic hit the goals for the hosts, with unlucky Valenciennes defender Gary Kagelmacher adding insult to injury with an own goal to complete the scoring inside an hour.

Blanc made a host of changes, as is his custom prior to European encounters, opting to play Ibrahimovic from the start despite a recent back problem and Lavezzi just days after his uncle, Jorge Lavezzi, was tragically murdered in Argentina.

Starting El Pocho proved to be an inspired choice, with the Argentine showing incredible character to not only play, but to put in such a hard-working and committed performance considering the circumstances. Lavezzi scored the opening goal, an opportunistic finish after Ibrahimovic's deflected free-kick fell right to him, and overall put in an energetic 75-minute shift before being substituted to rousing applause from the Parc des Princes crowd.

The 28-year-old had chances and also created a few, but despite the goal, he still missed a couple of very good opportunities to extend PSG's lead before half-time. If Lavezzi wants to prise the starting position in the front three from Lucas Moura, then he will need to start taking more of those chances and provide as many chances as the Brazilian who still leads him in overall contribution for the season. That said, it was his fourth league goal of the season, already an improvement on last campaign's total of three.

PSG's other goal scorer, Ibrahimovic, had a relatively below-par night and spent the large majority of it rebuking his teammates for misplaced passes. The January UNFP player of the month moved onto 19 goals for the season, now just 11 shy of last year's 30-goal haul, with his well-taken strike early in the second half. However, with a back problem that has been impairing his movement of late, the one goal was a good enough contribution on the night before being substituted just after the hour with his job done.

Lucas Digne will go unsung for his role in the victory; he was outstanding at left-back and was a constant menace for the Valenciennes defence, marauding forward on the flank and producing a string of excellent crosses, while showing great responsibility at the back. Yohan Cabaye was also impressive, making his first start in PSG colours and slotted seamlessly into the midfield alongside Thiago Motta and Javier Pastore.

Pastore was included as Blaise Matuidi and Marco Verratti were rested ahead of next week's trip to Germany, with the Argentine putting in an encouraging performance in the first 45 minutes only to fade away over the second. Cabaye performed well and provided the assist for Ibrahimovic's goal with a bouncing shot that was on target, but turned in by the predatory Swede.

Blanc utilised his changes perfectly with the Leverkusen clash in mind, bringing Ibrahimovic and Motta off just after the hour mark to keep them fresh for next week's game. He also avoided bringing on Matuidi, ensuring that the French international got a full game's rest and only brought Lucas and Verratti on once the game's pace had slowed to an almost pedestrian pace.

Jeremy Menez was one of a limited number of lowlights with another very disappointing performance. Handed the rarest of starting roles, despite a distinctly average cameo showing in Monaco the week before, the French international failed to take advantage of it and once again incurred the wrath of the Parc des Princes crowd with a sloppy showing that featured a number of poor passes. Very few chances are likely to be forthcoming for Menez between now and end of season and the temperamental star may well have already blown his chances of redemption.

There will also be slight questions over Thiago Silva, too, after his latest performance. The Brazilian captain is now starting to appear slightly uncomfortable after a shaky performance that did little to disguise his recent reported injury struggles. After his own goal against Monaco, Silva looked creaky at times against Valenciennes and in recent weeks has not been the same reassuring presence that he usually is at the back.

Overall, though, it was a good win and refreshing to see PSG finally turn their domination of possession into goals, although it was by no means a classic. Valenciennes are a poor side and PSG could and should really have had more goals to show for the dominance on the night. However, being able to address their recent inefficient spells in games following opening goals enabled them to have the game sewn up inside an hour in the French capital.

It was the perfect way to respond to the 1-1 draw and dropped points away at Monaco, with Blanc's men now eight points clear of the principality outfit ahead of their difficult trip to SC Bastia on Saturday. PSG can now turn their full attention to Tuesday's Champions League last 16 clash with Leverkusen in Germany.