What would the real cost of signing Juan Mata be for PSG?
Since the January transfer window officially opened for business, one of this month's biggest questions is where Chelsea's Juan Mata will be once the market closes. The Spanish international is thought to have been unhappy at Stamford Bridge since last summer, when a number of sides were linked with a late bid for him at the end of August. His recent disappointment at being substituted in the 3-0 win over Southampton has since raised familiar questions.

Blues coach Jose Mourinho insists that he wants to keep the player and that it is his "wish" for the 25-year-old to stay in southwest London this month, but the Portuguese tactician has also admitted that his "door is open" regarding a possible move. Although the Special One is not keen on Mata departing, it seems like he would be powerless to stand in the former Valencia CF man's way if he chooses to ask to leave.

The latest in the potential Mata transfer story is that his father and agent has offered the Spaniard to French champions Paris Saint-Germain, as well as one of his formative clubs, Real Madrid, along with Barcelona, Inter Milan and SSC Napoli. Mourinho has already indicated that he does not want to sell the attacking talent, but a bid in the region of 35 million pounds is thought to be sufficient to bring Chelsea to the negotiating table.

Such a fee would not pose a problem to financial heavyweights PSG.

Laurent Blanc's side were believed to be close to completing a deal for Mata last summer before eventually being beaten by the clock, this after Mesut Ozil favoured a move to Arsenal over the Parc des Princes. The Ligue 1 giants making another move for the Spaniard early in January would not be a complete surprise, particularly considering their need for a genuine playmaker as a result of Javier Pastore's continued struggles in the French capital.

However, it is difficult to see where Mata would fit into the star-studded PSG lineup at present without one or two major departures creating the necessary space.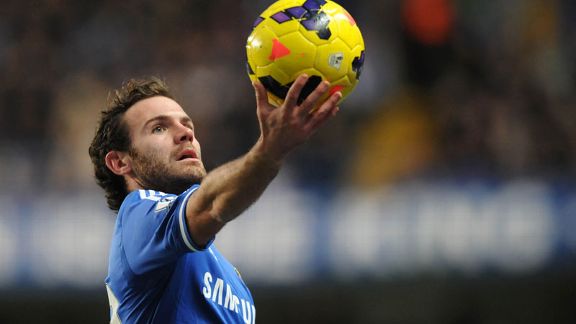 AllsportJuan Mata is reported to be unhappy with his lack of chances at Chelsea.

Should Blanc succeed in landing the in-demand player, he would need to decide whether or not to play him in his preferred three-man midfield unit, or as part of a trio up front alongside prolific strikers Zlatan Ibrahimovic and Edinson Cavani.

Considering the excellent form of Thiago Motta, Marco Verratti and Blaise Matuidi in the middle of the park, the only place that Mata could arguably fit would be on the left of the front three. Though capable of playing on the left because of his regular deployment there with the Uruguayan national team, Cavani is predominantly used on the right or in the middle if Ibrahimovic is unavailable (a rarity).

There is already stress in Blanc's squad as Ezequiel Lavezzi, Lucas Moura and Jeremy Menez frequently battle it out for the final spot in PSG's three-pronged attack.

Lavezzi has arguably done the least to convince Blanc out of the three, scoring just twice all season in the league and not providing a single assist in 10 starts. Although the Argentine claims to be happy in Paris, his name is still regularly linked with a number of other European sides. Reports of an €18million bid from Atletico Madrid will likely have been secretly welcomed by PSG.

Despite having enjoyed a better season than Lavezzi so far, Brazilian international Moura does not appear to have done enough to convince Blanc that he is ready to hold down the spot on a regular basis yet. The 21-year-old has scored three league goals and provided four assists in just nine starts and the Selecao star can feel aggrieved at not having been shown greater faith by Blanc. Moura has reacted well to losing his place in the Brazilian national side recently, but he still finds himself in a similar position to Mata with his potential World Cup ticket in jeopardy.

Menez, who spent the early part of the season recovering from surgery on a back injury, has been frustrated to find himself so far down the pecking order following his return but insists that he will not look to leave this month. The Frenchman has scored twice in just five starts but his lacklustre attitude and application to task has drawn the fans' ire in recent weeks. Along with Moura though, both have contributed more than Lavezzi in the Champions League and the Coupe de la Ligue.

Even if Menez were to leave (despite his recent claims of loyalty), the problem of Moura and Lavezzi would still remain. The French champions bought both at a high cost and both expect to be regular first team starters -- while Menez thinks of himself as an automatic first choice, although he is now realistically a squad player at best.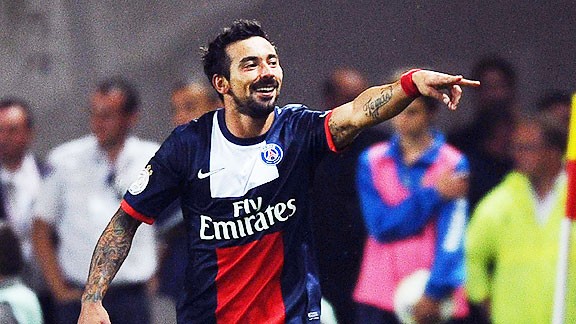 AllsportEzequiel Lavezzi appears to have hit form at Paris Saint-Germain.

In short, the only way that a PSG move for Mata will work is if one of Lavezzi or Moura leaves. That would then raise the question of why any major European club would want to buy the Argentine at present when he is cup tied in continental competition -- a problem that the Parisians also face in signing Mata this month.

Of course Blanc could sign the Spaniard anyway. But that would mean that four players, potentially five if you include the enigmatic Pastore in that equation, are vying for one starting berth.

Why would Mata risk leaving one situation because of intense competition for another where he will have just as many rivals for the regular minutes he craves to secure his place in Spain's World Cup squad?

The move could only work if one player makes way and the most likely of those mentioned is Lavezzi. It has reached a point where Blanc and PSG must decide if they really want to make such a drastic change to the squad at this moment. In recent weeks Lavezzi has been given more game time, perhaps to appease him and safeguard against him forcing a move this month, but that will have frustrated Moura and Menez further.

Add to that the anticipated signing of Juventus' French international Paul Pogba, either now or in the summer, and there is no way that all of the current stars could be accommodated if both Mata and Pogba arrive.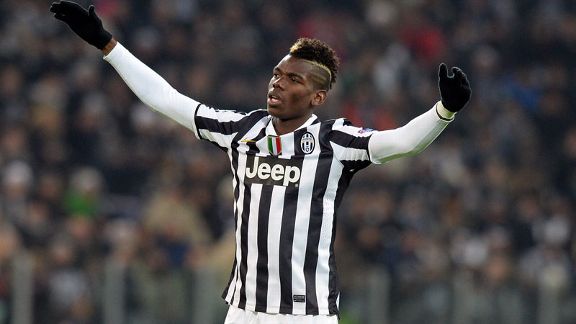 AllsportMata or not, PSG's prime target should be Paul Pogba, who will provide the drive and power from midfield that PSG sorely need.

Pogba himself is more the player that PSG need right now, but he too is cup-tied. The 20-year-old is the creative midfield presence that they desperately crave, and he would add more to Blanc's side than Mata or the other mooted target, Yohan Cabaye of Newcastle United.

PSG will likely leave the Pogba bid until the end of the season though, assuming that a European rival such as Real Madrid do not look to steal a march on them this month. But competition for the Chelsea man will be high and, if a bid is tabled, he could quickly become a lost cause like Ozil.

Mata alongside Ibrahimovic and Cavani would make a prolific trio, but in reality it would take until next season for that to come to fruition. There is no doubt that Lavezzi is living on borrowed time at the Parc des Princes, but the same cannot be said of Moura who is deserving of more chances and should not be considered inferior to Mata. The Brazilian can perform the same role as the Spaniard and arguably could go on to ultimately become a better player, but to do that he needs time.

Signing Mata now would not only create more personnel problems for Blanc, but it could also result in PSG losing out on Pogba, their main transfer target. Perhaps most importantly though, Mata's arrival would almost certainly undermine PSG's relatively promising Champions League campaign. His arrival would make Blanc's squad at least one man light for the latter stages, effectively stating that they do not yet feel capable of winning the competition even though the quality of the current squad begs to differ.