Wasteful PSG go down to Real in Doha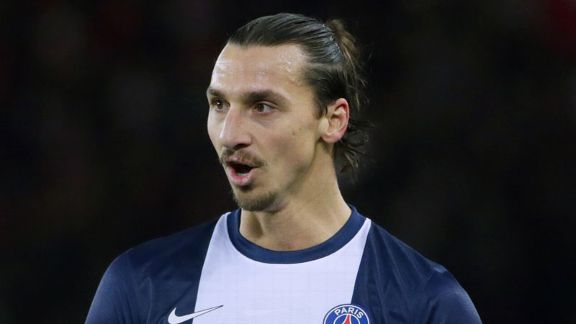 GettyImagesZlatan Ibrahimovic could not prevent PSG slipping to defeat.
Paris Saint-Germain opened 2014 with a 1-0 friendly defeat to the new club of their former coach -- Carlo Ancelotti's Real Madrid -- at the Khalifa International Stadium in Doha on Thursday.

Despite Laurent Blanc's side enjoying plenty of chances, the French champions could not find a way past Los Blancos and, under the watchful gaze of the club's Qatari owners, saw last summer's scoreline repeated. Although just a friendly, the value of the exercise may be lost on PSG with a Coupe de France round of 64 clash away at Stade Brestois coming up on Sunday.

Jese Rodriguez scored the only goal of the game to seal the narrow win, but Blanc will feel disappointed that his players were not able to find the net themselves given the chances they created. It was a performance that lacked the usual intensity and pace of PSG, who had not played since December 22, when they drew with Lille.

- Real Madrid win in Doha

Once again Zlatan Ibrahimovic was central to everything that PSG were trying to create going forward and missed a good first half opportunity following a Xabi Alonso error, but unfortunately for him, his teammates were even less concentrated and passed up the best openings he managed to create.

Edinson Cavani missed a clear-cut first half opportunity, failing to score from a simple one-on-one just moments before Real went down the other end and netted themselves thanks to some suspect defending

Meanwhile Thiago Motta also wasted a good second half opening. Aside from scoring, PSG were superior for the majority of the game in every other sense and created the better openings even though the Spaniards also had chances to extend their 1-0 lead.

The side from the French capital were unusually wasteful and, had it been one of their usual polished displays, they may well have won against an almost second string Real outfit.

Blanc will be concerned at Cavani's lack of concentration during the game, while Lucas Digne looked uncomfortable starting at left-back despite his recent assured performances. Thiago Motta suffered a knock early on and was not the same after it, failing to protect the back four at times, although questions can be asked of Thiago Silva for the goal after his poorly-timed lunge exposed his cumbersome central defensive partner, Alex.

Ezequiel Lavezzi wasted another chance to impress, while replacements Javier Pastore, Lucas Moura and Jeremy Menez did little to further their own causes. The performance also served Blanc a timely reminder that he should be looking for a creative midfielder with the ability to drive the team forward, if he chooses to delve into the January transfer window.

There were positives: Marco Verratti was impressive, a rare spark of energy in a game played at a predictably pedestrian pace at times, and full of creativity. The diminutive Italian's appetite for a clash against opponents of Real's size and stature bodes well for the latter stages of the Champions League. Gregory van der Wiel also performed well, getting up and down the right flank at pace and delivering a number of useful crosses.

Overall, the fixture served its purpose ahead of the second half of the season and Blanc's side know that they need to raise their game and be more focused when they get back to Champions League duty in February.

Bayer Leverkusen should pose few real threats in the last 16, but the French champions should not fear drawing a team like Real if they do reach the quarterfinals. They could have won the match with an improved performance and that that they were not at their best in Doha.

As Ibrahimovic said after the game: "We play these big matches to prepare for the Champions League."

Blanc rotated enough members of the squad during the game to ensure maximum freshness for Sunday's game but the worry now is that travelling back to France and reaching Brittany in time will take its toll on the players and could lead to a shock defeat.

2014 has hardly started disastrously on the back of this result but a domestic cup defeat would be a major disappointment and a completely avoidable one.