It was the first time since the 1993-1994 season that Marseille and Paris Saint-Germain met with the sides in the top two places of Ligue 1. Three points separated the teams seven games into the season.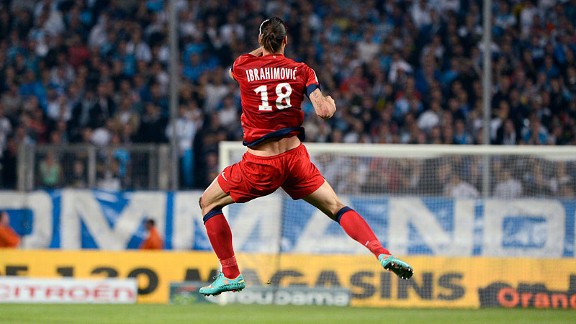 GettyImagesZlatan Ibrahimovic was correct to suggest that Ligue 1 had heard of him

Last season, Paris-Saint Germain were a disjointed but incredibly subsidised side, making their best fist of the league in recent memory, whereas Marseille were just ridiculously disjointed. In the summer, PSG spent, at rough estimate, a billion Euros to strengthen, and Marseille bought Joey Barton and hired Elie Baup.

• Mourinho won't rule out PSG
• Neymar would consider PSG
• Blog: Le Classique ends all square

This season, both sides have a renewed sense of purpose, and find themselves at the top of the table.

Paris Saint-Germain now have Thiago Silva and Zlatan Ibrahimovic. Sixty million pounds delivered two of the best players in the world - this isn't a rehearsal anymore. The aim this season must be to win the league, anything else under Carlo Ancelotti will demonstrably be a failure. For Marseille, a club this sure of its greatness won't be able to stomach such nonsense as last year, where Marseille used as many different lineups as PSG made transfers.

Like the marketing campaign for Prometheus, the build-up was much more exciting than the event itself. Even the approach to the ground was stimulating, but that might have been because of the traditional fug of South African reefers and pastis, rather than the sheer hatred of Paris Saint-Germain felt by the Marseille fans. Once inside the grounds that Marseille's fans expressed how they really felt.

"Paris, Paris, go flip* yourself!" As chants go, it's not subtle, but when thirty thousand people chant it throughout an hour's build up, and then throughout the match, it has a cumulative effect. At the end of the match, it would be impossible to deny that PSG were under no illusions as to what they should do when they went home. For the slower readers, the answer is 'flip themselves'.

Zlatan Ibrahimovic was public enemy nombre un. Arrogant and full of cash, he personifies the new PSG. Indeed, those two traits have always been associated with PSG, a team borne of 70s show business rather than of community (and demonstrated by their hardcore's regular fights with themselves before anyone else). He's not gone out of his way to endear himself to his new country. Sample quote: "I don't know Ligue 1 but I'm sure Ligue 1 knows me."

Paris had brought just 150 fans, though in their isolated section it looked even fewer. Due to the tasty relationship between the two sides, and the reputation of both sets of some hooligans, it was a wise move. Manchester City's faithful might have deadly inflatable bananas, but the French sides' ultras have slightly sharper instruments to make their point.

After the build-up, with chants swapped from one stadium end to the other, the game was a serious letdown despite four goals in the first half. Andre Pierre Gignac opened the scoring with a low drive across Salvatore Sirigu that he probably should have saved, which came about after Marco Verrati's uncharacteristically loose pass and Maxwell, a poor defender who improved only after moving up the pitch in the second half, faffing instead of playing sensibly to rescue the situation. That led to a rendition of: "Paris, Paris, go flip yourselves!"

A couple of minutes later, and PSG were level. Ibrahimovic exploiting poor defending to expertly flick a corner past Steve Mandanda. That led to a rendition of: "Paris, Paris, go flip yourselves!"

Just moments after, PSG won a free-kick thirty yards out. While Ibrahimovic's free kick was well hit, Mandanda was as poor as he often is, failing to get across his goal in time, and PSG were 2-1 up. That led to a rendition of: "Paris, Paris, go flip yourselves!"

On the half hour, Marseille had obviously been spurred into actions by the flares and invective of the crowd, and their luminously tracksuited manager, and won a corner. Gignac, who had a terrible last season, did well to head across Sirigu to equalise, and that led to a rendition of: "Paris, Paris, go flip yourselves!"

At half-time, Jeremy Menez started a bit of contretemps, but the reaction was strangely muted on the pitch. The crowd were appalled and hurled invective in a match, despite all its artificiality, keenly felt between the sets of fans. These are the two most supported teams in France. Paris and Marseille have a traditional antipathy that is based in economics and politics, and expressed through football - even if the football rivalry is relatively new. PSG represent the privilege and arrogance that many in Marseille think is endemic of the city itself. But the players' reaction to the mini-fight was...nothing. Half the players simply walked off, and those that stayed exchanged no punches. The nature of football is such that rivalries will mean ever less to the players, but this was stridently apathetic.

Perhaps this was predictable. Ibrahimovic cares about nothing but himself. Ancelotti has no cultural links to Paris. The new players are part of a project based not in the city of Paris but in the oil and gas reserves of Qatar. The players might one day feel something, but as it stands most of them have not been in Paris for longer than a year.

Marseille, risible last year, have undergone a signficant recalibration. They lost Didier Deschamps to the France job, and the players and managers seem more interested in understanding each other than they do knowing their enemy.

In that context, the second half was an inevitable washout. Both sides, unsure of their abilities, seemed content to play for a draw. Ibrahimovic studded his laziness with some fantastic passes, and Kevin Gameiro should have scored from at least one of them. At the other end, Marseille had ever less presence, but were never in disarray. Neither side will be disappointed with a draw against their main rivals.

However, the sense was that this was not because they couldn't handle the pain of defeat against hated rivals as much as they wanted to serve their challenge for the league.

*The accurate translation substitutes 'flip' for a more provocative term.