Where would Juventus' Pogba fit in at PSG?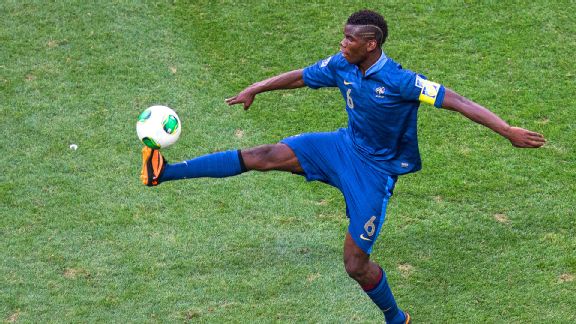 AP Photo/Gero BreloerPaul Pogba, shown playing for France's Under-20 team last month, would be a welcome addition at the Parc des Princes.
"Juventus are a club who we respect a lot. If they have a player that we like, then the first thing that we'll do is talk with their directors. After that, we would see whether there is any chance that we can then negotiate with the player."

That was Paris Saint-Germain president Nasser Al-Khelaifi's answer when questioned over the French champions' reported interest in Juventus midfield sensation Paul Pogba following PSG's 2-1 win over Olympiakos to qualify for the last 16 of the Champions League.

Having confirmed that the capital club are "looking at a number of prospects" with an eye on the winter transfer window, it is safe to say that they will be testing the Italian giants' resolve over Pogba in January or next summer.

-PSG in FFP talks with UEFA
-Ginola keen on PSG sporting director role

In all likelihood, it will probably be ahead of next season given that the 20-year-old French international is cup-tied in the Champions League. Also, there are sure to be no departures in the midfield before the end of this campaign.

One of Javier Pastore's representatives, but not his actual agent, has confirmed that the Argentine will stay in Paris until "at least the summer," while Brazilian Lucas Moura has affirmed that he has no intentions of seeking a loan move elsewhere ahead of the World Cup. With the two most likely movers ruled out, Al-Khelaifi also put an end to all speculation including Ezequiel Lavezzi and Jeremy Menez by confirming that PSG will be "selling nobody in January."

Those mentioned are not the Ligue 1 giants' most pressing concerns, though.

The likely reason for PSG's reported interest in Pogba, aside from the fact that he is a young and immensely talented French international, is that the futures of two of Laurent Blanc's key midfielders are far from certain at present. Thiago Motta and Blaise Matuidi are both out of contract in the next 6-18 months, and there have been a number of problems regarding the renewal of their deals.

Italian international Motta has rejected the club's initial offer of a new deal, although he is said to be studying a new and improved offer. Agent Alessandro Canovi claims PSG need to "understand how important he is given that he's among the top three in Europe in his position." French international Matuidi is in a different situation, having been prohibited from signing a new contract since it was initially offered over the summer. This is due to an ongoing court case between his current agent Mino Raiola, and former representative Jean-Pierre Bernes, who both contributed towards the new deal in question.

With no end in sight for Matuidi's frustrating situation at present and Motta yet to receive assurances on his long-term position, despite an excellent campaign so far, the future of the current three-man midfield that is serving Laurent Blanc so well is unclear.

Regarding Motta, it is in a way understandable that PSG do not see him as indispensable, even though his performances this season have been impeccable. The Italian international is key for Blanc's side at present and he has arguably been one of the foremost factors in their current success. His interceptions, passing, organisational skills and leadership have been almost as invaluable as Zlatan Ibrahimovic or Edinson Cavani's goals, and at least equal to anything else his midfield partners and the capital side's impressive full-backs have offered.

However, it should be remembered that Motta is 31 and will be one year older at the start of next season. Experience is of great importance in any side, but he is also currently enjoying a rare relatively injury-free campaign. There is no predicting how long that will last.

As much as the Brazilian-born star is indispensable at present, PSG having one eye on the future after Motta does not betray a lack of judgment or a compulsion to fritter money away unnecessarily on the biggest names with little room to genuinely accommodate them. In fact, replacing Motta with Pogba at the end of this season is a common-sense move. A one-year contract extension to take the Azzurri star through to 2016 would be a good solution for all parties.

On the other hand, Matuidi is absolutely irreplaceable, not only for club but also for his country.

The French international has been outstanding since the beginning of last season and is now "one of the best players in the world in his position" according to former PSG boss and current Real Madrid coach Carlo Ancelotti. That the Italian speaks of him in such glowing terms should be incentive enough for the Parisians to want to keep the 26-year-old out of the clutches of their European rivals.

Even if the capital club were to sign Pogba, but Matuidi still left, the midfield would not be strengthened at all. In fact, it would arguably be worse off and would badly miss the former Saint-Etienne man's energy and all-round contribution. Pogba is the perfect player to gradually replace Motta with and eventually form a midfield trio comprised of Marco Verratti, Matuidi and the Juventus star. But only when absolutely certain that Pogba and the young Italian are sufficiently mature to be automatic starters.

Verratti's petulant red card on Wednesday shows that he still has a way to go before that happens, while Pogba is continuing his rapid development on the international stage after helping France to qualify for next summer's World Cup. Sources have suggested that the diminutive Azzurri international would be offered to Juve in exchange for Pogba, but it would make more sense for PSG to take advantage of the Italian champions' other reported interest in Motta, offering him as part exchange along with a considerable fee. Antonio Conte's bosses have already admitted that keeping hold of the French star will be a tough task.

There is no denying that Pogba has everything that PSG are currently looking for. He fits the profile of a young, immensely talented player with the potential to be one of the best in the world in his position. But crucially, he is also French and already a senior international with the makings of an iconic reputation. At the moment, only Matuidi can be classed as a regular starter out of the current domestic contingent in Paris that also features Menez, Adrien Rabiot, Lucas Digne and Christophe Jallet.

However, in order for PSG to move forward, they need to secure all of their current assets first. If that means contributing some, if not all of the money necessary to break the deadlock in the disagreement between Matuidi, Bernes and Raiola to secure the French international's future, then so be it.

It is a price worth paying, and one PSG can ultimately afford, to ensure that they keep a player of Matuidi's talent in the capital before adding another important piece to the club's ever-developing reputation as a European giant.