Maxwell deserving of both PSG and Brazil success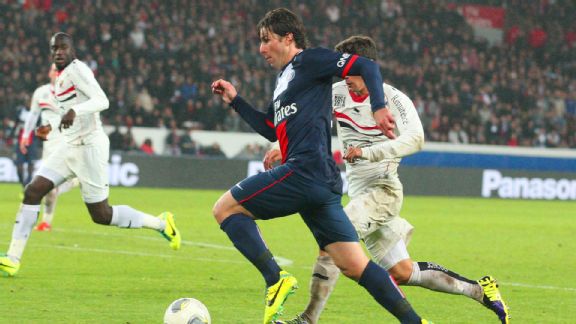 Xavier Laine/Getty ImagesPSG defender Maxwell hopes to be part of Brazil's World Cup squad next summer.
The 2014 FIFA World Cup in Brazil could witness the conclusion of one of the most unlikely, but thoroughly deserved success stories of recent international football. Paris Saint-Germain left-back Maxwell, at 32 years of age, is currently playing his way to international recognition when it appeared his best chance had passed years ago.

- Report: Menez set for PSG exit

Maxwell Scherrer Cabelino Andrade, to give him his full name, has been one of European football's most underrated talents in his 12 years on the continent which have spanned four top clubs. In his time with AFC Ajax, Inter Milan, Barcelona and now PSG, the Brazilian has amassed 15 domestic and European trophies, excluding eight pre-season Super Cup triumphs in the Netherlands, Italy, Spain and France. He also won the Dutch player of the year award in 2004 when with the Amsterdam giants.

But the marauding full-back had never been a Selecao star, until now that is. He even admitted back in August that it was as much of a shock to him as anybody that the call finally came."I was honestly surprised when I got the call up, I really didn't expect it at all," he revealed in a press conference.

"I started to lose a little hope. Receiving my first call-up has been a very pleasant surprise. Playing in the World Cup at home is the dream of every player."

There are arguably few more deserving of the opportunity to finally stake their claim for a spot in the Brazilian squad than Maxwell.

After representing his country for the 2004 CONMEBOL Men's Pre-Olympic Tournament in an under-23 squad, he received a call-up to the senior side. But after not being used by Carlos Alberto Parreira, it was as if the talented left-sided player was forgotten by his successors in the build-up to the 2006 World Cup in Germany.

It has taken until Luiz Felipe Scolari's second spell in charge of the five-time tournament winners for that to be corrected. Less than two weeks before his 32nd birthday in August, Maxwell finally became a full Brazilian international. Since then he has been in each of Felipao's squads and an injury to Real Madrid's Marcelo looks like it will hand the PSG man the chance to further establish himself in the 2002 World Cup winner's plans this weekend.

Looking like a contender for a starting role at present, he is likely to at least be part of the hosts' final squad. However, his ascent into the national team is no fluke, nor is it because there is nobody else. It has been long overdue.

Since arriving in the French capital in early 2012, the Brazilian's consistency and versatility has been impressive. Joining PSG from Barcelona, where he had been largely warming the bench, Maxwell walked into Carlo Ancelotti's starting XI and immediately ousted previous left-back Siaka Tiene. An excellent half season followed, but unlikely winners Montpellier HSC pipped PSG to the title.

Last campaign was when Le Championnat really saw the best of Maxwell: he was voted the best left-back in the league and deservedly so, helping the side from the capital end a 19-year wait for only the third domestic title in their history. The Samba star's unerring consistency and ability to step into midfield, wide left or in the middle when needed, underlined his importance to Ancelotti's champions. He also chipped in with two league goals and three assists over the course of the year.

"It arrived at a good time for me, I'm feeling good physically and mentally," he said of the call-up earlier this season.

"I just try to enjoy every minute I have in the national team, on the field, but also off the field.

"Playing for Brazil is a dream come true and it is now three times in a row it has happened, so I'm very happy and motivated."

Despite the presence of outstanding 20-year-old French prospect Lucas Digne at the Parc des Princes, Maxwell's consistency is still guaranteeing him a starting berth this season. He has already contributed two goals and two assists in his nine Ligue 1 starts to date. Playing alongside best friend Zlatan Ibrahimovic who affectionately refers to the Brazilian as his "teddy bear" after spells together at Ajax, Inter and Barcelona, the Brazilian is one of now PSG coach Laurent Blanc's most reliable stars.

Heading into the international break's Gillette International Soccer series, Maxwell has the chance to consolidate his starting role in Marcelo's absence. He has featured in recent friendlies against Portugal, Australia, South Korea and Zambia, but insists that he is not taking his place in the squad for granted.

"I am very happy to be part of this group," he told TV Gazeta earlier this week. "I'll try to do my best so that I am able to take a step further in my dream of reaching the World Cup."

Brazil face Honduras in Miami on Saturday before heading to Toronto to face Chile on November 19. Two other members of PSG's five-strong Brazilian contingent are in the team with him; club and Selecao captain Thiago Silva and 19-year-old wonderkid Marquinhos who joined the French side from AS Roma in the summer. Lucas Moura was controversially overlooked for the two friendlies, while Alex has not featured in a Brazilian squad since the 2010 World Cup preliminary group.

His importance extends outside of the samba clique at PSG though. Veteran French defender Zoumana Camara spoke about Maxwell in glowing terms recently when questioned about his teammate's belated international success.

"He's been a big plus for this club since joining," said Camara. "He has won loads of trophies and he's always left a good impression everywhere he has been.

"He's just a classy man. Honestly, he's really left a big impression on me."

The feeling appears to be mutual, with Maxwell suggesting that he intends to finish his career in Europe with the French champions.

"Finishing my career at Paris would be spectacular, so why not?" he recently told a PSG press conference.

"It will soon be the right time to see what the club wants."

While the sands of time continue to fall, the evergreen Maxwell gives the impression he is standing still. Having spent so long in the shadows at Barcelona, he is finally enjoyed the recognition that his ability arguably deserved earlier in his career.

Maxwell has been one of the most important signings in the Qatar Sports Investments era. But his ability to hold down a place in Brazil and PSG's starting XI's after the World Cup, when he will be 33, is questionable. 15 million euro summer signing Digne will be pushing him hard to be the capital club's starting left-back ahead of next season.

But while he is in the best form of his career, Maxwell is deservedly relishing his belated time in the sun.