Is Matuidi's contract situation becoming a concern?
Paris Saint-Germain's Blaise Matuidi is set to play a vital role for Didier Deschamps' France in the World Cup qualification double-header against Ukraine that begins Friday in Kiev.

The 26-year old is as key for his country on the international stage as he is for the French champions domestically, yet his contract expires next summer and he is yet to sign a new deal. Why haven't PSG tied one of their star men, and arguably the most underrated of them all, to a new long-term deal?

Simple. Matuidi is currently at the centre of a case brought against him and the capital club by his former agent Jean-Pierre Bernes. The influential French agent has taken his former client and his new agent, Mino Raiola, to court claiming a breach of contract. Matuidi ended their association ahead of time, signing with Raiola in March when his original contract with Bernes was due to run until June.

-Deschamps stresses importance of playoff for France

During that time in the Bernes stable, talks on a new contract began. Those talks continued after Matuidi's switch to Raiola and a new and improved contract, more in line with the midfielder's true value to the club, has been ready for the French international to sign since the summer.

However, it has not been possible for him to sign because Bernes is claiming damages of five million euros from the player and 3.5 million from the agent who he believes encouraged Matuidi to sever the contract early.

A hearing was set for October, but was postponed until early this month. No indication of an outcome has materialised though, and Bernes' claims that Raiola has received the commission for the proposed contract extension has held up the issue. Essentially, Matuidi and PSG are in limbo right now because the player cannot put pen to paper on his new deal until the proceedings have been concluded.

Currently, this is not a major problem; the court case should be reaching its climax, and it was thought that Bernes and PSG managing director Jean-Claude Blanc were on the verge of reaching an out-of-court settlement last month. However, if allowed to drag on further, PSG and Matuidi risk the issue being taken into the New Year. That then presents a rather different and very big problem.

If Matiudi were to be out of contract next summer, this disagreement would make the former AS Saint-Etienne man a rare and highly attractive free agent.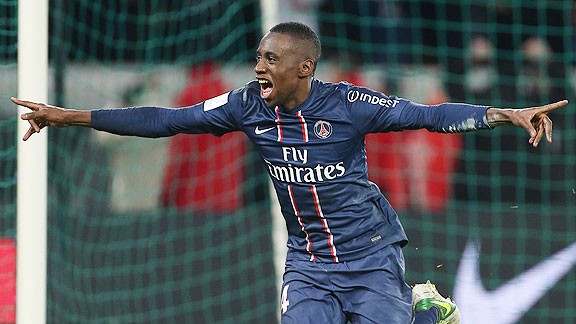 John Berry/Getty ImagesBlaise Matuidi will have go through the World Cup play-offs with France, then face questions about his future at PSG.
Securing Matuidi, one of world football's most talented emerging stars, would appeal to a number of high-profile European sides. Chelsea and Manchester City have already been alerted to his potential availability according to reports, and Real Madrid's Carlo Ancelotti would surely relish the chance to reunite with the player he branded "as indispensable to PSG as Zlatan Ibrahimovic or Thiago Silva" earlier this year.

For one of these clubs to get their hands on Matuidi, PSG will have to have made a colossal mistake. But the player is not blameless in the situation -- it was his actions that have landed them in this predicament to start with. The French international is irreplaceable, make no mistake about it; there are very few who are as irrepressible in full flow as the PSG man. However, the longer this situation continues, the more anxious supporters become.

As recently as October, Matuidi told Telefoot in France he has not yet signed his contract extension. Him leaving would be a blow, not just because he is a fantastic player, but he is another domestic talent PSG will have allowed to slip through their fingers. Rightly or wrongly, the tenacious midfielder's staying or leaving will also be seen as the club wanting, or not wanting, him to stay.

Matuidi is an immensely popular member of the side both on and off the pitch. He has also demonstrated his credentials as potential captaincy material by taking the armband on occasion this season and last. To suggest that PSG would be willing to part with another domestic talent so soon after Mamadou Sakho is ludicrous -- particularly one who is a first-team regular, grew up the region and is who has a strong connection to the fan base.

A recent study revealed PSG now have the lowest home-grown talent of all 20 Ligue 1 clubs and their domestic bias cannot be much better with only Matuidi and Adrien Rabiot the regular French representation outside of Christophe Jallet and Jeremy Menez. Matuidi is currently PSG's sole representative in the French senior setup -- expect him to continue to underline his importance by helping France qualify for the World Cup in Brazil next year by beating Ukraine.

French or not, Matuidi is a vital member of the starting XI in his own right and it appears that despite not seeing him as a long-term member of the squad at the start of last season, Ancelotti and the club were eventually won over by his hard work and ability. The fact PSG have had a contract ready for him to sign since the start of the summer tells you that they know he is a player that they cannot afford to lose for many reasons.

However, this could eventually be a problem that is out of the capital club's hands to solve.