What Zlatan Ibrahimovic needs to do to win the FIFA Ballon d'Or
"The victories of my team are my Ballon d'Or," said Zlatan Ibrahimovic after Paris Saint-Germain's 2-2 come-from-behind draw with St-Etienne. "It's not my dream to win that trophy. My dream is to win trophies with my club. Individual honours are simply a bonus."

That the Swede is now even being touted as a potential FIFA Ballon d'Or winner is testament to just how good a spell the towering striker is enjoying for club and country at present. Ibra's grounded reply illustrates that the 32-year-old is not getting his hopes up, despite his current purple patch of form giving him a fighting chance against this year's expected contenders. However, while Ibrahimovic might not be optimistic, there are plenty in the world of football who believe that he is the best player on the planet based on current form. Arsenal coach Arsene Wenger told TF1 in France, "right now, he is better than Messi and Ronaldo," while legendary French striker Jean-Pierre Papin claimed in L'Equipe "since last Wednesday it [winning the Ballon d'Or] has become a possibility."

Equalling Papin's 30-goal Ligue 1 record haul, one that had stood since the 1989-90 season, is one of the reasons the former Marseille, AC Milan and Bayern Munich player believes the PSG talisman is in with a shout. But for Ibrahimovic to unexpectedly sweep the award, it will take more than just his achievements from last season to triumph.

As Papin acknowledged in his interview, Marco van Basten's late run to the 1992 award "came off the back of scoring two hat tricks in one week with AC Milan." Ibrahimovic certainly has momentum on his side, but can he now capitalise on it and seize what may well be his best and final chance of claiming the accolade?

The 32-year-old is expected to face stiff competition from the likes of Barcelona's four-time winner Lionel Messi and Real Madrid's Cristiano Ronaldo, the two usual suspects. Although Bayern's French star Franck Ribery is thought to be the favourite ahead of the two La Liga-based talents.

To navigate that formidable trio, a sequence of certain events will need to happen.

Maintain current stellar form

At present, Ibrahimovic has hit 17 Ligue 1 goals and provided seven assists for PSG in 2013, helping the club win its first French league title in 19 years in May. He has hit a further seven in Europe, but was more creative last term, providing more assists than goals as PSG reached the Champions League quarterfinals, only to be eliminated by one of the Swede's former sides, Barcelona, on aggregate. He has also performed a number of near-miraculous scoring feats over the past 12 calendar months.

His recent strikes against Bastia in the league and Anderlecht in the Champions League (completing his first ever hat trick in the competition in the process) rank among some of the best of his career. Those 12 months also include the four goals scored against England for Sweden in November of 2012. Most notable of all was his outrageous 35-yard overhead kick that has been heralded by some as one of the best goals of all time.

In order to keep the Ibrahimovic juggernaut ploughing on, the mercurial striker needs to keep leading by example for PSG.

In games like Sunday's 2-2 draw with St-Etienne, he needs to come to the fore to lead his side to victory. Messi, Ronaldo and Ribery's greatest quality is that they are consistent match-winners across all competitions on a game-to-game basis. Generally speaking, Ibra shares this ability.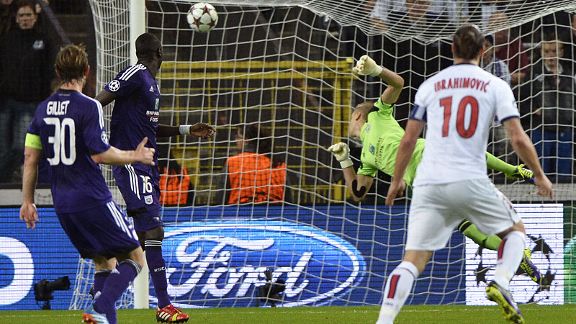 GettyImagesZlatan Ibrahimovic watches his thunderbolt effort fly into the back of the net.
Keep scoring spectacular goals

Secondly, Ibrahimovic needs to keep producing astounding feats of magic on a consistent basis. After all, his goals are what has attracted this attention and raised this question in the first place.

Nobody in the potential running has a collection of goals quite as spectacular as the Swede's over the past year. If he can keep netting sensational strikes, the football world will not be able to keep his name off of their lips.

Qualify Sweden for the World Cup

It is not Ibrahimovic's club form that could flatten his chances of claiming the award, though. His international form with Sweden will also be crucial, and that is perhaps where he can score the most points yet.

Three of this year's predicted four Ballon d'Or contenders are set to feature in World Cup qualifying play-offs next month. Ibrahimovic and Sweden arguably face the most difficult task, having drawn Portugal. But in doing so, Zlatan will face potential title rival Ronaldo.

Hope that Ribery and France fail to qualify

Not that such an unsporting notion would have crossed Ibrahimovic's mind, but more than just the hopes of a nation will be at risk in those qualifying matches.

To make the stakes even greater, the title favourite Ribery will also be involved as France tackle Ukraine for a place in Brazil. Having recently found form with Les Bleus after what seems to have been an eternity of international underachievement, the team's failure to qualify for the World Cup in Brazil could prove fatal for the Bayern man.

Rightly or wrongly, France's fate appears to lie in Ribery's hands, and while qualification will surely seal the trophy in his name, defeat opens it up to Ronaldo and possibly Ibrahimovic.

Oust Cristiano Ronaldo

Messi is not involved in the qualifiers with Argentina, who are already assured of their place next summer. After an average year by his impeccably high standards, the 26-year-old is likely to be preparing to vacate his position as the titleholder.

Ronaldo has arguably enjoyed a better last 12 months than his Barcelona adversary, scoring 52 goals in La Liga so far this year, but has no silverware to show for his efforts. The Ballon d'Or is not all about quantity, though, and both Ibrahimovic and Ribery have directly contributed towards silverware, the Swede in a prolific way.

If Zlatan can lead Sweden past Portugal and Ronaldo, it would be hailed as an underdog triumph and a major international career achievement. The PSG man is integral to the Scandinavians' hopes of pulling off such a surprise.

Chance?

Ribery appears to be Ibrahimovic's greatest obstacle this year, but he is also arguably the most deserving player at present. That his Ballon d'Or fate could yet be inextricably linked with that of Les Bleus -- despite a stellar year with Bayern, who won an unprecedented treble -- is unjust but benefits the Swede.

As Franz Beckenbauer recently told L'Equipe, "Ibrahimovic is among the three best forwards in the world, that's indisputable.

"Could he create a big surprise in the race for the Ballon d'Or? Who knows? He will not have stolen it. But I think all the same that Ribery is still the big favourite."

The sceptics will say that this year's award is the best opportunity to compensate for Ronaldo's unlucky snubs in the past. However, Ibrahimovic is finding his top form at the perfect time, and once he gains momentum he is very difficult to stop.

Sweden being such massive underdogs heading into their playoff with Portugal also favours him heavily, but he will still have to prove himself for club and country over the next two months to even stand a chance. If Ribery and France secure their place in Brazil, then it may well prove to have been in vain anyway. But should all of that happen, a potential Ibrahimovic triumph all of a sudden becomes a very real possibility.

Based in Ligue 1, he arguably needs to make greater waves than the others to ensure that his claims are heard elsewhere, but Ibrahimovic loves a challenge. Given his form since taking over the PSG captaincy from the injured Thiago Silva, you wouldn't bet against him pulling off the most improbable of personal triumphs in the coming months.