PSG players with plenty to play for ahead of Brazil 2014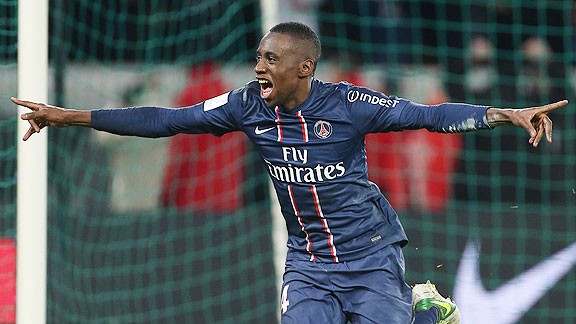 John Berry/Getty ImagesBlaise Matuidi will have go through the World Cup play-offs with France, then face questions about his future at PSG.
With UEFA's World Cup 2014 qualification play-offs the last to be drawn, the respective countries across FIFA's federations vying for the remaining 11 berths in Brazil next summer all know their opponents. For the Paris Saint-Germain players concerned, many of their nations have already qualified.

That does not necessarily mean that every international in the French champions' squad will automatically be going to South America next summer though.

PSG could benefit in the coming months from a number of players aiming to impress their nation's coaching staff in order to win a place on the plane to Brazil. Some have more to prove than others and there could also be one or two big name absentees considering the ties thrown up in the draw.

Here are a few of the members of Laurent Blanc's squad who have the next few months to force their way into contention for a place at next summer's showpiece event.

Javier Pastore - Argentina:

As it stands, Javier Pastore will not be going to Brazil.

Since the start of the season his form has rapidly deteriorated to the point where it is now thought that he no longer wants to play in front of the PSG fans at the Parc des Princes because of the jeering he receives. It is not undeserved.

For a long time the PSG fans and staff have been too lenient with the Argentine, accepting below-par performances and failing to give him constructive criticism when needed in order to start living up to his reputation. That status as the first star player to have arrived during the Qatar Sports Investments era is now working against him.

Unless Pastore can get back on the pitch and starts finding form again soon, he will not be a part of the Argentina squad at next year's competition. Even if he does find some form, it could already be too late as the 24-year-old has been off of Alejandro Sabella's selection radar for over a year.

The enigmatic playmaker has not featured for La Albiceleste once in 2012, it is a bad time to find himself out of form and low on confidence. A loan move or a permanent transfer in January could be the only possible solution, but it appears unlikely that PSG would sell with his current value so much lower than the price paid to land him from Palermo in 2011.

Barring a miraculous recovery, Pastore will not be in Brazil. His teammate Ezequiel Lavezzi, on the other hand, will be.

Marquinhos - Brazil/Portugal:

Summer signing Marquinhos could also be involved, but it is unclear yet which team he would be representing. The 19-year-old defender is eligible to play for both the hosts Brazil and Portugal, but has yet to feature for either at senior level. He has only made appearances for the Selecao at youth level so far and for now is pinning his hopes on representing his country of birth, Brazil.

The teenager has been in excellent form since arriving in the French capital, already making one of two starting central defensive berths his own since injury to captain Thiago Silva. It is only a matter of time before he gets called up, if for nothing else then to ensure that he pledges his international allegiance to the World Cup hosts.

Marquinhos is young, perhaps too young considering his lack of European experience and international recognition in general thus far, but there is no doubt that he is rapidly becoming one of world football's most talented defenders.

Should his early form for PSG continue it is difficult to see him missing out on Brazil's preliminary squad at least.

Lucas Moura - Brazil:

PSG will be one of the most watched sides for Brazilian national team coach Luiz Felipe Scolari and his staff between now and next summer. Lucas Moura is one player who will be of particular interest in the coming months given his struggles since arriving in the French capital in January.

Former Olympique Lyonnais midfielder and Brazilian international Juninho Pernambucano recently suggested to RMC Radio that Scolari is not keen on taking Moura to the World Cup because of his disappointing performances when called up.

Not guaranteed regular starts under Blanc, the 21-year-old's agent has come out to deny rumours of a reported loan move. Moura has looked improved in recent weeks, particularly during PSG's thumping 4-0 win over SC Bastia last weekend, but it will not be enough to take him to next summer's tournament at present.

A loan move could solve the problem, but is not an ideal solution for PSG. Moura making himself indispensable on the pitch so that Blanc is forced to find a formation that can best accommodate him is a better scenario for the capital club.

The chances of both Moura and Pastore leaving in January are slim to non-existent; at best only one will be allowed to leave. The Brazilian is the more important of the two on current form and must continue to take his chances to stay in international contention.

Samba Stars:

Another teammate, Alex, could also be in with a shout if he can maintain his solid form so far this season. However, once Silva returns from injury, one of Alex or Marquinhos will have to make way in defence to accommodate him. The 31-year-old is the more likely to miss out.

With Maxwell forcing himself into Scolari's plans of late, there is a chance that all five of PSG's Brazilian players could represent the host nation in South America next summer.

Gregory van der Wiel - Netherlands:

After more than a year away from the Netherlands' national team, right back Gregory van der Wiel was unlucky to be forced to withdraw through knee injury ahead of the Oranje's final two World Cup qualifiers earlier this month. The Dutchman has been in impressive form so far this season since dislodging Christophe Jallet from his starting spot in week three.

Assuming his good form continues, nothing should prevent him from joining up with Dutch squad eventually and forcing his way into Louis van Gaal's final squad. If he were to fall out of favour again though, that would change.

Play-Offs:

The hopes of Blaise Matuidi and Jeremy Menez depend on the outcome of France's two-legged play-off with Ukraine. If Les Bleus can repeat their showing from Euro 2012 when they beat the joint hosts 2-0 in Donetsk, then Matuidi can be assured that he will be in Brazil barring injury.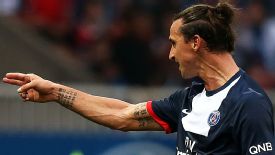 GettyImagesZlatan Ibrahimovic: PSG's biggest star could miss out.
For Menez, he has to be playing more often now that he has recovered from surgery in the summer. His starting appearance against Bastia at the weekend illustrated that Blanc will not be closing the door on the temperamental star after his recent outburst against Benfica. However, the 26-year-old has to start showing regular flashes of genius if he is to play regularly enough to convince France coach Didier Deschamps to call him up.

Depending on the outcome of the investigation into Patrice Evra's recent tirade towards his critics in the French press, Lucas Digne still has a chance of making it into Deschamps' World Cup plans. Christophe Jallet, on the other hand, will be coming to terms with the fact that his short-lived France career is over unless he can usurp Van der Wiel in Blanc's starting XI, or secure a move away in January.

Zlatan Ibrahimovic could be the most notable absentee; his Sweden side face Portugal in the most unenviable of all of the play-off matchups in Europe. Brazil would most likely be his final World Cup appearance, should the Scandinavians make it, and so much will depend on the outcome of his individual duals with reported PSG target Cristiano Ronaldo next month.

Edinson Cavani is also not assured of his place, although Uruguay's play-off against Jordan looks infinitely more attractive than Ibrahimovic's clash with Portugal. Should El Matador and La Celeste make it into the draw for the group stages, the PSG star will almost certainly be going to Brazil.

On The Plane:

Thiago Silva, despite his injury at present, is certain of his place in the host nation's plans for the World Cup on home soil. Captain for both club and country, indispensable for both too, only injury can force the 29-year-old to miss out.

Considering that he is fast becoming one of Scolari's key squad members for the Selecao; Maxwell already has one foot on the plane. Better late than never, it is great to see the Brazilian's unerring consistency finally being rewarded on the international stage.

If they continue their current form, the Italian trio of Marco Verratti, Thiago Motta and Salvatore Sirigu will represent PSG with the Azzurri in Brazil next summer. Already qualified, the three have featured enough under Cesare Prandelli to suggest that they will be in the squad if fit.

Ezequiel Lavezzi is another who will almost certainly be there considering how integral he has been to Argentina during this qualification campaign.