Marco in the middle: Verratti coming of age for PSG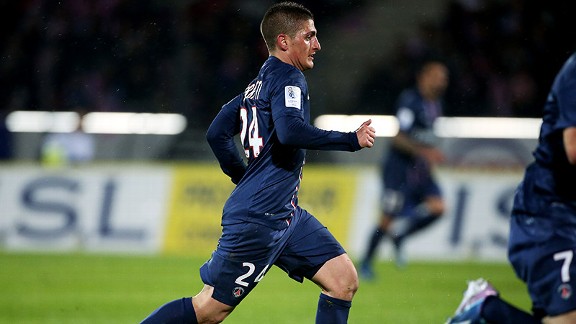 John Berry/Getty ImagesMarco Verratti has emerged as a star for PSG.
Deep-lying playmaker Andrea Pirlo may be facing a battle to save his Juventus and Italy career, but Paris Saint-Germain's Marco Verratti is demonstrating the kind of form that suggests the former's time as the world's best in his niche position is almost up.

The sands of time are running faster than ever for one of football's iconic figures and the youngster, with greater potential than Pirlo himself, is showing signs that he is now ready to take the former's mantle.

"Marco is a natural-born player and he shows that," said PSG coach Laurent Blanc following his side's recent demolition of Benfica in the Champions League. "When he has the ball he rarely loses it and he can dictate the play."

The diminutive midfielder has come to the fore this season, already establishing himself as a key member of Blanc's prized three-man midfield, despite starting the campaign in and out of the first team. Like teammate and midfield partner Blaise Matuidi last term, Verratti could be this season's revelation in the French capital after a promising start.

Already nominated for September's player of the month award, the Italian international finds himself up against Monaco striker Radamel Falcao (7 goals in 9 games) and the Colombian's Monegasque teammate Joao Moutinho. Last season petered out after a strong start following his arrival from hometown club Pescara, but this season Verratti is already looking like a more refined character.

Part of that is down to the 20-year-old's increasing maturity that is evident in every passing display for PSG. Domestically and in Europe, Verratti looks far more comfortable now than he did last season as an unheralded but precocious talent emerging in a team full of star players.

Another part of that is down to the French champions' switch from a 4-2-2-2 formation under previous boss Carlo Ancelotti, to a 4-3-3 under Blanc.

"I have a new tactical position now that lets me push forward more and see the goal consistently," Verratti revealed recently when speaking on international duty.

It is easy to forget that the Azzurri star is still just 20. Last year he made 27 league appearances for PSG and was a fixture in the starting line up for the first half of the campaign before losing his place for what Ancelotti attributed to "naivety."

His performance in the dominant win over Benfica performance illustrates just how far Verratti has come since last season.

He played a key role in two of the goals; the first of which involved a delightful back-heeled flick pass into the path of Matuidi before Gregory van der Wiel crossed for Zlatan Ibrahimovic to open the scoring. The second was a delicate scooped pass that allowed Matuidi to square for Marquinhos to turn the ball in.

Played at a rabid pace, PSG comprehensively dismantled Benfica inside of the opening 30 minutes and the Italian was at the centre of it all alongside Ibrahimovic. In a team performance that was Barcelona-esque at times, Verratti's increased involvement thanks to the roles played by Matuidi and Thiago Motta was emphasised.

"Motta and Blaise Matuidi have a big role to play," said Blanc. "They put Marco in a position where he can start the moves, build the play, and that is the best way to use him."

It is not just in Europe where Verratti has been catching the eye though.

Added to his impressive showing against Benfica, he provided a sublime pass for Lucas Moura to set up the Brazilian's first PSG goal in a 2-0 win over Girondins de Bordeaux last month. He has also started to demonstrate his defensive importance, developing a useful habit of making on-line clearances as seen against Valenciennes and Toulouse.

It does not seem that long ago that Verratti's agent Donato di Campli was urging France not to "criminalise" his client in an interview with Le Parisien after the Azzurri star's blazing touchline row with then coach Ancelotti following his dismissal at Evian Thonon Gaillard back in April.

The Italian international appeared to have undone months of good work with some displays of severe ill discipline. Then this summer's messy transfer saga, influenced by di Campli, threatened to get ugly before it ended with di Campli agreeing a bumper new deal for the player.

At one point it was suggested that Verratti had requested a transfer and plenty of clubs, including Real Madrid, Juventus and a "monstrous offer" from Napoli were rumoured. But despite the controversy about how the new contract came about, his performances so far this season have justified the hassle in tying down one of the world's most promising young talents.

With Pirlo in decline and Verratti's star rising, the player often hailed as 'the next Pirlo' could have joined Serie A champions Juventus this summer as was the case the year before too. Instead, he opted to continue his career in Paris and the player is already beginning to benefit from the decision.

"It's true I was very close to joining Juventus," revealed Verratti recently. "But I wanted to play and not to be a reserve."

"PSG promised me an important role within the team, so I agreed to move to France. That has not changed."

Juve's interest suggests that the Italian giants see Verratti as a natural replacement for the ageing but ever-classy Pirlo, but the new contract makes that a pricey move for the Bianconeri.

Antonio Conte's side appear to have received the message, perhaps explaining their recent interest in Motta, another key part of Blanc's midfield trio. Verratti's compatriot, despite being an integral part of the midfield, is very much still the most dispensable element when you bear in mind how much younger Matuidi and Verratti are in comparison.

The Azzurri starlet, who featured prominently in the under-21 European Championship in Israel as the Italians finished runners-up to Spain this summer, is far from the finished article though. Yet to fully break through at senior level, this season is showing that he is not far away from doing so.

However, Verratti acknowledges there are aspects of his game that he has to work hard to keep under control in order to continue progressing.

"I received far too many yellow cards last season," he said (11 yellow and one red to be precise). "But I have calmed down and learned to control myself."

He is still picking up an average of one yellow card in every two appearances though, four in six starts so far this season, and Verratti is now suspended for Saturday's clash with Corsican visitors Bastia.

18-year-old Adrien Rabiot, who in the future will likely be Matuidi and Verratti's partner in the midfield three, will almost certainly deputise. The next challenge for Blanc may be to replace with Verratti, taking his fellow Italian international's deeper role, in order to bring in the talented French teenager.

Until that happens though PSG will continue to benefit from a settled and focused Verratti. Like Matuidi last season, the Italian is shaping up one of this campaign's biggest successes.