Why PSG and France need the temperamental genius of Jeremy Menez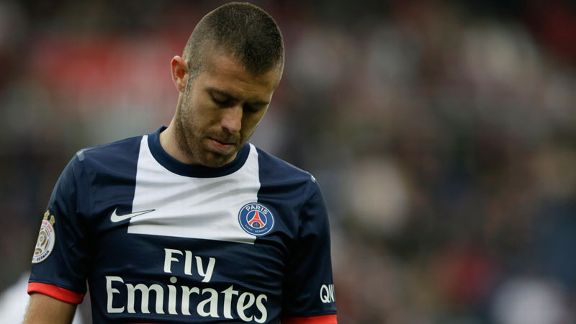 PA PhotosJeremy Menez is temperamental but could be a great asset.
While his Paris Saint-Germain teammates were ripping Benfica to shreds in their recent 3-0 Champions League victory at the Parc des Princes, Jeremy Menez was not-so-quietly storming out of the stadium after learning that he would not play a part in the match.

Named as a substitute against the Portuguese side, he was asked to warm up before eventually being overlooked in favour of Lucas Moura as the final change. In response, the moody Frenchman decided to head to the changing room early. Shortly after storming off, Menez was sent home by PSG President Nasser Al-Khelaifi and disciplined in-house the following day.

It is not the first time that the 26-year-old has reacted this way to not being used either; the same thing happened in Valencia back in February under Carlo Ancelotti.

Menez is a combustible character and his relationship with the French champions has hardly been plain sailing since he signed in 2011. As recently as this summer, he was linked with a move to Ligue 1 title rivals AS Monaco (one of his former clubs) because of his agent brother's presence in the principality.

But despite his reputation as a loose cannon, Menez is a rare talent and one worth PSG and France persevering with when fit.

"We want to keep Jeremy Menez" Al-Khelaifi recently told L'Equipe when questioned about PSG's diminishing domestic contingent at the end of the summer.

"He's one of the biggest talents, even if he still has progress to make."

Since arriving at the club, Laurent Blanc has been deprived of the mercurial Menez's services. The French international returned to preseason training only to discover that he had no choice but to undergo surgery on a troublesome slipped disc that has kept him out of action for the past three months.

It is only now that the enigmatic attacker, who hails from Longjumeau in the Parisian suburbs, is returning to full fitness. However, with the team doing so well on the pitch at present, Blanc has opted for a gentle approach to bringing Menez back into the fold.

His reaction against Benfica is good in many ways. It shows passion, a desire to play and disappointment at having been overlooked when he clearly feels that he is ready. A hungry and motivated Menez will be itching to be given a chance in PSG's upcoming fixtures with potential for rotation in both Le Championnat and the Champions League.

It would be foolish to say that PSG miss him at this moment, considering their start to the season. The switch to a 4-3-3 formation under Blanc has negated the need for as much wide talent in the team as the previous 4-2-2-2 under Ancelotti, but even then Menez was often played through the middle and not on the flank.

Having him back to full fitness gives Le President a valuable new asset to add to his current options, particularly considering Ezequiel Lavezzi and Lucas Moura's inconsistency this season.

That saod, 'inconsistent' is a common, and often fair, description of Menez.

Moments of pure brilliance will be followed by a lack of enthusiasm and energy, resulting in lazy performances. But when he is good, he is unplayable. Witness his sensational solo goal at Rennes towards the end of last season, or his title-winning goal at Lyon that ended PSG's 19-year wait for a third Ligue 1 crown.

With something to play for and facing a fight to regain his place in the starting XI and international setup though, Menez will also likely return focused.

Creativity is something that Blanc has identified that he lacks at present, despite the presence of the likes of Javier Pastore and Lucas Moura. Le President's attempts to bring in Newcastle's Yohan Cabaye and Chelsea's Juan Mata in the summer suggest that he will try to remedy the problem with his current players over the course of the season.

Menez could be like a new signing in that respect. His partnership with Zlatan Ibrahimovic last season was impressive; the Frenchman provided seven league assists, of which five were for the Swede, as well as scoring five goals himself.

It is unknown yet what sort of relationship he could forge with new signing Edinson Cavani who he has had next to no time on the field with. If it is as potent as his link-up with Ibra, it could go a long way towards solving the current conundrum surrounding PSG's two star strikers.

Menez is also immensely popular with the fans. Since the departure of Mamadou Sakho to Liverpool, the sulky star has become the domestic symbol of PSG alongside Blaise Matuidi and the emerging talent of Adrien Rabiot.

Blanc can get the best out of Menez, as was shown fleetingly during Euro 2012 until Les Bleus predictably imploded. But he also knows what you get as part of the Menez package and realises that he must handle with care.

"He must have been disappointed because he thought he would come on. I chose a different option. Full stop. That's the way it is," Blanc told Canal+ immediately after the Benfica clash.
"No comment. Don't attach too much importance to things like that."

The matter was dealt with in-house, with Menez sitting down with sporting director Olivier Letang before it was agreed that the player would miss the trip to face bitter rivals Olympique de Marseille. The issue will now be considered finished.

Deschamps is perhaps less familiar with that side of Menez, but his stagnant France team are in greater need of the player's creativity than PSG at present.

After serving up a rare impressive performance against Australia on Friday, a dose of realism is still needed regarding Les Bleus. They were facing an extremely weak Socceroo side and the large winning margin papered over the cracks of Deschamps' unimaginative selections.

Menez was not fit enough to be considered for international selection just yet, considering that he has not even played a full 90 minutes for PSG since returning from injury. But he could prove to be a valuable inclusion for France's likely World Cup playoff matches in November if ready by then.

Reformed bad boy Samir Nasri and former PSG target Yohan Cabaye showed at the Parc des Princes how beneficial hungry players are to Deschamps at present. Few will be hungrier than Menez and, judging by his behaviour against Benfica, he feels that he is ready to play.

His unpredictability sometimes results in dramatic episodes and there is no doubt that Menez still has some growing up to do. Even if he had been fit for the start of the season, he would have been suspended for the first three games as a result of him insulting referee Tony Chapron during a 3-0 win over OGC Nice last season.

But Menez is one of PSG's most effective players when on the pitch and in his past two seasons he has contributed 12 goals and 19 assists in the league alone. His return to full fitness would be a massive boost for club and country, despite the baggage that he brings with him.