Blanc's tactics see PSG edge past Marseille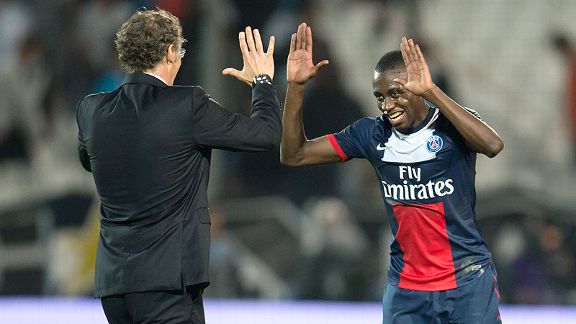 BERTRAND LANGLOIS/AFP/Getty ImagesPSG boss Laurent Blanc relied on his midfielding stalwarts like Blaise Matuidi to emerge as 2-1 winners at Marseille despite being a man down.
Laurent Blanc's good start to life as Paris Saint-Germain turned into an excellent one with PSG's 2-1 win over Olympique de Marseille in Le Classique on Sunday. The defending champions came back from a goal down to claim three important points in an impressive win at Stade Velodrome, with Blanc's tactical nous the inspiration for the turnaround.

- Report: Marseille 1-2 PSG

The side from the French capital fell behind to a 34th minute Andre Ayew penalty after Thiago Motta had been harshly dismissed by referee Clement Turpin for a clash of boots with Mathieu Valbuena. Turpin would go on to make a show of himself during the game, but PSG pulled themselves level 11 minutes later with Maxwell heading in a cross from the impressive Gregory van der Wiel. A Zlatan Ibrahimovic penalty in the 66th minute put PSG 2-1 up, with no controversy surrounding Ayew's challenge on Marquinhos, and that is how it finished.

Despite the contentious red card for Motta, Blanc electing to go 4-3-2 after the dismissal was the pivotal moment of the match. Le President brought off Ezequiel Lavezzi, a dangerous player to have on the pitch but also one with limited stamina, and introduced French teenager Adrien Rabiot, who allowed Blanc to keep his preferred three-man midfield intact.

Preserving that three-man unit allowed PSG to continue to dominate possession for the rest of the game, even when behind, until Ibrahimovic had to come off with his job done at 2-1 to the capital club. It also enabled Blanc to move Edinson Cavani infield from his starting position out wide on the right, putting the Swedish international behind him in a central deployment for the pair.

Blanc's greatest success in his time at the club so far has been to raise PSG's minimum accepted level so that an "average" performance is still a very dominating one. Although his team showed character, determination and desire to win the game, the circumstances were not ideal. However, PSG still managed to triumph, winning the midfield battle just long enough to make it count.

Blaise Matuidi was vital in that, producing a typically energetic and all-around performance to help drive the team on despite going a man down. Alongside him Marco Verratti was impressive too, displaying remarkable maturity to walk the tightrope of having been yellow carded in the 37th minute for the remainder of the match. Rabiot also did well once he was brought on and is growing into the midfield unit, looking very comfortable when given a chance.

Perhaps the one positive from Motta's harsh dismissal is the fact that the teenager, Rabiot, will surely be given more game time.

It would be unfair to divert too much of the attention away from Blanc and PSG, but referee Clement Turpin's performance was worthy of comment because of its appalling nature. Handing out a total of seven yellow cards, and one contentious red, in what was one of the worst Ligue 1 refereeing performances in recent memory (and there have been a few), Turpin almost ruined the game. Thankfully it did not totally spoil proceedings at the Stade Velodrome, but the Frenchman made a number of errors that should not go unpunished by French football's refereeing authorities.

It is nit-picking to say that there was any negative aspect of PSG's performance on the night when the result was most important thing, but the Cavani-Ibrahimovic still struggled to click. Even when El Matador was playing in the middle, things looked too forced. Granted, it is not the ideal match to judge the pair on given the change in circumstances in the first half, but Cavani continues to look out of place and the Uruguayan struggled to make an impact, despite playing as the focal point of the attack following Motta's sending off.

However, the result was the most important thing, not the style with which PSG won the game. The nature of the victory adds to the sense of satisfaction at having beaten fierce rivals Marseille for a fifth time in six competitive outings though.

PSG now have 28 points from a possible 30 in their last nine away league games and Blanc's appointment in the summer is quickly turning from what appeared to be an act of desperation to nothing short of a masterstroke. Despite still trailing title rivals Monaco at the top of the table by a goal difference of two, the team look dominant in every game. Blanc has improved aspects that Carlo Ancelotti's reign deemed it impossible to succeed in with such a team, notably the three-man midfield which is the spine of the Frenchman's success.

Now the team have a fortnight's rest for internationals before they welcome Bastia to the Parc des Princes when Ligue 1 resumes. Nine games in and PSG are two points better off than they were under Ancelotti at this time last year. Things are all of a sudden looking very rosy in the garden of the defending champions.