Time for Blanc and PSG to dream bigger?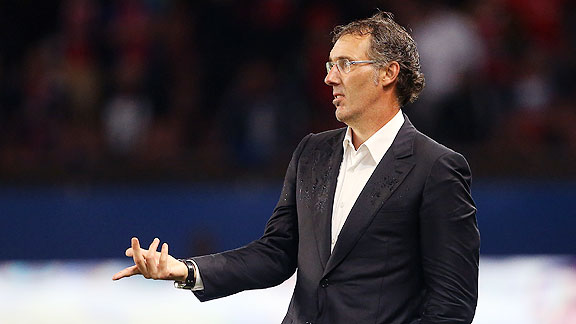 John Berry/Getty ImagesLaurent Blanc has PSG at the top of Ligue 1, but criticism persists about their style of play.
Paris Saint-Germain moved joint-top of Ligue 1 at the weekend, pulling back some early ground on Monaco as both sides reached 18 points out of a possible 24. Saturday's 2-0 win over Toulouse saw the defending champions close the gap on their title rivals to merely goal difference, arguably completing the first phase of Laurent Blanc's mission to succeed in Paris: stabilising the club.

- Report: Cavani: Ibra partnership needs work

Now, with his feet finally under the table at the Parc des Princes, is it time to live up to the club's motto and "Revons plus grand" (dream bigger)? Qatar Sports Investments' ambitious plans for PSG are bigger than ever at present, of that there can be no doubt. Blanc is working with a squad that has been improved in every aspect on the group that Carlo Ancelotti had at his disposal last season. That side secured the capital club its first French title in 19 years and reached the Champions League quarterfinals at the first time of asking following an eight-year absence.

Practically all of the players that the Italian was able to regularly call upon, with the exception of the now departed Mamadou Sakho and Kevin Gameiro, as well as veteran Sylvain Armand, are still there. Blanc also has the talents of 64 million euro record signing Edinson Cavani, Brazilian teenage sensation Marquinhos and talented French left back Lucas Digne adding quality and depth to an already impressive squad.

Yet one the biggest criticisms of this new-look PSG side is that they still do not play like a side that has been assembled at a cost in excess of 300 million euros.

The question on everybody's lips is: when will this happen?

The mission brief for Blanc when appointed in the summer was simple: match the talent that has been assembled on the pitch with a thoroughly entertaining, but winning style. Ancelotti got the winning part right, but PSG's performances under him were often deemed "unimaginative" or "unflattering".

Thanks to the stabilising effect of PSG's early results, Blanc is now established in the French capital. But "uninspiring" and "dull" are still common descriptions of the team's performances under Le President, despite the good results.

Those adjectives may well haunt the Frenchman throughout his tenure at the club.

Nasser Al-Khelaifi declared himself happy with the early season results produced by a man who was viewed by many as the last baguette in the supermarche when appointed earlier this summer.

"It's better than last season when we had just three points after three games," Al-Khelaifi declared after PSG's 2-1 victory over Nantes in week 3 at the end of August.

"Ancelotti did a great job here. But today, even if there are a lot of things to improve, we're playing better than last season already. And that's very important in my eyes."

That ringing endorsement from the PSG President, if a little premature, did little to alleviate the pressure on Blanc to pick up where his predecessor left off and keep winning games.

Entertaining football is what 47-year-old was brought in to augment. Although he is keeping pace with last season's start under Ancelotti, bettering it by two points in fact, the entertaining football tag could be the stick that he is beaten with come the end of the campaign.

Aside from a 2-0 victory over Bordeaux last month, a Girondins side who now sit perilously close to the relegation zone, PSG have rarely looked convincing despite the manner in which they dominate most of their opponents in terms of possession. Not in one single game have PSG's overall control of the ball slipped below 50%, although it came close in Valenciennes of all places last week.

The fans are happy, perhaps that is the most important thing, but they were happy with Ancelotti at the helm too, and there were still grumbles about a lack of style in delivering the finished product. Those criticisms of PSG won't stop until they start playing like a team worth in excess of 300 million euros.

Blanc has to marry the two elements together or he will surely find himself out of a job at the end of the season, barring an unlikely Champions League triumph. Given the way his contract at PSG has been constructed; heavily geared towards the first year with little offered in the second, many expect him to be unsuccessful in realising the club's massive goals.

At present, they do not look the part of a stellar array of stars assembled at high cost to conquer Europe.

Al-Khelaifi and QSI's dream is to reach the same level as the likes of Barcelona and Real Madrid, clubs where style is given the same level of importance as results, and coaches live or die by the pursuit of both. In order to stand a chance, Blanc needs to move away from the 4-3-3 that he has introduced this season, despite its relative success thus far.

It is the safe option but not particularly entertaining. One that allows PSG to control games in the midfield, not exposing a weak defence in the absence of Thiago Silva, but relies only on sheer clinical ability up front to scavenge a goal from somewhere.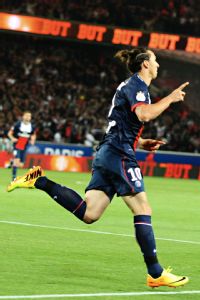 Xavier Laine/Getty ImagesThere is plenty of discussion about whether players like Zlatan Ibrahimovic would be better served not playing in Blanc's 4-3-3.
Moving away from that system will enable him to better accommodate the mercurial brilliance of Zlatan Ibrahimovic and the predatory instincts of Cavani, even if PSG have to sacrifice a bit of their dominance on the ball.

El Matador admitted to BeIN Sport following the 2-0 win over Toulouse that his partnership with the Swede needs "a little more work". It could prove a worthy compromise though, given that the side from the capital do precious little in control of ball a lot of the time and would benefit from being a little more direct at times.

Considering how Ancelotti's job hung on a knife-edge before PSG's final Champions League group game against Porto last season, it is intriguing to see Blanc and the French champions face a similarly standard fare group with another Portuguese giant viewed as the direct rival.

Blanc needs to ensure that his side beat Benfica on Tuesday to take an early lead in the race for top spot in Group C, but it is by no means a straightforward match on the face of it. Not only are Jorge Jesus' side extremely talented, but they will also be roared on by the support of the large Portuguese community in Paris that will descend on the Parc des Princes for the game.

It is strange how similar the paths trodden by Ancelotti's side last season, and the one Blanc and the team are taking this, have been so far. Last term, PSG were beaten 1-0 in Portugal in their second group game. The only difference this time is the opponent and the order in which the games are played, with the first clash coming in Paris instead.

Another week and more vital games for Blanc and his team; Wednesday's clash with Benfica is followed by a trip to face bitter rivals Marseille in Le Classique at the Stade Velodrome on Sunday.

Perhaps it is too big a week to make the radical changes in style mentioned; wins no matter what the fashion are all that will be acceptable against two difficult, but ultimately beatable, opponents. However, after the international break that follows the OM showdown, the onus will be on Blanc and his PSG side to get the desired results but in a more convincing and aesthetically pleasing manner.