Replacing the irreplaceable: Silva out at least 6 weeks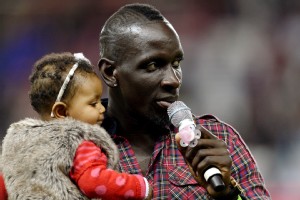 Lionel Bonaventure/AFP/Getty ImagesMamadou Sakho returned to the Parc des Princes Sunday to thank PSG fans. With the team's recent injuries on defence, supporters might be wishing he hadn't left for Liverpool in the first place.
"There were five central defenders for two places, so there was one too many. I said that to him."

That's what PSG manager Laurent Blanc told Mamadou Sakho before the French international joined Liverpool last month, according to Le President's interview with former Paris Saint-Germain player and coach Luis Fernandez on RMC Radio last week.

How he must regret that conversation now.

Three weeks after sanctioning Sakho's move to the English Premier League, captain Thiago Silva was ruled out of action 'indefinitely' according to PSG's website after being substituted 15 minutes into the 1-1 draw with Monaco Sunday. Tuesday, Sakho revealed via Instagram that he will miss six weeks.

-Ibra signs contract extension

With Alex also struggling with fitness and having missed the match with injury, Blanc all of a sudden only has two fully fit defenders (Marquinhos, Zoumana Camara) instead of four.

The six-week diagnosis is better than some initial gloomy predictions, but Silva will certainly miss some important fixtures.

The bigger question for Blanc is who will replace him? How do you replace the irreplaceable?

As it stands, assuming it's the best-case 3-6 weeks scenario, Silva will be unavailable for Wednesday's trip to Valenciennes, Saturday's home clash with Toulouse, next week's Champions League group stage meeting with Benfica and then Le Classique in Marseille against PSG's bitter rivals.

However, should the damage be worse than first thought, his participation against Bastia at home, both European encounters with Anderlecht, Saint-Etienne away and Lorient and Nice at home could be in doubt. While the majority of those fixtures are in Paris, arguably softening the blow, the most difficult fixtures are on the road.

Along with the home clash with Benfica in Europe, the trip to Marseille is an obvious concern given PSG were held to a 2-2 draw in a riveting encounter last time they were at the Stade Velodrome. Marseille have strengthened well since and will pose far more attacking threats for Blanc's men this time around.

Saint-Etienne have become something of a bete noir for PSG in recent seasons. Despite the departure of star Pierre-Emerick Aubameyang in the summer, they have wasted no time in flying to the top end of the table. It will be no easy match at the Stade Geoffroy-Guichard against a team sitting in third, level on points with PSG after six matches.

No match in Ligue 1 is easy, but those two fixtures in particular will be of concern to Blanc. With Silva out, you are not just losing a top quality defender, but also the team's leader on and off the pitch and a calming influence.

Blanc admitted as much in the immediate aftermath of the draw with Monaco at the Parc des Princes on Sunday. "You have to be realistic. You can't lose Thiago Silva without experiencing some uncertainty.

"We all know what a player he is and we know that he's very reassuring for his team-mates."

The other leaders, including Zlatan Ibrahimovic (who took the armband following Silva's departure on Sunday), must now step up to share the responsibility of leading the side in the Selecao star's absence.

As far as a replacement, the injury-prone Alex will almost certainly take his compatriot's position at the heart of the defence once fit. His experience will be invaluable alongside Marquinhos' youthful exuberance that needs to be kept in check as he continues to adapt to his new teammates and Ligue 1 and Champions League football.

Blanc is reportedly considering continuing the Brazilian teenager's partnership with Zoumana Camara Wednesday to allow Alex a full recovery in time for next week's big matches. That is, of course, logical, but Camara should only be seen as an emergency option given he is 34 and badly out of match practice as we saw Sunday.

Valenciennes are, with all due respect, one of the teams that you would be least concerned about facing with a weakened defence when you take into account they are the third-lowest scoring team in Ligue 1 (four goals). But Wednesday's match is not the problem -- the real concern is so much emphasis has been put on Silva and Marquinhos being untouchable in the first team that it has destroyed any sense of depth in central defence.

Until Marquinhos has matured into undisputed starting material, Alex will still be required to help augment the youngster's progress and experience. But still, both Alex and Thiago Silva are not immune to injuries and Marquinhos has had his fair share since arriving from Roma in the summer.

The situation underlines exactly what should have been considered before letting Sakho leave for Liverpool.

Telling him that PSG had one defender too many was poor management from Blanc, who was speaking from a position of relative strength at the time with no major injury concerns. In theory, PSG could afford to let Sakho go, but in reality Blanc probably never thought that he would genuinely have to consider the veteran Camara for selection.

It is futile to blame the current situation on Sakho's exit. The French international had his reasons for moving and the majority cannot be argued. But when Blanc said that he wanted four defenders to choose from this season, Camara should not have been one of those. Blanc also should not have been so uncompromising in the view he had too many players in that position, eventually forcing Sakho to make a decision.

In the stands on Sunday, after being granted the chance to bid farewell to the PSG fans, did owner Nasser Al-Khelaifi have the temerity to approach Sakho to ask him if he finally fancied a game? Probably not, but the 23-year-old likely allowed himself a rueful little smile as Radamel Falcao profited from Camara's rustiness to equalise for Monaco.

You reap what you sow. Blanc will be without Silva temporarily and, while it is a big blow for the team, the upside of it is that Marquinhos will be allowed to continue his development with a string of starting appearances while his compatriot recovers. Valenciennes should not be too stern a test; Toulouse a little more so, but not by much.

The real acid test to see how dependent PSG are on Silva at the back will come next week against Benfica and then Marseille.