Ligue 1 set to welcome new rivalry as PSG host Monaco
Sunday sees the first instalment of what is anticipated to become the biggest rivalry in modern French football. Paris Saint-Germain welcome AS Monaco to the Parc des Princes for the first time since December 2010, a match that would finish 2-2 as Les Monegasques ended the season getting relegated for the first time since 1976.

Almost three years later, it is back again, only this time the circumstances are wildly different. The clash between defending champions PSG and the newly promoted Principality outfit has taken on epic proportions thanks to the events of the years following their last meeting. They meet this weekend not just as France's two most powerful sides, at least economically, but as two of Europe's most powerful sides thanks to the considerable wealth of their respective billionaire beneficiaries.

- Report: PSG welcomes Monaco rivalry
- Report: Monaco deny Falcao clause
- Report: PSG were keen on Ozil

"It creates a platform," former Monaco coach Arsene Wenger said of Sunday's clash to BeIN Sport, the television company that coincidentally shares the same leadership as PSG.

"It makes people look at the French championship, because they're attracting big players."

They are not attracting just "big" players, as Wenger puts it in his typically modest manner, they are now attracting the biggest.

Zlatan Ibrahimovic, Radamel Falcao, Edinson Cavani, Joao Moutinho, Thiago Silva and James Rodriguez are the main star names on the billing for Sunday's clash, with plenty of other talents also worthy of note. All are players who have courted interest from elsewhere in Europe and had the opportunities to join clubs with bigger immediate statuses.

They didn't though. They are here in Le Championnat where almost overnight, French football's landscape has been irreversibly altered by the two teams who now, according to Monaco owner Dmitry Rybolovlev, want to put the domestic game back on the map.

Given how far behind the rest of Europe's "big leagues" France had fallen in football terms since the relative golden era of the 1990s when Marseille and PSG were enjoying continental success, it was always going to take something dramatic to kick Ligue 1 back into life.

In 2011, that dramatic something (actually two things) happened.

The perennial underachievers from the capital were bought by Qatar Sports Investments who are headed by the ambitious Nasser Al-Khelaifi in May, and Monaco were taken over by Russian magnate Rybolovlev in December despite languishing in Ligue 2.

Both set about their plans to reinvigorate French football, but in different ways.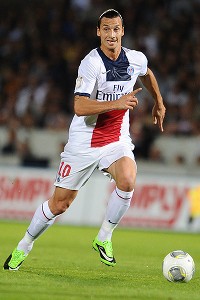 Getty ImagesZlatan Ibrahimovic is one of the many star-studded players brought in recently by PSG.
PSG, in the top-flight for a start, appointed former player and Brazilian international Leonardo as sporting director and charged him with the task of providing an immediate image boost for the club on and off the pitch. Big money signings of the likes of Javier Pastore immediately followed, before Ibrahimovic, Silva and Ezequiel Lavezzi were lured from Italy the year after.

However, Monaco first had to fight off a second consecutive relegation that would have seen them drop into the semi-professional Championnat National, before they could start spending their newfound millions. A spree unprecedented in Ligue 2 history followed, and Claudio Ranieri led the side to the second tier title last season while PSG were celebrating their first Ligue 1 crown in 19 years.

Sunday brings the pair face-to-face for the first time since their respective takeovers and subsequent transformations.

On the Parc des Princes turf will be procession of talent worth 277 million euros, and that is just the pair's combined summer spending from this year. It does not include the previous two campaigns. More importantly than the match though, the meeting throws up the intriguing likelihood that a new rivalry is being fabricated between the owners of the two clubs.

"The presence of Monaco helps make Ligue 1 more attractive," PSG supremo Al-Khelaifi told L'Equipe this week.

"Without the spice of a rivalry, the players would get bored and some of them wouldn't even want to come to France."

He has a point. But there is no doubt now that the appeal of playing in Le Championnat is far higher than it ever has been, at least in the modern era. The money helps, but right now French football needs a select number of truly dominant and recognisable teams. That is something that the country has not seen in football since the demise of the all-conquering Olympique Lyonnais sides of the early 2000s who racked up seven consecutive titles.

Since OL's most recent league triumph in 2008, there have been five different title winners. That means there have been six different champions in six different seasons for those who say that Ligue 1 is not a competitive league.

The problem for those sides who do manage to lift L'Hexagoal, including now PSG coach Laurent Blanc's former side Girondins de Bordeaux with whom he won the trophy back in 2009, is sustaining that success.

Given French football's stringent financial structures and safeguarding measures, it is almost impossible for a "regular" team to now win the title with the presence of two financial heavyweights in the top-flight. I say almost because unheralded Montpellier Herault SC managed it during PSG's first season of Qatari investments, much to the club's embarrassment.

French football needs the healthy rivalry between PSG and Monaco (the match has cheekily been dubbed "El Cashico") in order to keep French football on the rise.

One of the two sides dominating Ligue 1 in the coming years is no good; it has to be a relatively even split. That way the door is then opened to a potential third team, almost certainly Marseille, being taken over and turned into challengers. The financial trickle-down effect of the country's big two or three would then start to flow down through the league, reinvigorating all of the teams as the bigger sides are forced to spend more on domestic talent.

The potential new rivalry comes at right time. Le Classique, the bitter PSG-Marseille grudge matches that are currently seen as the biggest game of the French calendar, are rapidly losing their appeal. Fan violence has resulted in a lack of supporters attending away matches and the dilution of the hatred, at least on the PSG side, that the QSI takeover has caused means the match is less of a draw now than it was even just a few years ago.

Fan trouble, for one, will not be a problem in PSG-Monaco clashes, not least because Les Monegasques' support base is remarkably small for a club that has won the title seven times (four more than PSG's total of three). In fact, they recently announced a record high of 3,524 season ticket sales for the 18, 523 capacity Stade Louis II.

The rivalry, if we can call it that yet, has a long way to go still. But in the billionaires' playground that many perceive Ligue 1 to now be, the real high stakes games are only just about to begin.