Defensive dilemma: Marquinhos v Alex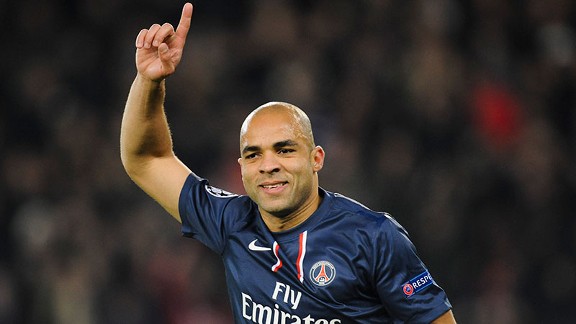 APAlex could be sidelined for the Monaco clash if he fails to overcome a thigh injury in time.
Following €35 million summer signing Marquinhos' goalscoring debut against Olympiakos in the Champions League on Tuesday, Paris Saint-Germain coach Laurent Blanc faces a selection dilemma in defence ahead of Sunday's mammoth Ligue 1 showdown with AS Monaco.

Plenty is being made of the headaches Le President is facing in midfield and up front, as he struggles to fully accommodate the embarrassment of riches that he has at his disposal. However, PSG will be up against the in-form Radamel Falcao at the Parc des Princes on Sunday night and Blanc's central defensive selection could make or break the hosts' chances.

The defending champions were without regular starter Alex in Greece (he was absent with a thigh injury). Compatriot Marquinhos duly filled in, even managing to score a debut goal after recovering from a mistake in the build-up to Vladimir Weiss's sensational solo effort that levelled the scores in the first half on Tuesday.

- Motta: No doubts for PSG
- Johnson: Marquinhos scores on debut

It was an encouraging debut for the 19-year-old and a particularly good first outing in PSG colours when you consider the difficulties of making your maiden appearance in an away European fixture. But it was far from a perfect start to his career with the side from the French capital; the teenager still showed some signs of inexperience and those could be identified and exploited by Monaco on Sunday.

Marquinhos did make some important interceptions though, largely looking calm and composed, bringing the ball forward well and getting involved physically despite his well-documented health issues since arriving in the French capital. There was plenty of encouragement in his recovery after a shaky start, but playing the Brazilian from the beginning in what would be his first start in Ligue 1 on Sunday, would be a huge risk.

The debate in Blanc's mind ahead of the clash will be mobility versus strength.

Does the Frenchman value Marquinhos' ability to keep up with the likes of Radamel Falcao, James Rodriguez, Yannick Ferreira Carrasco and Lucas Ocampos over anything else? Or does he prefer the strength and experience of the more senior Brazilian Alex, despite his obvious physical drawbacks.

Experience in a match like this is undoubtedly a massive factor. Assuming that Alex proves his fitness on Saturday, it is likely that Blanc will not take the risk of throwing his new signing into the deep end of domestic action.

Thiago Silva and Marquinhos, the most expensive central defensive pairing in world football, are both ball-playing defenders. Further mistakes are likely to be made as the two continue to adapt to playing alongside one another and Silva's protege adapts to French football. There will be massive pressure surrounding Sunday's match and a poor performance has the potential to shatter Marquinhos' fragile confidence.

It is surprising in some ways that Blanc can even see the pairing as a natural partnership, given that it is arguably more complimentary to play Silva as the brains alongside a defender who offers the brawn, perhaps explaining the continued faith in Alex. However, the chunky samba star may not be fit in time to even be considered meaning that the only other alternative for Blanc is to pair Silva with the veteran Zoumana Camara.

That partnership may be rich in experience, but there are far more limitations to the 34-year-old than there are to Alex or Marquinhos.

Mamadou Sakho's absence is perhaps underlined in this sort of situation where Alex is not fully fit and it is a bit of a gamble putting Marquinhos into his first Ligue 1 match. It is a far different type of game than he experienced in Europe on Tuesday, against arguably the best team in the league outside of Blanc's side themselves. Had Sakho still been a PSG player, he would almost certainly have started the game if there were any doubts over Alex's fitness.

Instead, Blanc finds himself short of options and is faced with a difficult decision.

Should Alex still be struggling on the eve of the game, Marquinhos will surely get the nod. While the PSG fans would no doubt be delighted to finally get their first glimpse of the fifth most expensive defender in football history at the Parc des Princes on Sunday, a happy home debut could quickly turn into a nightmare if Monaco's excellent start to the season is allowed to continue at his expense.