PSG squad depth set for first major test ahead of gruelling fortnight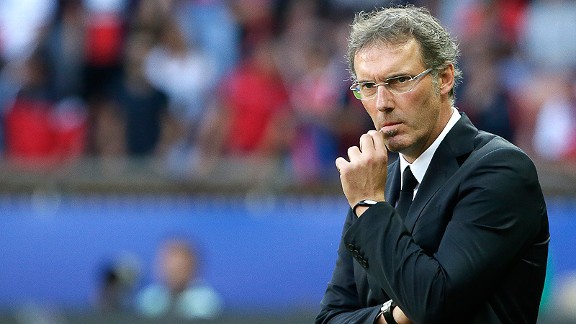 KenzoTribouillard/AFP/Getty ImagesPSG boss Laurent Blanc has interesting team selection decisions going into Tuesday's Champions League opener at Olympiacos.
While 11 members of his first-choice Paris Saint-Germain side have been away on international duty this week, coach Laurent Blanc has been preparing for Friday's trip to Bordeaux largely with a supporting cast. 'Le President' may well need to call on a number of those fringe players later this week when PSG face Les Girondins, just days after the rest of the team will have returned from a full set of international fixtures. A mammoth fortnight is set for the defending champions with Ligue 1 and Champions League games to come. Friday's trip to Bordeaux is followed by a Champions League Group C opener against Olympiakos in Greece, before the highly anticipated clash with Monaco at the end of next week. PSG will then travel to Valenciennes three days later before hosting Toulouse, completing a mean run of five matches in the space of 15 days.

- Report: Figo tipped to replace Leonardo

Three of the next five games are away from home and it does not ease up exactly at the start of next month. PSG start October against Benfica at home in Europe before 'Le Classique' at the Stade Velodrome in Marseille, all of which happens between now and the next international break.

Of the 11 players currently on international duty, six of them have been involved with South American nations for qualifying or friendlies. Those players, including Brazilians Thiago Silva and Lucas Moura as well as Uruguay's Edinson Cavani, are scheduled to travel back to Europe on Thursday, the same day that PSG are travelling to Bordeaux for Friday's game.

With one eye surely on next Sunday's 'El Cashico' with fellow big-spenders Monaco, Blanc will have to rest some of his players between this week and next. His former side Bordeaux seem the logical choice, given that Olympiakos is the opening game of a new Champions League campaign and PSG can ill-afford a slow start in Europe.

The first quandary for the Frenchman will be about who to play up front; all of his regular options will have spent significant amounts of time travelling this week. Cavani and Uruguay face Colombia in Montevideo on Tuesday before he returns, Zlatan Ibrahimovic suffers the notoriously gruelling trip to Kazakhstan with his Sweden side and Ezequiel Lavezzi is in Asuncion with Argentina facing Paraguay.

Given that he will likely want both Ibrahimovic and Cavani fit to face Olympiakos, Blanc may well rest one of the pair and start the other on the bench. However, with Lavezzi also travelling back from afar, their replacement will also not be in the best shape to play. This could open the door for an immediate return to first team action for Jeremy Menez.

The French international has been stepping up his recovery from a back injury since surgery over the summer and has been declared fit enough to face Bordeaux. His productive partnership with Ibrahimovic last season could swing the vote in their favour, meaning Cavani would be benched, but the 26-year-old has also not played in five months so starting him is not exactly an ideal scenario for Blanc.

The circumstances likely mean that Javier Pastore will continue to start for PSG, despite his turgid start to the Ligue 1 season. The Argentine will almost certainly be selected from the start because of his freshness in comparison with his teammates, as he was not involved for Argentina, rather than his actual ability to function well in the starting XI of late. Instead, he could be dropped against Olympiakos and Monaco if he once again fails to produce in the Gironde on Friday.

Other squad players could be given their chance, too. French under-21 international Lucas Digne may get the nod at left back over Maxwell who will have travelled back from America where Brazil face Portugual. Summer signing Marquinhos could also feature, although he has been struggling with a calf injury for the past week. Should he be unable to feature, captain and compatriot Silva will almost certainly keep his place despite Blanc's temptation to rest the Selecao star.

So much depends on what happens on the international stage over the next few days. But given how PSG have performed when Blanc has had an almost fully fit squad to choose from this season, the Bordeaux game has the potential to be a difficult game indeed. The Trophee des Champions clash with Francis Gillot's men in preseason was a difficult match and Friday's visit to the Stade Chaban Demas could prove equally problematic, with or without the international headache.

On the other hand, Blanc's squad is now full of players itching to prove that they are capable of starting regularly. The demanding international schedule could hand them a golden opportunity to stake their claims later this week.