Talking tactics: Switch to 4-3-3 glimpse of future?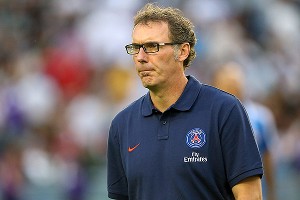 John Berry/Getty ImagesPSG manager Laurent Blanc is adjusting his tactics to players who are on form, which could mean trouble for those who are not playing well.
Sunday's 2-1 win over Nantes at the Stade Beaujoire was Paris Saint-Germain's first maximum points haul in Ligue 1 this season at the third time of asking. More than the goals scored by Edinson Cavani and Ezequiel Lavezzi though, manager Laurent Blanc's decision to go with an unorthodox 4-3-3 formation perhaps offered an indication as to what the future holds for the French champions this season.

Thursday PSG will learn their group stage opponents in the Champions League, a competition in which 'le President' has excelled. The 47-year-old's Bordeaux teams of 2007-10 earned plenty of plaudits, thanks largely to the exploits of mercurial playmaker Yoann Gourcuff, but les Girondins' exploits arguably earned the Frenchman as many plaudits as the side's 2009 Championnat title.

Bordeaux were not expected to win the league and the reach the quarterfinals of the Champions League or better, though. This time around the pressure is on Blanc to get a stellar team performing well both domestically and in Europe. PSG's slow start to the French season has not helped, claiming just one win and two draws from three winnable matches.

That slow start is almost a tradition now though, so few are jumping to conclusions, but Sunday's win did reveal one very telling lesson: that Blanc is unsure how to accommodate certain elements of the team he has inherited.

His decision to recall Lavezzi to the starting XI, having come off the bench to inspire the side from the capital to the 1-1 draw with Ajaccio, was widely applauded. The Argentine went on to score the winning goal despite a performance in which he drifted in and out of proceedings. Blanc leaving Lucas Moura out of the starting line-up was less welcome though; the Brazilian was perceived to be one of the main perpetrators of a poor result against the Corsicans, somewhat unfairly.

Leaving Javier Pastore out of the side instead of Moura would have been more understandable. The Argentine playmaker had been relatively anonymous in the opening two league games, as well as the Trophee des Champions, strengthening the belief that the 24-year-old is incapable of playing in any role other than a central one.

His showing against Nantes should have proven what was discovered last season: that even when played in the middle, he still can't be bothered to involve himself in the game.

In Blanc's rough 4-3-3 Lavezzi stayed wide on the left, albeit in a more advanced role, with Zlatan Ibrahimovic in the middle and Cavani on the other flank. Behind them, Pastore tucked in from the right joined the indestructible Blaise Matuidi and Thiago Motta.

But as is so often the case with PSG and Pastore, particularly under Blanc, his performance made it seem like the team had started the match with 10 men, making the Frenchman's trust in 'el Flaco' appear all the more misguided.

The defence also gave him various reminders he has other options at his disposal, with the previously steady Alex looking shaky and insecure, netting an own goal. Previously forgotten Gregory van der Wiel also served up a timely reminder as PSG's search for a reliable right back continues. His energetic and selfless display, although not perfect, suggested that a 4-3-3 could work with fast wide defensive options. New arrival Lucas Digne provides exactly that and could perhaps be used against Guingamp if Blanc tests his new formation once again.

The PSG supremo's gutsy decision only really worked for the first 30 minutes against Nantes. If it is an approach that he intends to go with in Ligue 1 and in Europe, then the team need to be playing that style more often. Saturday's home match against Guingamp is an ideal opportunity to test the formation once again, paying particular attention to the midfield with an opportunity to involve Marco Verratti and Adrien Rabiot.

Sunday's formation change might also have explained Blanc's interest in Newcastle's Yohan Cabaye, though. His hesitance in trying the formation before now, with Cavani fully fit to flank Ibrahimovic, perhaps was explained by his lack of belief that neither Pastore nor Moura can adequately meet his requirements.

If the opening 30 minutes was really a glimpse of a bright future for PSG once they fully adapt to Blanc's methods, then that future may look decidedly gloomy for certain players.