PSG's "crisis" of three far of the mark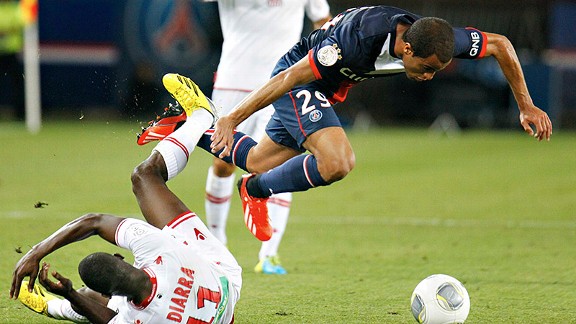 Xavier Laine/Getty ImagesLucas Moura and PSG have stumbled out of the gates with two draws in their first two Ligue 1 matches.
In the fall-out from Paris Saint-Germain's 1-1 draw with Ajaccio on Sunday, the French media started to speak of a "crisis of three," but yet failed to acknowledge the incredible circumstances of the Ligue 1 clash. Laurent Blanc's side created 39 opportunities over the 90 minutes and hurled everything, including the kitchen sink, at the Corsicans and their goalkeeper Guillermo Ochoa.

Sunday's encounter was just one of those games where very little went right going forward and PSG could have done little else in order to find a winning goal. On reflection, it is difficult to even criticise the defence too much given the quality of Benoit Pedretti's out of the blue strike.

The three players in question regarding the 'crisis' are French full back Christophe Jallet, Argentine playmaker Javier Pastore and Brazilian sensation Lucas Moura. There can be few questions about the first two, both were torrid on the day, but the criticism of Moura is surprising.

- Report: Verratti pens PSG contract
- Marcotti: PSG struggling early again

Jallet was a weak link in the defence, and he put in a third consecutive poor performance after his disappointing showings against Bordeaux in the Trophee des Champions and on the opening day at Montpellier. Pastore was again disappointing, but that is to be expected of him by now; it is more surprising when he actually performs well than to witness another soulless display. The 24-year-old failed to build on a promising finish to the 1-1 draw in Montpellier and again impaired PSG with his ability to make it seem like the team were playing with 10 men.

Given Jallet's woeful effort, it was more like nine against 11, and those nine still created almost 40 chances to score. However, it would be unfair to lump Moura in the same bracket as Jallet and Pastore.

Chained to the right flank, obviously a role that is not his natural preference, the 21-year-old comes inside often and looks more dangerous there. That tendency to drift inside leaves PSG exposed out wide and makes Jallet's job of patrolling the right side more challenging. However, Blanc apparently asked the Selecao star to do that at the start of the season.

Moura is difficult to accommodate for the same reasons as Pastore is from the left, but the Brazilian looks far more effective on the right than the Argentine looks on the opposite side. For one thing, he is prepared to work hard and involve himself, something we rarely see from Pastore.

The former Sao Paulo superstar is a valuable asset to the side because of his movement, speed and ability to move the ball at pace while keeping possession of it. Few, if any, of the other PSG players have this ability. To drop him for Sunday's trip to Nantes though, which seems to be the general consensus, is an outrageous conclusion.

Instead, Blanc should be coming up with new ways of replacing the ineffectual duo of Jallet and Pastore and must have the conviction to make the necessary tough decisions.

There are already a number of names being touted as possible replacements for Jallet and also Dutch right back Gregory van der Wiel, who has failed to convince of his ability to usurp the Frenchman. Arsenal's Bacary Sagna and van der Wiel's Ajax successor Ricardo van Rhijn have been suggested as possible options; although it is surprising nobody has proposed Sochaux's highly rated French under-21 right back Sebastien Corchia as a potential target.

Blanc and PSG's continued focus on the centre of the midfield is perhaps a little misguided when the real problem seems to be out wide, particularly on the left.

Pastore, who was shown up by Ezequiel Lavezzi after being substituted, was deservedly booed, only for the fickle crowd to then immediately cheer him once on the bench in order to not upset him. He deserved the ire of the Parc des Princes for his turgid showings so far this season.

To say PSG need to strengthen is false; buying is not always the way to solve problems and the French champions have a squad stronger than most in Europe, let along France.

Central midfield is already well stocked with Blaise Matuidi, Thiago Motta, Marco Verratti and Adrien Rabiot competing for places. Matuidi's eight-stitch head wound from Sunday's match with Ajaccio is a concern ahead of the trip to Nantes, but unless he is out for considerable spell, a replacement will not be necessary.

Clement Chantome's imminent departure for Toulouse on loan will free up more space in the midfield, but until Mathieu Bodmer and Momo Sissoko are shifted elsewhere, there will be no room for additions in PSG's squad.

The left wing has Lavezzi as a more direct, more effective answer to Pastore's limited impact, but the former seems to be considered as more of a striker than a wide man. The return of Jeremy Menez in September could solve one or the other of the supposed "crisis" positions given that he is capable of playing on both sides, but Blanc can already solve one of those areas by simply dropping Pastore due to poor form.

Otherwise, Nantes on Sunday presents 'Le President' with a perfect chance to put Pastore in middle alongside the reassuring presence of Motta. The Argentine showed he can play there against Montpellier and with Matuidi unavailable, it would be the perfect time to experiment.

To say that PSG need to buy and are in crisis after two matches though is wide of the mark.

Jallet has been far below the level required by the capital club for some time; that is nothing new. It is remarkable that he has even lasted this long. Pastore, as talented a player as he can be, is just not consistent enough and needs to be brought closer to the action to guarantee regular involvement. Moura, though, is in neither category and does not deserve the criticism without more concrete reasons being brought to the table against him.

The season is two games old and PSG have not lost either of them. Of course, both results could have gone more according to plan, but it seems that everyone has already forgotten that Carlo Ancelotti's side did not win until week four last year. The team's retractors need some perspective it seems.