PSG need reaction against Ajaccio after slow start to season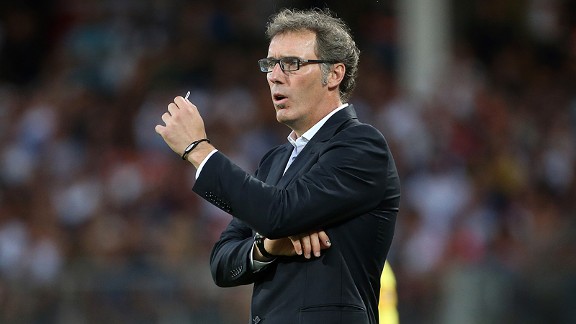 John Berry/Getty ImagesPSG manager Laurent Blanc is adjusting his tactics to players who are on form, which could mean trouble for those who are not playing well.
Paris Saint-Germain need to react when they face Ajaccio at the Parc des Princes on Sunday following a typically slow start to their Ligue 1 title defence in Montpellier last week.

Laurent Blanc's men stuttered to a 1-1 draw with the side that pipped them to the top spot the year before, and were outplayed at times in the first half. PSG rallied in the second and arguably should have won it late on, but early season victories for all of the capital club's predicted title rivals have turned up the heat a little on Sunday's clash with their Corsican visitors.

- Lucas Moura relishing Monaco threat

That is not to say that PSG should be worried about not winning their first game of the season, far from it, in fact. Last year Carlo Ancelotti's side didn't win until week four, registering three consecutive draws until a 2-1 win at Lille broke the stalemate. Those six "dropped" points had little effect on the overall title race as the team finished 12 points clear of bitter rivals Marseille, sealing a first Championnat crown in 19 years.

So it is safe to say that nobody around the Parc des Princes will be making any knee-jerk reactions just yet, but the media surely will as they attempt to crank up the hysteria that currently surrounds newly promoted Monaco and PSG until it reaches a fever pitch. It was suggested in the summer that, should Blanc suffer a few unfavourable results, the spotlight would immediately turn its harsh glare upon him; anything less than a win this weekend could see that happen after just two matches.

It doesn't help that Sunday's visitors Ajaccio are the only side who did not ship a single goal to the French champions last year. Two of Mexican international Guillermo Ochoa's 12 clean sheets in 2012-13 came against PSG. That statistic can be easily disarmed by the simple fact that Les Ours also did not score against the side from the capital, but they won't need to again this weekend as another frustrating draw will be damaging enough.

Because of difficult matches like these against highly motivated, stubborn teams, PSG spent heavily on Edinson Cavani this summer. Of course, the Uruguayan was also bought with the vision of competing for the Champions League, but all too often last year Ancelotti's side struggled to consistently find a way past the walls of defenders that the majority of Ligue 1 sides put in their way. The lack of a natural, predatory second striker became obvious, particularly after Christmas, and Cavani's arrival should put an end to that problem.

To those unfamiliar with Le Championnat, and particularly foreign players arriving in France from abroad, it is easy to underestimate the resolute nature of teams like Ajaccio and now even mid-to-upper half of the table outfits like Bordeaux (who shipped two late goals to Monaco last week after holding out for over 80 minutes without conceding). The defensive approach that so many of the smaller sides employ is something that has been a feature of the French top-flight for years, but something few people seem to be able to comprehend until a star striker comes to Ligue 1 and struggles.

In defence of last season's top scorer, Zlatan Ibrahimovic, that problem did not affect him. But that does not mean that it was an easy ride for the Swede; far from it. Ibra may well have enjoyed the most productive campaign of his career, but his 30-goal haul, equalling Jean-Pierre Papin's total from the 1990 season, was no walk in the park. New strike partner Cavani and Monaco's Radamel Falcao to a degree will discover just how hard it is this year.

Games against the likes of Ajaccio are the ones that ultimately gain you the points that win the league. 'El Matador' is expected to be fit enough to make his full home debut, which should be motivation enough in itself to win the game and Thiago Motta is also scheduled to return in place of Marco Verratti. However, should 90 minutes pass without the desired outcome of three points and a first goal for new arrival Cavani, the tension surrounding PSG will continue to heighten.

With a few weeks left in the current transfer window, there is time for PSG to further reinforce the squad. However, the current selection Blanc has at his disposal eclipses that with which Ancelotti won the title last year. A number of departures are expected before September 2, most notably French international Mamadou Sakho, meaning one or two players could come in. But instead of trying to add more cooks to the broth, Blanc should focus on winning matches with the more than capable stellar squad he already has in front of him.