Are PSG becoming a French club in name only?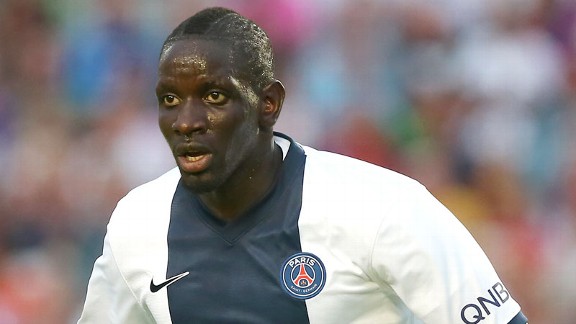 Martin Rose/Getty ImagesMamadou Sakho's lack of playing time at PSG has cost him a spot on the French national team.
France gear up to face Belgium in a friendly at the King Baudouin Stadium on Wednesday with no Paris Saint-Germain players included in the squad. Given that it is a relatively meaningless encounter, it does not mean much in the short-term. However, the bigger picture for the French champions is that their domestic talents are now starting to pay for their supposed inability to break into the capital side's first team on a regular basis.

Some of those players can have no complaints; given the calibre of competition they face in the PSG ranks. But others have legitimate gripes as their international hopes are put in jeopardy.

Defender Mamadou Sakho was one glaring omission from Didier Deschamps' squad for the ill-timed friendly. An ever-present in all of the former World Cup and European Championship-winner's squads since taking over as Les Bleus' coach in 2012, the 44-year-old took the opportunity to emphasise Sakho's "lack of match practice."

Given Sakho's current predicament, Deschamps's comments take on an important role in the 23-year-old's potential departure. They also provoke a sense of double standards given Eric Abidal's inclusion despite an obvious lack of competitive match practice in comparison to Sakho over the last six months.

The Paris-born player is looking to leave the club that raised him because of fears that he will not make Deschamps's final World Cup squad for Brazil if he stays and sits on the bench. However, Sakho is not keen on leaving the club given his loyalty to the French champions.

- Sakho wants to leave PSG

With his international chances now in real danger thanks to his coach's pointed words, there is a chance that the defender will miss out on Brazil next year, assuming France qualify. But making the wrong move ahead of a crucial year in the build-up to the tournament would be equally as damaging, and Deschamps's words put more pressure on the youngster to make a decision.

The same goes for Sakho's long-time teammate, Clement Chantome, another domestic talent who is finds himself pushed towards the exit.

Although the 25-year-old is less of a fixture under Deschamps for France, having only figured once, he was harbouring dreams of making France's World Cup squad less than one year ago. Chantome made his debut for Les Bleus against Japan last October, but has since stagnated in the French capital, along with many of his compatriots.

Striker Kevin Gameiro, who was also in the same situation, has had to move to Spain with Sevilla in order to resuscitate any lingering international ambitions. Sakho, and certainly Chantome, will likely have to do the same in order to earn their ticket to Brazil.

Blaise Matuidi and Jeremy Menez are under less pressure, for now, and both miss the Belgium match through suspension for France's next competitive outing and injury, respectively. But even those two might not be sure of their places in Deschamps' plans ahead of Brazil depending on how the season goes.

Despite Laurent Blanc's claims that Sakho is in "fair competition" with Alex, Marquinhos and Zoumana Camara for a place alongside Thiago Silva in PSG's regular starting XI, there is a feeling that the team's cosmopolitan makeup is really starting to harm team chemistry.

The Frenchman is arguably a better current option than Alex for the side, based on last season's form. More athletic and mobile than the Brazilian, Sakho is a player with a bright future. While the cumbersome 31-year-old Alex is arguably more experienced than his teammate, he offers little else in the way of superior quality or mobility.

Hervin Ongenda, Adrien Rabiot and Kingsley Coman lead a new generation of exceptional young domestic talent coming through the PSG ranks at present. Under-20 World Cup winner Lucas Digne has also recently joined the club. It could be that they are simply rated better than the current generation of homegrown stars and the club are already trying to make way for them.

Maybe PSG see more of a future for young Antoine Conte, currently on loan at Stade de Reims, than they do for Sakho. Equally, maybe not; and the same fate currently being suffered by the likes of Sakho and Chantome could befall them once they mature.

However, it is hard not to think that captain Silva's declaration upon arrival that he was "more comfortable" playing alongside Alex than Sakho had a massive impact on the Frenchman's future. Since then, not only has he been demoted to third and now arguably fourth choice in the pecking order, but the players favoured ahead of him speak Portuguese and Silva has not even mastered a basic level of French yet.

As a French club with a French coach playing in France, not enough emphasis is being put on PSG's national identity despite the domestic talent at Blanc's disposal.

It would be unrealistic to expect the French champions to field a team predominantly made up of French players, although they arguably could, as some are simply not good enough to start. But some are good enough to feature regularly. Sadly, it just seems that the reasons counting against them depend on more than just footballing ability.

Surely the captain of the side should be fluent, or at least able to converse in the native language, as former Portuguese captain Pauleta did. There is no doubt that Silva is by far and away the best candidate to lead this PSG side on the pitch, both in terms of ability and experience, but it should not be a disadvantage for the French players at the club to speak their mother tongue.

That is how it appears at present though. There is a sense that, no matter how legitimate may be some of the French contingent's claims to first team football, the reasons blocking their route into the side are not solely football-related.

Would Alex be selected ahead of Sakho as often if the Frenchman spoke Portuguese? Perhaps not.

Not only does a lack of common language impair their ability to communicate effectively with their teammates in such a multi-cultural environment, it also makes claims of "fair competition" appear hollow. There is a danger that the same fate will eventually befall all of the capital club's current French stars, including the likes of Matuidi and Menez who are still regulars in the first team, and that all will gradually be alienated.

A French national team shorn of PSG representation could become more of a reality in the near future it seems, despite the players' best efforts.