Did Montpellier draw provide an answer to the Pastore enigma?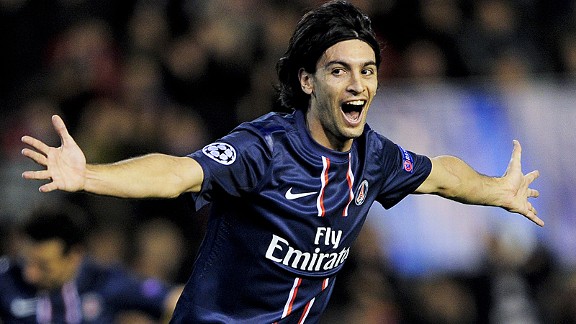 GettyImagesJavier Pastore excelled once moved into a deeper, central role.
Considering the rest of the results from Ligue 1's first week of action, Paris Saint-Germain's season-opening draw with Montpellier was hardly the ideal start to the new campaign for the defending champions. It was not a complete disaster either though, La Paillade are a difficult team to beat and it was a tricky debut fixture for Laurent Blanc and his side to navigate.

Admittedly, the circumstances were not the best for new boy Edinson Cavani to make his debut, particularly with a fully fit and match-ready Falcao already getting off the mark for Monaco, heightening expectations ahead of Sunday's clash with Ajaccio. But the draw at the Stade de la Mosson did throw up a particularly intriguing lesson, and one that could greatly benefit PSG as the season progresses.

- Javier Pastore - PSG's 'Robinho'?
- Pastore talking his way out of Paris?

Since arriving at the Parc des Princes from Palermo in the summer of 2011, Javier Pastore has flattered to deceive. The Argentine international was immediately brilliant, enjoying the sort of immediate impact that you would expect of a player worth €42 million. Six league goals and two assists in his opening 10 games for PSG appeared to herald the birth of a new superstar in the French capital. He finished his debut season with 13 goals and five assists.

However, the 18 months that followed have not been as happy as the opening six. The 24-year-old has still contributed regularly, including important goals against Toulouse, Evian, Valencia and Barcelona last season, and finished the title-winning year with four goals and eight assists. But the playmaker's sulky, disinterested demeanour has become just as common, and frustrating, as his occasional flashes of brilliance.

Pastore is an enigma.

Carlo Ancelotti struggled to solve him and decided the best way to utilise the expensive attacking midfielder was by playing him out wide, having fleetingly tried a deep-lying role in his early days in charge, but almost giving up on 'el Flaco.' The Italian declared his willingness to persevere with the mercurial talent, but also made his disappointment clear last December.

The Argentine's impassioned plea to his coach to stay at PSG towards the end of last season, before Ancelotti eventually left for Real Madrid, speaks volumes over how hard the two-time Champions League winner worked to rediscover his player's true form. But new coach Blanc might have stumbled upon the solution to Pastore's struggles during the draw with Montpellier, and it is not something new or revolutionary.

With the ever erratic Marco Verratti being substituted in the 76th minute on the verge of a second booking, Pastore was asked to drop into the deep-lying midfield role alongside Blaise Matuidi in order to push substitute Hervin Ongenda as far forward as possible. In that role for the final 14 minutes, the previously invisible star came to life and produced a simple but effective performance that eclipsed his entire showing up until that point.

Moved into the centre, albeit further back than he'd prefer, Pastore looked far more comfortable than he has done at any point played out wide on the left. His distribution was immaculate, something that was not true of his performance against Bordeaux or the opening 76 minutes in Montpellier, and he looked more calm and composed than he has done for a long time in a PSG shirt.

Crucially he also looks calmer and more composed than Verratti who, true to form, only took 32 minutes to pick up a first booking of the season. The diminutive Italian was lucky to stay on the pitch for various incidents after his initial caution. When fit, Thiago Motta provides that reassuring influence. But Pastore looked just as capable when filling in for Verratti, not to mention infinitely more reliable than the youngster and less injury-prone than Motta.

'El Flaco' now appears to be maturing.

When Ancelotti initially tried him in a deep-lying role, he was not ready for it. But given how difficult it is for PSG to now accommodate a number 10 role when playing with Zlatan Ibrahimovic and Edinson Cavani up top, a more withdrawn central role looks the best fit for Pastore with the current 4-2-2-2 formation. After the Montpellier cameo, it appears that he is more willing to accept deployment in that position and it should be clear to Blanc that he now has another option there in the Argentine.

One of the French champions' major problems from their opening two matches this season has been a lack of creativity from midfield. Often the moves have broken down when the ball comes to Pastore on the left. Pairing a player with the technical talent of the Argentine, but without the petulance of Verratti, would enable the team to accommodate the industry of Ezequiel Lavezzi out wide. Doing so would also preserve a vital pace-based attacking outlet in the midfield that Pastore cannot offer.

With former Napoli man Lavezzi flanking Ibrahimovic and Cavani, and a reinvigorated Lucas Moura on the right, PSG could arguably become more fluent in attack. Placing Pastore further back, Blanc's side would also benefit from his understanding with Cavani from their Palermo days, something we saw flashes of against Montpellier. That will be particularly useful as the side from the capital embrace their ability to take a more direct approach with two physical strikers now leading the line, something that will come to the fore domestically as the season progresses.

It was only a short spell lasting less than 20 minutes, so perhaps it was too little time to judge whether Pastore is truly ready to change position once again. But with Ajaccio at home coming up this weekend, by no means a straightforward game but one that PSG can arguably use to experiment and still expect to win, Blanc has the opportunity to try a new look with Cavani likely to make his full debut.