PSG gear up to open title defence at Montpellier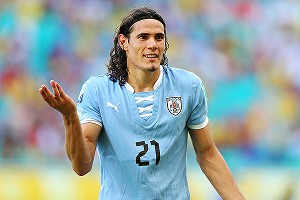 Clive Mason/Getty ImagesEdinson Cavani's last game action was with Uruguay in the Confederations Cup in June.
French champions Paris Saint-Germain travel to 2011 Ligue 1 winners Montpellier on Friday evening to kick off their title defence. Less than three months after sealing a first league triumph in 19 years, the capital club start the 2013-14 season with major changes having been made on and off the pitch.

PSG gave new coach Laurent Blanc the best-possible debut with victory in the Trophee des Champions and 'Le President' prepares to make his Championnat bow in new colours at the Stade de la Mosson. The side also prepare to face the new campaign without sporting director Leonardo who departed under a cloud following his extended ban for assault. Despite his exit, a suspended three-point penalty still hangs over PSG's heads as the new campaign gets underway.

However, part of the Brazilian's legacy is the French transfer record signing of Edinson Cavani from Napoli. The prolific Uruguayan international is yet to feature for Blanc's side though, even in a friendly, as he was not fit enough to join his new teammates in Gabon last weekend.

-Cavani could make debut Friday

His potential involvement in Montpellier is the most pressing issue heading into the opening match, given he only trained in a group with his new teammates for the first time on Wednesday. The French media are reporting that he is not yet ready to play 90 minutes, but Blanc has already lost valuable time to bed him into the side. Leaving him out against La Paillade only delays that further.

"If things remain on course then yes, he will be part of the squad," Blanc said Wednesday. "He still has some preparation to do, he's a bit behind the others.

"It would be silly to make him play a full game at all costs, wasting the meticulous preparation we've done together. A decision will be taken on the day. The problem is timing."

With Blanc not having seen Cavani play, speculation suggests that former Napoli teammate Ezequiel Lavezzi will be the player to make way if Uruguayan does start. Given how Javier Pastore played against Bordeaux in Africa, once again in an unfamiliar wide left position, would it be more beneficial if he made way instead? Lavezzi's hard-working attitude and industrious runs would certainly be of more use to PSG against Jean Fernandez's side than a repeat showing of his compatriot's sulky, half-hearted efforts on Saturday.

It has been a far from ideal summer in the capital, with the departures of former manager Carlo Ancelotti and Leonardo and the appointment of Blanc contributing to what felt like a rushed preseason. A number of absentees, on extended holiday after international duty, ensured that it was not optimum preparation for PSG.

Despite that, this campaign started in perfect fashion with the Trophee des Champions victory securing the French champions' first silverware.

In current form, the PSG side looks the best equipped to win the league again this season, despite the heavy investments made by Monaco upon their return to the top flight. The problem is, will it look the same come the end of the transfer window? The lessons taken from Africa give a small indication as to what can be expected of Blanc's side this season.

First, the midfield appears to be more possession-based, a big positive given that it was something Ancelotti failed to fully establish despite his best efforts. That means players such as Thiago Motta, despite his injury problems, have a future under Blanc. Someone like Marco Verratti though, superbly talented but not yet as disciplined when in control of the ball, will have to wait to secure a regular place in the lineup. That could happen in Montpellier after Motta's injury struggles resurfaced post-Bordeaux.

The biggest question posed though is the re-ignition of the Alex-vs.-Mamadou Sakho debate, something many assumed would have been resolved over the summer. The Brazilian started ahead of the Frenchman against Bordeaux, with new arrival Marquinhos not even taken to Africa.

After interpreting that as him being considered fourth-choice this season, Sakho now looks likely to snub a proposed new contract to leave if he is not named in Didier Deschamps' France squad for the upcoming friendly with Belgium.

Marquinhos and Lucas Digne (who at least travelled to Gabon) did not feature in the Trophee des Champions but could play against Montpellier. Hervin Ongenda, providing he recovers from a fever, will be hoping to continue his fine form after capping an excellent preseason with the winner against Les Girondins. Fellow youth academy graduate Kingsley Coman looked equally as impressive.

Monaco open their season one day later in Bordeaux and, given the massive pressure PSG are under to start well because of Les Monegasques' exploits this summer, Blanc's side need to be quicker off the mark than they were last weekend. Montpellier is has not been a haven for the capital club, having won only twice in their last 10 visits to the Mosson. They need to avoid an early slip to dodge any unnecessary early heat being applied.

First impressions are lasting impressions they say. If Cavani plays, he'll need to be on top form if PSG are to shrug off the preseason doubters.