The kids are all right -- PSG win Trophee in Africa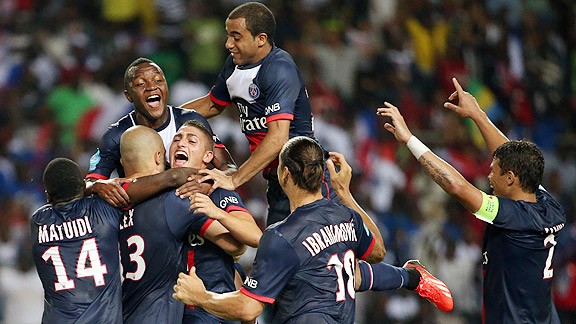 Franck Fife/AFP/Getty ImagesAlex, second from left, is mobbed by teammates after his late goal gave Paris Saint-Germain their first Trophee des Champions victory in 15 years.
Having looked as if they were heading for a first competitive defeat on Laurent Blanc's debut as coach, Paris Saint-Germain snatched a late 2-1 win over Bordeaux to secure the Trophee des Champions Saturday in Libreville, Gabon.

The side from the capital had looked lacklustre for large parts of the match, but a gutsy triple substitution from 'Le President' 15 minutes from time changed the game. Teenagers Hervin Ongenda and Kingsley Coman were the catalyst for a late PSG revival when the French champions had looked in danger of firing a 'blanc'.

Despite the victory, there was plenty for the 47-year-old coach to consider, not least in defence, after a plucky but under-strength Bordeaux side almost claimed a surprise victory. However, PSG eventually got the win and Blanc becomes the joint-most decorated coach in the Trophee des Champions' 18-year history.

The victory is Les Parisiens' third of the competition in its current format, but their first triumph since 1998, having failed on their three previous attempts. It took a brave decision to decide the game against his former club.

With Les Girondins looking comfortable with their one-goal lead thanks to Henri Saivet's first-half header, Blanc knew that he had to make a change with PSG looking stale and out of ideas since the start of the second half. The Frenchman was prepared to do what is necessary, and brought off the underperforming Javier Pastore and hard-working Ezequiel Lavezzi and Thiago Motta, replacing them with Coman, Ongenda and Marco Verratti.

Blanc was rewarded for that bravery.

Their impact was almost immediate; PSG came forward and Zlatan Ibrahimovic headed a deep Christophe Jallet cross in at the far post. The Swedish international had not found the net in preseason until that point, only to discover that the goal had been wrongly disallowed for offside.

Unperturbed, the talismanic striker turned provider minutes later, clipping a deft pass into the path of the onrushing Ongenda, who slid in his third PSG goal since graduating to the senior setup earlier this summer. It was a flowing move, precise, well-worked and by far the best of the evening from Blanc's side.

It was not only demonstrative of Ibra's immense creative quality, but also of the prolific nature of the emerging 18-year-old Ongenda, who is fast becoming a revelation for PSG.

Spurred on by the equaliser, the Ligue 1 winners started to push forward at every opportunity with Coman, 17, at the fore, showing glimpses of his considerable potential. After sustained pressure, it looked as if Bordeaux's defence would hold and that penalties would decide the outcome of the African showpiece. That was until Alex headed in a late, late winner from a Lucas Moura free kick, almost the last touch of the game.

PSG were dominant in possession in both halves, but there was a distinct lack of quality in front of goal and the Brazilian's late winner was perhaps a little more than was deserved. Until that point, Lavezzi had been the most impressive player going forward for Blanc's side. As industrious as ever, the Argentine was determined and full of energy, but once again he lacked the clinical ability needed to justify starting as Ibrahimovic's regular strike partner. Thiago Motta also looked sharp, starting in midfield alongside Blaise Matuidi. The 30-year-old was calm and composed, as usual, looked in excellent health and was a constant menace with some expertly taken set pieces.

However, as impressive as Motta was, Verratti, 20, would perhaps have been a better option from the start. It soon became clear that PSG were lacking purpose going forward and the senior of the two Italian internationals could not compensate for the lack of the junior's long raking passes and driving runs from deep.

Part of that problem going forward was Pastore. The Argentine, starting on the left in the absence of Edinson Cavani as Lavezzi was pushed forward, the playmaker looked disinterested. Wide on the left is not Pastore's most comfortable position, but the 24-year-old's lack of commitment and willingness to muck in is a continued source of frustration. The former Palermo man might need to get used to watching games from the bench if he reproduces the same poor passing and noncommittal attitude shown against Bordeaux.

Another concern for Blanc will be in defence.

Alex was preferred over Mamadou Sakho and, despite scoring the late winner, did little to suggest that he will be a sound partner for Thiago Silva once again this season. Jallet's poor performance at right back was perhaps even more alarming. PSG were ripped apart at times, not least for the Bordeaux goal where Nicolas Maurice-Belay was give far too much space on the right-hand side. The chance came from Jallet's territory and the Frenchman was totally lost as Saivet nodded home Maurice-Belay's excellent cross.

Should the starting lineup prove indicative of Blanc's plans for the season, PSG have some major concerns heading to Montpellier Friday for the Ligue 1 opener. However, it could just be that the Frenchman wanted a maximum sense of continuity as his side got their competitive campaign underway though.

Regardless, a new season has begun in the best possible fashion, winning some silverware and heightening the players' anticipation for the coming campaign.

The season starts here.