PSG arrive in Gabon without Cavani and Marquinhos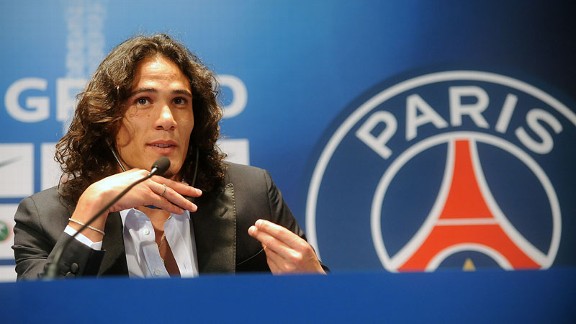 GettyImagesCavani will start the season have played little with his new team-mates.
Despite having trained with their new team-mates all week, Edinson Cavani and Marquinhos were not among Laurent Blanc's 23-man Paris Saint-Germain squad list for this weekend's Trophee des Champions clash with Bordeaux. However Lucas Digne, the third of PSG's new signings, did make the list but PSG head to Gabon minus their two most expensive acquisitions so far this summer with only this match left to play before the Ligue 1 season starts.

The reasons for Cavani and Marquinhos' absences range from the pair not having been deemed fit enough to play a part just yet, to not having the necessary time (10 days) to allow the required vaccinations for such a trip to take effect. Digne though, who admittedly was playing up until just a few weeks ago with France's under-20 squad, has had no such problems with fitness so it can only be assumed that the players were not vaccinated in time.

- Cavani, Marquinhos to miss out

Knowing that the French champions' pre-season was scheduled to culminate in the showdown with Blanc's former side in Africa, the club should have been more alert to the fact that they needed to give the pair those injections upon signing.

Cavani's extended break since he signed - because of international duty according to PSG - is somewhat understandable given Thiago Silva's late return date for representing Brazil in the same Confederations Cup. But Marquinhos' is not. Particularly after rumours that the player was delayed in training with the team because of a virus that he caught when returning to Europe.

Consequently Blanc now goes into the game with Les Girondins not only with the first potential silverware at stake, but also with no idea how two of his three summer signings are going to get on in their first real match for the capital club. The Trophee des Champions would have been a perfect opportunity to give both their first run out in PSG colours, but more importantly it would have allowed Blanc to assess how much time will be needed for the pair to integrate.

Digne is less of a worry. Firstly he is French so communication is less of an issue, and he has not been out of match practice for long, so arguably did not need a pre-season. Of course there is a chance that he has not fully recovered after last season's exertions but between the 20-year-old Digne and the 31-year-old Maxwell, there is no doubt who is probably more sprightly after two gruelling campaigns.

It takes me back to the point made in the blog entry that I wrote following the Real Madrid match. Without the clash against Napoli in Italy that had been arranged and was then cancelled for security reasons, PSG's pre-season has been lacking one or two matches to really thoroughly prepare for the new season. Of course the extended breaks for Confederations Cup duty could not be helped, the absences through the under-20 World Cup and the under-19 European Championship are cause for great encouragement even, but there is a sense that PSG could have planned this better.

Starting the new Ligue 1 season having not even been able to field two of your most expensive signings is a big risk. Blanc will be trying to integrate one, and possibly two, key elements to a side that is expected to hit the ground running and win the league this season while competing once again in Europe. The pressure will truly be on from the moment PSG kick-off at the Stade de la Mosson next week.

Not that the pressure wasn't there when Carlo Ancelotti was in charge, but everything felt more calculated and better prepared this time last year and PSG's pre-season culminated in an encouraging showing at home to Barcelona, when the team fought back from 2-0 down to draw 2-2. Even if it did end in a penalty defeat, there were signs of progress within the side even at that early stage. This time around there have been precious few, if any, and Blanc has not even been able to experiment with a full-strength side, whatever that may eventually look like.

Cavani will almost certainly go straight into the team for the Montpellier clash as the French season begins; Marquinhos could take some considerable time to bed in. As will likely happen with Radamel Falcao at Monaco, the Uruguayan may need a period of time to adapt, even Zlatan Ibrahimovic needed that. Pre-season would have been the ideal time to get some of that out of the way so that 'El Matador' could tear into league action immediately. But instead, the pressure will now be on both Cavani and Marquinhos to have an immediate impact when they finally get to join up with the team.