Fail to prepare, prepare to fail?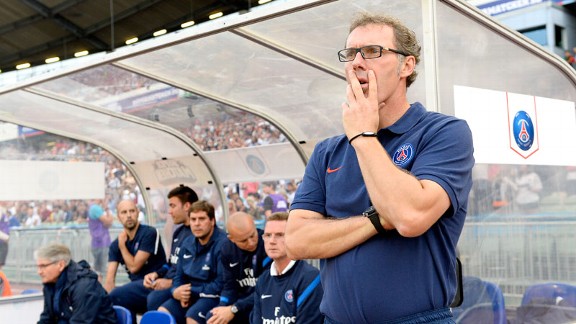 Jonathan Nackstrand/Getty ImagesLaurent Blanc's PSG is only now getting a chance to have a preseason with all players in tow.
With the Napoli friendly that had been scheduled for Tuesday cancelled due to security concerns following Edinson Cavani's move to Paris Saint-Germain, the French champions' pre-season is now over after a 1-0 loss to Real Madrid in Sweden. The defeat to former coach Carlo Ancelotti's Real side in Gothenburg, while hardly cause for concern since it was a narrow defeat, brings a less than satisfactory preparation period to a close.

- Real down PSG

"This match concludes our training camp in Sweden. Real were technically a bit better than us, especially in the first half," Laurent Blanc said after the game.

"The positive thing is that my players stood up to the challenge physically. They are starting to understand our new playing system. We carved out some good chances in the first half, but we struggled with our finishing."

Indeed they did, but that is something that won't be fixed overnight. There is a sense that Blanc is now trying to make up for vital lost time in pre-season after it became clear that the clash in Naples, originally scheduled as part of Ezequiel Lavezzi's transfer last summer, would not be happening.

After the long wait to discover who would take over from Ancelotti, the capital club opted for the Frenchman. 'Le President' then had precious little time to meet the team before flying out to Austria with a squad devoid of many internationals and the pre-season schedule disrupted because of prolonged Confederations Cup, World Cup qualifying or under-20 World Cup duty.

PSG then returned to Paris and spectacularly dipped into the transfer market three times in one week, only for Cavani, Lucas Digne and Marquinhos to then be unavailable for the tour of Zlatan Ibrahimovic's home country. The trio of players finally started training with their new teammates on Monday, but they only have three days to practice together before departing for Gabon for the Trophee des Champions.

The clash with Bordeaux in Libreville on Saturday is the traditional curtain raiser ahead of the official start of the Ligue 1 season one week later, but strictly speaking it is a competitive game. PSG have not won the trophy since 1998 when they beat Lens, three years after contesting and winning the first ever Trophee des Champions against Nantes.

If Blanc does not use his new boys in Libreville, the fifth time the showpiece event has been held outside of France, then the defending champions will enter the season needing to bed the trio in from scratch with the league underway. It is hardly ideal preparation ahead of the new campaign, where making a strong start will be imperative given the anticipated competition from Monaco in the coming year.

Talismanic striker Ibrahimovic suffered only the most minor of teething problems in Le Championnat, a goalless 45 minutes against Lorient before he roared into action to bag a second half double and salvage a 2-2 draw on opening day. It was not the same for Lavezzi who despite a full pre-season with the capital club, took his time to settle into the rhythm of French football.

The same could be true of Cavani and Marquinhos who are both coming from Serie A as well, although Digne should have no such problems and just has to worry about getting to know his new teammates. But while the Frenchman is not necessarily expected to immediately go into the starting line-up ahead of Maxwell, the Uruguayan and Brazilian will be, placing added emphasis on their involvement in Gabon ahead of next week's trip to Montpellier.

Saturday's defeat to Real Madrid in Sweden was Blanc's last chance to fine tune his team, but it is not like he even had a full squad to choose from in Gothenburg. Brazilian captain Thiago Silva, compatriot Lucas Moura and Italian goalkeeper Salvatore Sirigu all joined up with the squad just before or during the camp, and their involvement this pre-season has been limited.

Another match between now and the Trophee des Champions would perhaps have been more beneficial to the side.

By the time the 47-year-old gets his squad together in Gabon, those players who have only recently joined or re-joined the side will be at varying stages of readiness for the new campaign. But judging by the reaction to the struggles that Falcao and his new teammates are having with Monaco at present, the lack of preparation time will only serve to heighten the pressure on titleholders PSG and their new stars in particular.