Verr-fore-atti thou Marco?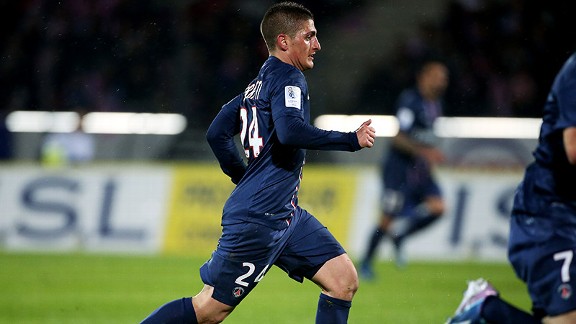 John Berry/Getty ImagesMarco Verratti's agent has said that reportedly his client either wants a big-time pay raise or a transfer away from PSG.
The issue of Paris Saint-Germain renewing Italian international Marco Verratti's contract is a fast-developing saga for the French champions.

The 20-year-old and his ambitious -- not to mention aggressive -- agent Donato Di Campli want a wage rise for the young midfielder who arrived at the Parc des Princes from Pescara last summer.

The latest twist in the tale is that the Azzurri sensation's representative has reportedly demanded a transfer should his client not receive the desired hike in salary.

- Report: Verratti requests transfer

On the face of it, there should be no problem.

Verratti has proven himself an immensely talented player, despite his considerable disciplinary issues, and was a regular member of Carlo Ancelotti's team last season. Interest in the 20-year-old is currently high; Napoli, Fiorentina and Juventus are among those thought to be most keen and Real Madrid have also been mentioned as possible suitors.

Verratti is a prodigious talent, but he is massively flawed by his attitude and mentality. A walking yellow card, the Italian was cautioned 11 times last season. Considering he made 23 starts, that is pretty much one every two matches. Witness his red card against Evian in April, and the running argument with then-coach Ancelotti that followed; it is clear that this precocious talent needs a strong hand.

The two-time Champions League winning manager, who was audible in his rage at his compatriot in Annecy, was heard shouting, "It's not the first time. I've already told you. It's always the same thing. Imbecile!"

However, the bad influence of his agent Di Campli must not be under-estimated in Verratti's situation.

The Italian representative's reaction to the deserved criticism that followed Verratti's dismissal at Evian, an extremely ill-tempered contest, was to accuse French football of trying to "criminalise" the young midfielder.

"You mustn't criminalise Marco. He's 20 and makes mistakes," Di Campli told Le Parisien.

"He was really annoyed with himself for what happened against Evian. But at the moment, people are only talking about his faults."

Of course there are as many, if not more, positives to Verratti than negatives.

But the issue with Di Campli's attitude is exactly the problem that PSG are struggling with at present in trying to keep their star players at the club. Verratti is yet another example of a player being over-coddled when instead he should be shown a firm hand.

The current situation at PSG has Thiago Silva, and possibly Zlatan Ibrahimovic, now getting paid extra money to stay put in the French capital. Hardly a ringing endorsement of an ambitious 'project.'

Verratti and Di Campli wanted a wage rise even before this dispute came along. But the arrival of Lucas Digne from Lille at an inflated price and an astronomical wage for a 20-year-old has only exacerbated the issue.

Players and agents are starting to rule the roost at PSG, and it says less and less about the French champions' 'project' and more and more about their ability to buy their star players' loyalty and interest.

That should absolutely not be the case with Verratti.

At 20 years old, with his sublime talent, the diminutive midfielder has the world at his feet and will undoubtedly become one of the world's best deep-lying creators in coming years. But he also has an over-inflated opinion of himself and his role within the PSG first team at present thanks to those around him.

Unfortunately, people don't want to upset him by telling him a few home truths, something Ancelotti was not afraid to do. Verratti is by no means a guaranteed starter going into the coming campaign based on last season's showings, and does not appear to realise that just yet.

He is not consistent enough to command a starting berth week in week out at present, and PSG are expected to further strengthen in that position before the end of the transfer window. That makes Verratti, and Di Campli's attitude in particular, all the richer.

Verratti was superb up until Christmas last year, after that he was extremely disappointing and put in some "naïve" performances in the words of Ancelotti who grew increasingly irritated by the player's behaviour as the season wore on.

At times on the pitch earlier this year, in the second half of the campaign, he resembled a headless chicken. He displayed indecision at key times that gave away his lack of experience, despite his emphatic potential and early international recognition.

Many forget that last year was his first experience of top-flight football at any level, but they also seem to be blinded by the romantic appeal of his fearless gung-ho approach to matches which is far from refined. Pescara were in Serie A last year, but Verratti left the Delfini before playing a single competitive match at that level.

PSG need the young prodigy to develop and mature, but crucially missed their opportunity to allow him to do so on-loan by immediately throwing him into the first team. Having made that leap, they must now persevere with him instead. Given that he is currently on relative peanuts at the club, a pay raise is in order, there is no doubt about that.

But despite current claims that it has no bearing on the negotiations, PSG are rightly reluctant to give Verratti such a considerable hike in pay without him proving that he has curbed his serious disciplinary shortfalls. The club's offer of double wages and perhaps a little extra is in-line with what the player should be paid at this time. However, the three-fold rise in salary that Di Campli is campaigning for is not deserved.

PSG may have the money to throw at Verratti and his agent, but that will teach the youngster nothing in the long run, further damaging his wicked potential.