Cavani arrives, Leonardo exits, PSG circus continues
"I am joining one of the biggest clubs in the world," Edinson Cavani said with some of his first words as a Paris Saint-Germain player Tuesday. "One that can win the Champions League."

PSG finally unveiled Cavani as their first signing of this summer's transfer window after an epic two-hour wait, setting a French transfer record at 64 million euros in the process. However, as that was happening, sporting director Leonardo was hastening his departure from the club.

-Cavani completes move to PSG
-Napoli chief: Signing 'ethically wrong'

In the circus manner than has become PSG's custom, the 120-minute delay that greeted the Parc des Princes audience was believed to be down to the club's attempts to unveil Marquinhos at the same time as Cavani. A double presentation would have been a massive statement of intent from the Ligue 1 champions, but they will have to wait for the Brazilian sensation a little longer instead.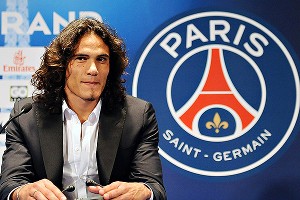 Antoine Antoniol/Getty ImagesEdinson Cavani's arrival at PSG was a brief break in the recent turmoil surrounding the club.
However, Cavani, from Uruguay, completed his highly anticipated move to Paris as PSG finally sprung into life after a difficult postseason transition period that has seen both Carlo Ancelotti and now Leonardo depart. Club president Nasser Al-Khelaifi put on a serious face and hailed his new signing's decision, but 'El Matador' arriving at the Parc des Princes is still only papering over the cracks for now.

"Leonardo's decision doesn't change our objectives," Al-Khelaifi said. Our main objective is to win the Champions League in the coming four years.

"The transfer of Edinson Cavani is further proof of the club's ability to attract the best players in the world.

"The player was seduced by the club's sporting project and is delighted to be joining an ambitious side."

Although Cavani, 26, had been in talks with the club for the best part of the last fortnight, the French champions could not hurry the deal through in time to steal Monaco's thunder last week when they unveiled star man Falcao. PSG have finally gotten their man though, persuading him to move to the Parc des Princes ahead of a host of other European suitors.

Cavani is an excellent addition to the PSG side; there can be no doubt about that. Since 2010 he has scored 78 goals in Serie A, more than any other player. His arrival, as the fifth most expensive player in football history, also ends the club's search for a natural second striker to play alongside Zlatan Ibrahimovic.

Or does it?

Unfortunately for Cavani, he arrives at the club during a time of turmoil and unclear leadership. Ancelotti has departed and Laurent Blanc has taken over, Leonardo has left with his job supposedly done after securing the Napoli man's signature. Since the Brazilian announced his resignation, PSG have struggled with daily stories of unrest, star players wanting out and an ambitious project suddenly imploding.

Those suggestions are obviously exaggerated -- otherwise Cavani would not have joined -- but the backdrop to his arrival is hardly a happy one.

Leonardo's resignation was not a surprise; in fact many anticipated it. But it was the timing more than anything that made it unexpected. It was reported that the 43-year-old's exit would spark further upheaval, but his expedited departure suggests he has now served his purpose. Al-Khelaifi also confirmed that the transfer was concluded by director Jean-Claude Blanc and not the Brazilian.

One of the key names that Leonardo lured to Paris last summer, Thiago Silva, recently pledged his future to the club through his agent and then again by speaking himself in Brazil earlier this week in an effort to control some of the hysteria currently surrounding PSG.

With so much speculation surrounding the Brazil captain, linking him with a move to Spanish giants Barcelona, PSG faced potential major collapse if Silva was to depart in the same summer as Ancelotti and Leonardo.

Swedish talisman Ibrahimovic has also been lined with a move away, but he has not committed as Silva did.

Thursday, the 31-year-old returns to training for the first time under Blanc and plenty is expected of the towering striker's first meeting with 'Le President' in a practice session that will be open to the media. Rumours have varied from Ibrahimovic pushing for a move away, to not returning Blanc's phone calls and then not turning up for his first scheduled day of training.

For now, Al-Khelaifi insists "of course Cavani was bought to play alongside Ibrahimovic," but also added a potentially key caveat by stating "but it is up to the coach to make the final decision."

That line could be interpreted as a nudge towards Blanc to ensure that he plays Ibra and Cavani together; it could also be construed as the Frenchman risking being made a scapegoat for the Swede's departure if it were to happen.

With such uncertainty, PSG have been reduced to something of a laughingstock in recent weeks. But the Cavani signing is a serious reminder to the rest of Europe that the French champions mean business and that, despite some considerable setbacks, are still well-placed at this time to challenge for European honours next year, as well as dominating the domestic landscape despite the emergence of Monaco.

Significantly, Cavani has been handed the No. 9 shirt. The Uruguayan follows in the footsteps of Pauleta, George Weah, Marco Simone and Julio Dely Valdes, all luminaries of the club and strikers who were particularly revered at the Parc des Princes.

The PSG circus has a new performer, but how much of a coup that deal will turn out to be depends on how the team's current star reacts to the new player's arrival, and whether the capital club can stem the tide of some recent negative publicity.