Is it all falling apart for PSG?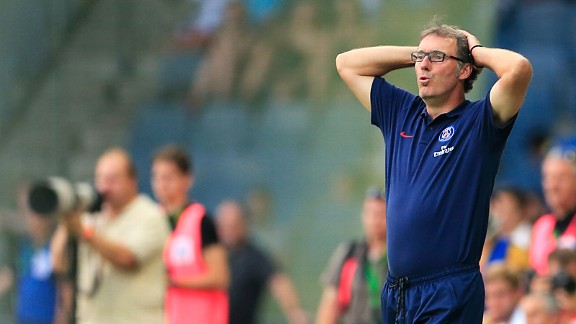 Alexander Klein/AFP/Getty ImagesLaurent Blanc has much tumult to navigate as new PSG manager.
It never rains but it pours, they say.

Following the dramatic resignation of sporting director Leonardo after his initial nine-month ban for pushing a referee was extended to a full year, a host of Paris Saint-Germain's star names are now being linked with exits.

Despite the impending arrival of Edinson Cavani, PSG's ambitious project is arguably in danger of a massive collapse given that the summer has already seen them lose coach Carlo Ancelotti and now Leonardo. That damage could be furthered by the losses of key men Zlatan Ibrahimovic and Thiago Silva, possibly others. "Catastrophe" is not a word thrown around lightly but it has surfaced a number of times in recent days in association with PSG.

"Whether the decision came from Leonardo himself or whether it was from the club with his agreement, it's a catastrophic moment to do it," former player and recruitment chief Alain Roche told RTL Radio of Leonardo's announcement. "It's complete instability. When you have Ancelotti deciding to leave even though he's at a club with an exceptional project, you have to ask yourself what's happening with the owners."

It was written in L'Equipe earlier in the week that only a "catastrophe" could prevent Edinson Cavani from joining PSG. Surely this qualifies as such a thing.

It may well be Leonardo who has organised the Uruguayan's transfer but it will fall to Jean-Claude Blanc to sign off on the deal. However since the 43-year-old's resignation, the supposed coup has become as tedious as PSG's search for a new coach earlier this summer. Despite reports that securing the deal was the Brazilian's last act before making his decision known, the capital club still lack the player's signature.

Should they secure it, there are an increasing number of reports that it has not been done with the consent of talisman Ibrahimovic. Given an extra 10 days off before returning to training, the Swede is supposedly pushing to secure a move to either Real Madrid or Manchester City. On top of that, it is believed he is not returning new coach Laurent Blanc's calls because of Cavani's imminent arrival.

Silva, meanwhile, is slightly different. Although he and his agent insist that stories linking him with a move to Barcelona are not true, the Brazilian international appears to have had his head turned by the rumours of a switch to the Catalan giants. That PSG are in discussions with Italian side Roma over his compatriot Marquinhos, allegedly a replacement for homesick defender Alex (and ironically an alternative Barca target), does not help the tension.

Who is next?

A number of domestic talents are also thought to be on their way out despite Blanc's best efforts to keep them. Kevin Gameiro and Clement Chantome have made no secret of their desire to quit the Parc des Princes. Mamadou Sakho is considering the offer of a new contract from the club but Blanc's suggestion that his situation from last season, a source of unhappiness, will not change puts his future in jeopardy.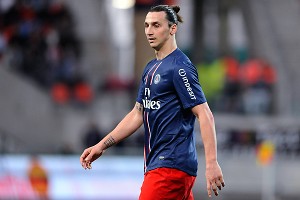 Getty ImagesNews of Edinson Cavani's arrival is tempered by the thought of Zlatan Ibrahimovic leaving.

Though poorly timed, Leonardo's resignation was not unexpected and arguably would not have caused so many problems had it been announced after the transfer window closes. But with six weeks left until the official end of the transfer period, the squad has plenty of time to engineer a departure.

It is thought that part of Leonardo's decision was due to a disagreement with club President Nasser Al-Khelaifi over the appointment of Blanc as Ancelotti's successor, preferring instead a big name. Le Parisien's detailing of the two-year deal 'Le President' has signed with the club has revealed a contract heavily weighted towards the first of his two obligated seasons. This suggests that not only was Blanc a decision above Leonardo's head, but that he is also an interim to all intents and purposes.

Therefore, it's no wonder then that Leonardo does not respect the decision made by PSG to bring in the Frenchman, possibly creating a position to continue their fantasy pursuit of Arsenal coach Arsene Wenger. The Gunners boss is reportedly ready to open talks over a new contract in North London but after this summer's farcical showing in Paris, he'd be mad to want to join the club in its current state.

The French champions are majorly lacking direction at present. The double blow of losing Ancelotti and now Leonardo has PSG reeling, but the threat of having Ibrahimovic and Silva demand moves is potentially fatal.

For a start, who could replace Leonardo?

Early suggestions include Jorge Valdano, the former Real Madrid sporting director, as well as David Beckham and David Ginola in advisory roles as opposed to the sporting director post to be vacated by the former Brazil international. But Al-Khelaifi insisted to L'Equipe recently that he will "take his time" and that "nothing can stop the club's growth."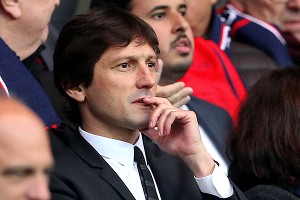 John Berry/Getty ImagesLeonardo's sudden exit as sporting director leaves a troubling void.

I wouldn't be so sure. The damaging search for a coach this summer left many questioning the club's leadership and ambition given that so many high-profile candidates rejected the role. In desperation after Leonardo was slapped with the nine-month ban, the capital club chose to appoint Blanc as coach and the decision has come to represent the club's current turmoil.

PSG have turned what was a serious and upwardly mobile project less than two months ago into an absolute circus. In April, PSG took the lead at the Camp Nou and looked set to eliminate Barcelona and reach the Champions League semi-finals. Although they would eventually lose on away goals, it seemed that the future was bright. This summer has killed all momentum that the club were enjoying and currently, it is difficult to see how they will recover.

The team have already made a slow start to their pre-season as a 3-1 defeat to Sturm Graz was followed by a fortuitous 2-1 win over Rapid Vienna. This implosion won't be a surprise to many, but what is most telling is that even some of the most hardened PSG fans are beginning to question the club's leadership under Al-Khelaifi.

Under the stewardship of Robin Leproux and Antoine Kombouare pre-Qatar Sports Investments, PSG were as affluent but at least had an intelligent transfer policy in place and solid, respectable leadership. That policy secured the transfers of both Blaise Matuidi and Jeremy Menez before handing the club over to QSI, players that could be among the next to leave if the club cannot right itself.

If PSG's "house that Leonardo built" is really made of cards, then the imminent departures of a number of players (not necessarily stars) could come back to haunt the club more than the big names who are expected to start pushing for moves away once they return to training.