Leonardo's last act is to bring in Cavani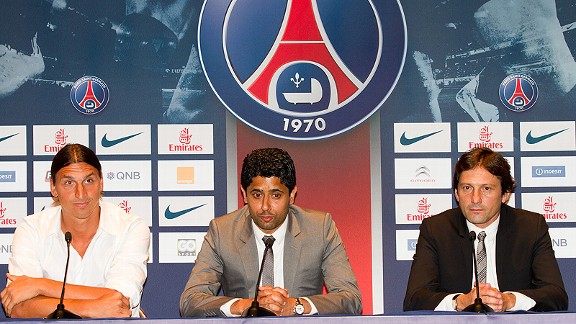 GettyImagesPSG sporting director Leonardo (right) has signed some star names, such as Zlatan Ibrahimovic (left), during his time with the club.
No sooner had he put the finishing touches to a deal to sign Edinson Cavani for Paris Saint-Germain, sporting director Leonardo tendered his resignation from his role with the capital club. Reluctantly accepted by the French champions, PSG will now part company with the Brazilian at the end of the current transfer window.

"We regret his choice but respect his decision," read the club's official press release. "We thank him greatly for his important contributions towards the project of building a top European club in Paris and wish him all the best for his future career choice."

- Leonardo to resign from PSG role
- 'Cavani capture would send message'

It is a move that was not wholly unexpected, but the timing of the news is surprising.

Shortly before PSG are expected to confirm the signing of Cavani, who will now become the personification of Leonardo's legacy in the French capital, the man who constructed the team in which the €60-plus million striker will operate has stood aside.

Last week, the 43-year-old saw an initial nine-month ban for pushing referee Alexandre Castro extended to 12 months, ruling him out of match days for the entirety of the upcoming season. Of course the ban does not prevent him from fulfilling the necessary functions in his position as sporting director, but the incident, along with a number of other issues last year, has damaged the reputation of the club.

Leonardo's retirement means his accomplishments and shortfalls will be under scrutiny in the next few weeks. Two years' worth of heavy investment, which has only garnered a solitary Ligue 1 trophy to date, will be judged.

The Cavani transfer deal aside, PSG's current team is made up of players that Leonardo has sourced from Italy, Brazil or who have played at clubs where he has been involved. Les Parisiens' star men -- Thiago Silva, Zlatan Ibrahimovic, Ezequiel Lavezzi, Lucas Moura and Javier Pastore -- were all recruited thanks to the former player's contacts.

However, those dealings have only met with a mixed amount of success. Ibrahimovic, Silva and Salvatore Sirigu have been massive hits at the Parc des Princes, but Lavezzi and Moura have had injury-hit starts to their PSG careers and Pastore has struggled to live up to the enormous price tag that Leonardo slapped on his head when buying him from Palermo. A number of other signings have not worked out.

Of the figure in excess of €200 million that the sporting director has spent on this side, very few can be considered smart business, at least for the moment. The players in question are talented, of course, but they have not yet shown on the pitch why Leonardo was prepared to spend such vast sums of money on them and brand them "a team not made for French football" back in March.

There is little doubt that PSG have never failed to capture the headlines during the Brazilian's stint in the French capital. But to consider his mission accomplished at present, at least in football terms, is wrong.

The issues surrounding Carlo Ancelotti's departure will also come back into focus.

The Italian has been quiet regarding his reasons for leaving the French champions so soon after winning a first title in 19 years. It has been thought that the power Leonardo holds at the club was a key factor behind Ancelotti's exit after Leonardo insisted on getting involved heavily in first-team matters last season, responsibilities that Ancelotti felt were his own to deal with.

Regardless of that right now, all the talk will focus on Cavani and whether or not Leonardo's exit will have any impact on his eventual signing. For the moment it appears that the Brazilian's final act was to secure the signature of the sought-after Uruguayan before handing in his resignation.

'El Matador' is certainly a fitting final big-money arrival for Leonardo to sign off on. If the 26-year-old has the desired effect it will be seen as a masterstroke and the sporting director's time at the club will be remembered fondly, no matter how questionable some of his business has been.

Should Cavani flop, however, the striker will become the biggest stick with which to beat the former AC and Inter Milan man's legacy. The Napoli man's arrival will only paper over the cracks of what has been a poor summer for PSG so far, following an embarrassing search for a new coach.

On top of that, the futures of Silva, Ibrahimovic and Lavezzi in particular now come into question once more. The Brazilian, who is set on a move to Barcelona according to the Spanish press, will especially be under intense scrutiny having credited Leonardo as the reason for signing for the club.

The best way to sweep all of this under the carpet, though, is to announce a big-money signing to distract attention. That is exactly what Edinson Cavani will do, one day after Monaco officially unveiled record signing Radamel Falcao.

But while their Ligue 1 rivals' summer is "over" according to the Monegasque club, it appears that PSG's is just beginning.