PSG close in on Cavani, deal imminent
When Paris Saint-Germain sporting director Leonardo missed the court appeal over his initial nine-month ban for pushing referee Alexandre Castro last week it was because he was "negotiating with a great player", according to club officials.

The "great" player in question is Edinson Cavani, as everybody suspected.

PSG moved quickly, towards the end of last week, once it became clear that negotiations with a player of the highest calibre were underway. Leonardo was then reported to have met with Napoli president Aurelio de Laurentiis to discuss the Uruguayan international, and by Sunday, according to L'Equipe, a deal was complete barring a "catastrophe".

- 'Cavani capture would send message'
- Leonardo confident over Cavani deal

Leonardo, currently on holiday in Ischia in the Gulf of Naples, confirmed the club's intentions to sign the predatory striker known as 'the Matador' over the weekend.

"We presented De Laurentiis with an offer that I consider to be very interesting," he told Il Mattino newspaper. "The negotiations are on-going. We're still in contact and there could be news in the coming days."

Palermo president Maurizio Zamparini, whose now-Serie B club is owed a slice of any fee that Napoli recoup on their original €17 million investment, went as far as congratulating the Partenopei on their business, telling the Italian press that Cavani to PSG is "a done deal".

Famous last words perhaps? Well, it looks unlikely that the deal will be stopped.

The French champions' new coach Laurent Blanc was nonchalant last week over the club's reported interest in the 26-year-old.

"If he was part of the PSG squad, I'd be happy. That player would interest quite a few coaches," he told the press gathered at his team's pre-season training camp in Stegersbach, Austria.

However, that stance has now changed greatly after Blanc told L'Equipe over the weekend that PSG's interest in Cavani is genuine, and that he would represent a substantial coup for the club.

"It's true that the club is following this player," the 47-year-old said. "We're not the only ones chasing him. If we could hit the jackpot it would be, number 1, a great coup in sporting terms. Number 2, it would be a big signal sent to PSG's potential rivals in France and in Europe."

With Monaco having dominated the headlines in France so far this summer with the captures of Radamel Falcao, James Rodriguez and Joao Moutinho, PSG faded away as they frantically searched for a successor to Carlo Ancelotti. Now with 'Le President' appointed as the Italian's replacement, the capital club have been able to finally put their grand plans for this summer's transfer window into action.

Although the news of Cavani's potential arrival is being greeted with excitement in the capital, questions are now being asked over the future of Cavani's striker partner-to-be, Zlatan Ibrahimovic. The club appear intent on playing the prolific pair together, but news of PSG's desire to sign Cavani has once again sparked speculation that Swedish talisman Ibrahimovic could look to leave the Parc des Princes after a successful, but solitary, season in the French capital.

"Yes, they are compatible," Blanc told L'Equipe. "Cavani is a generous player, who has an important presence in front of goal. In terms of their profile, they are complementary. As they are two big players, normally, they should get on. After that, there will maybe be ego problems to sort out. The club should come before everything else."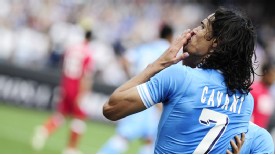 GettyImagesEdinson Cavani: Napoli forward Expected to complete move to PSG this week
The former France national coach added that he hoped to sign "three to five" new players, including another left-back, but his comments do hint that there could be possible tension should Cavani arrive.

However, there was no such indication from Ibrahimovic's agent Mino Raiola when he gave his thoughts on the potential deal last week.

"Certainly, Cavani and Ibra would form a great duo, although even I could play with Zlatan - he's the best," Raiola told Gazzetta dello Sport. "It is 100% sure that Ibrahimovic will stay at PSG. The buying of Cavani demonstrates PSG's desire to build a dream attack."

The significance of Raiola's comments is that PSG appear to have already run the idea past Ibrahimovic and his outspoken agent. With the Swedish international's blessing, it seems the 31-year-old acknowledges the need for the French champions to bring in a natural second striker.

Despite the largely positive reaction to the news that PSG are close to signing the former Palermo man, Ciro Ferrara is one a handful of Italian football luminaries to have spoken out against the possible deal.

"With all the respect for my friend Laurent Blanc (the pair played together at Napoli), PSG don't have the same attraction as Real Madrid and Chelsea," Ferrara told Corriere dello Sport. "If I were to choose, I would certainly not go to Paris," added the former Juventus and Sampdoria coach.

The deal is not only stirring up animosity in Italy though, figures in French football have voiced their opinions too. Frederic Guerra, the agent of highly rated Lyon midfielder Maxime Gonalons, who was believed to be in discussions with Napoli over a potential transfer, suggested that PSG were interested in Cavani out of greed and not necessity.

"PSG could have got a deal," the agent told Le Parisien. "But their egos led them to want to break records for the most expensive French transfer."

"Monaco spent €60 million for Falcao. It's like those billionaires who want a yacht three meters longer than someone else just to show they are wealthier."

He may have a point in that the clubs are now set to be locked in a battle of one-upmanship with each other until there is one clear winner, but there can be no doubt that PSG are currently in the lead with regards to that.

Guerra's bleating sounds like sour grapes considering how difficult Lyon President Jean-Michel Aulas has made it for Gonalons to join Monaco or Napoli this summer.

PSG should brace themselves for more vitriol though if they do manage to complete the signing of Cavani, reportedly set for Tuesday, as the financial struggles of their Ligue 1 rivals are further exacerbated.