Leonardo ban extended -- is time up for the Brazilian at PSG?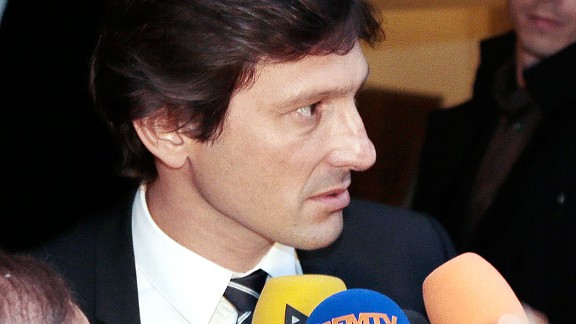 JACQUES DEMARTHON/AFP/Getty ImagesLeonardo's time at PSG could be coming to an end very soon.
When Paris Saint-Germain sporting director Leonardo decided to miss Wednesday's appeal hearing against a nine-month ban for pushing referee Alexandre Castro, the Brazilian was taking a massive gamble. That decision, in order to negotiate with "a great player" according to club officials, back-fired like many others in his two-year spell in the French capital.

But no flop purchases could have done so as spectacularly as this one.

An initial ruling handed the Brazilian a nine-month ban, including all access to the technical area and interaction with players and staff on match days. But after PSG's appeal against the decision, the French Football League (LFP) has instead slapped him with an extended ban of 12 months on Thursday.

- Leonardo ban extended

Having previously faced a suspension that would have seen him back in action by February and thus not completely missing the coming season, the new sanction rules Leonardo out of the entire approaching campaign. Although the ban will not directly affect his day-to-day role as sporting director at the club, it severely weakens his position in the French capital and has caused the club massive public embarrassment.

The question now is whether this is the end for Leonardo's association with PSG.

In the search for a new coach, the club's hierarchy put their faith in the Brazilian to find the successor to Carlo Ancelotti. Indeed, he was part of the initial talks that led the Italian to push for an eventual divorce from the French champions. It was believed that the club actually favoured naming him interim coach to replace long-time friend Ancelotti, in order for Qatar Sports Investments to continue their pursuit of fantasy signing Arsene Wenger.

Having done so while waiting for the outcome of the appeal that was eventually delayed, Laurent Blanc's unveiling as coach had to be expedited and there is a chance that the Parisians have backed the wrong horse.

Leonardo was the perfect initial appointment for the role; the club were desperate for glitz and glamour to raise their immediate profile when they arrived on the scene in the French capital. A former PSG player, albeit for one solitary season, the club identified his strong ties with the likes of now-fallen Brazilian superstar Kaka, offering him the chance to shape QSI's ambitious project in need of star talent.

That was enough to lure the Brazilian from his comfortable life in Italy, coaching Inter Milan, arriving after drawn out negotiations that suggested that he was not entirely sold on the idea.

Looking back at Leonardo's achievements to date, it would be unfair to say that he has been a failure with PSG.

In fact, the highlights of his tenure so far include the signings of the likes of Zlatan Ibrahimovic, Thiago Silva, Salvatore Sirigu, and to a lesser extent Lucas Moura and Marco Verratti -- all massive hits at the Parc des Princes. Those five arrivals in particular (Blaise Matuidi's arrival had been agreed upon by the previous regime before Leonardo was appointed) would not have happened without his massive influence in both Italy and Brazil.

Ancelotti's appointment itself was also down to the Brazilian's close ties with the Italian. But delve a little deeper, and some of the other ins and outs his role has been responsible for, as well as subsequent decisions, unearth some ill-advised business.

Hit or miss transfers are part and parcel of modern day football club management; not every signing will work out no matter how talented the player. For every Ibrahimovic, Silva or Sirigu, there is a Momo Sissoko, Diego Lugano or Gregory van der Wiel: all players who have struggled to live up to expectations so far.

Thiago Motta and Ezequiel Lavezzi were good investments on paper, but those gambles have not yet fully paid off because both have been injury prone. There is nothing that Leonardo could have done about that.

But he could have prevented Lavezzi's left-sided predecessor and compatriot Nene, PSG's outstanding talent from the pre-QSI era and someone with something left to offer at 31 years old, from being unceremoniously shown the door in January.

His role in Ancelotti's departure is also questionable.

Leonardo was present at the conversation between the Italian and club President Nasser Al-Khelaifi before the two-time Champions League winner announced his intention to leave the club. It had been thought prior to those showdown talks that Ancelotti was keen to limit Leonardo's influence on first team affairs, particularly on match day, something that his ban ironically now guarantees.

However, the 43-year-old's greatest disappointment has been electing the signing of Argentine playmaker Javier Pastore to herald the dawning of a new era for the club.

After fleetingly impressing in the capital, the former Palermo man has been mediocre at best despite some rare, though important, moments of magic. PSG fans can be forgiven for their fierce loyalty to Pastore as the first "big" name to join the club for an inflated fee as the project took shape, and for initially trusting Leonardo to deliver the goods.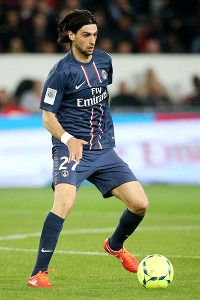 John Berry/Getty ImagesLeonardo's signing of the much-heralded Javier Pastore has been a bust.
The Brazilian did eventually succeed with PSG winning a first Ligue 1 title in 19 years at the second time of asking, thanks to what has been seen in some quarters as the arrival of his "mates" from Serie A. But the case of Pastore is one such instance upon which Leonardo can, and should, be judged. There can be no convincing argument thus far that the Argentine international has been a definite success in Ligue 1.

If anything, 'El Flaco' has been considered 'El Flopo' so far and that failure reflects on Leonardo.

Add to that his comments after a disappointing 1-0 defeat to struggling Reims towards the end of last season, one of a number of similarly disappointing results, when the Brazilian appeared to bemoan the team he had created at high cost.

"PSG is a team for Europe, not for France," he protested in the face of criticism.

"We are not designed to play these type of matches."

Again, after another frustrating performance from the team that he put together, this time a 1-1 draw with Valenciennes at the Parc des Princes in May, Leonardo barged into referee Castro after the match. The Frenchman had controversially sent off PSG captain Thiago Silva during the match and the sporting director was captured on camera, not only barging into Castro, but also being dragged away by Al-Khelaifi.

He protested his innocence before the club appealed the LFP's initial ruling, a process that resulted in Castro receiving death threats. There can be no doubt that Castro had an appalling match that evening, but Leonardo's actions appeared to mask something more sinister. It is almost like he wanted to be dismissed.

That incident was swiftly followed by a well-publicised bust-up with star man Ibrahimovic in the wake of PSG's title win at Lyon, and the Brazilian collapsing on the journey back to the capital due to "stress" made it seem like his days were finally numbered.

Of course there is plenty for which PSG must be grateful to Leonardo. So much would not have been possible without his influence, and dismissing him without substantial justification would be harsh. Also there is a sense of bad sportsmanship in kicking a man when he is down, even if the Brazilian's problems are of his own making.

But there is a growing feeling that the club's owners could finally be growing tired of his sideshow act.