PSG out to put club back on map with Cavani bid
Paris Saint-Germain want Napoli's prolific Uruguayan striker Edinson Cavani and, according to reports in the UK press, have lodged a bid of €50 million to get their man. Premier League giants Chelsea are also believed to have tabled an offer, but are refusing to meet the €63 million (£54 million) release clause. The 26-year-old's high price is also believed to have put off the likes of Manchester City and has Real Madrid thinking twice.

Money is less of an object for PSG and having finally returned to training with new-coach Laurent Blanc in charge, the French club are able to get their transfer plans back on track.

- Video: Cavani has heart set on Prem Lge
- PSG start life without Ancelotti
- Cavani agent 'in PSG talks'

Cavani's agent apparently met the capital club's sporting director Leonardo in Paris on Monday, but reports as early as April suggested that Leonardo had been in touch with Napoli to prepare the ground for a summer bid. That bid, and a number of others, had to be delayed because of the uncertainty surrounding PSG's new coach.

As a result, newly-promoted Monaco have stole a march on PSG and earned the respect of the continent's elite, financially at least, by splashing over €130 million on the likes of Radamel Falcao, James Rodriguez and Joao Moutinho. Even if a proposed change in legislation is implemented, forcing Les Monegasques to run their business out of France instead of the tax-exempt Principality, those three deals have already massively enhanced Monaco's reputation.

It has also pushed PSG to the back of everyone's minds in Ligue 1, despite the Parisiens sealing a first title in 19 years in May.

There is a feeling that, as Les Rouge-et-Bleu's search for a new coach dragged on, they became the forgotten men in France as Monaco stole the limelight immediately after sealing their promotion from the second tier.

The two-way battle between the two affluent sides for talented Lille teenager Lucas Digne illustrates the challenge that Monaco are presenting PSG.

The left-back is currently on Under-20 World Cup duty with France, in Turkey, and is thought to be mulling offers from both sides. But the Ligue 1 champions would have been able to secure his signing ahead of time had there not been such uncertainty surrounding the Parc des Princes hot seat.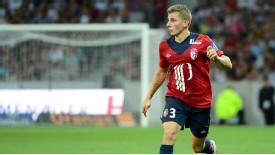 PA PhotosPSG and Monaco are battling to sign Lille defender Lucas Digne
But Monaco coach Claudio Ranieri is realistic and realises that, despite the impressive trio of new arrivals, challenging PSG is still a long way off given the disparity between the two squads.

"I hope other players are going to come," Ranieri told the media at his squad's pre-season training camp in Italy. "I hope we'll have a great season.

"I know that a lot is expected of us, but it's not possible to draw a comparison with PSG."

Ranieri singled out Colombian predator Falcao as his side's key player, much like PSG's star man is Zlatan Ibrahimovic.

"With Falcao, we'll start our matches 1-0 up," declared the Italian confidently.

That may be the case, psychologically speaking, but after a season in which Ibrahimovic scored 30 league goals in just 34 matches, the PSG striker has set the benchmark high for Falcao follow. The addition of Cavani to the Parisien ranks would make competition for the honour of being Ligue 1's top goalscorer even greater.

But the potential move for Cavani is not just designed to reassert PSG's power on domestic competition. It would also take a swipe at European rivals Chelsea, Manchester City and particularly Real Madrid.

Carlo Ancelotti's move to the Spanish capital was a huge coup for Los Blancos, and one that the French champions desperately wanted to avoid in order to underline their strong credentials on the continent. Cavani is believed to be a top target for Real after failing to lure Falcao from rivals Atletico, but the Uruguayan represents the perfect riposte for PSG to answer the Spanish giants' poaching of Ancelotti with.

As the French side are more than capable of meeting Napoli's massive release clause for Cavani, PSG are in the best position to sign the player.

In doing so, they would demonstrate to their domestic and European rivals that the club are still a force to be reckoned with, despite Ancelotti's departure. On the pitch, the move would arguably remedy the solitary position in the team's starting line-up that proved overly problematic last season: an attacking foil for Ibrahimovic.

Should Blanc elect to continue to use the 4-2-2-2 formation that Ancelotti eventually found success with last year, making only a few minor adjustments to suit his entertaining style, Cavani alongside the Swede would arguably make PSG genuine contenders for the Champions League title.

Of course, a deal is far from done at present.

But for now, PSG have temporarily been knocked off of top billing in France. Before the transfer window closes at the end of August, they will be keen on reasserting their position as France's most talked about side and one of Europe's up and coming powerhouses.