Blanc's to-do list at Paris Saint-Germain
The lack of fans gathered at the Parc des Princes for Laurent Blanc's unveiling as Paris Saint-Germain coach Thursday was indicative of the challenge he will face in the French capital.

Now that the dust has settled on his appointment and the club know who will be leading them next season, the man known as 'Le President' is starting to learn just how difficult a task he faces.

-PSG chief: Blanc's the right man
-Show your worth, says Platini
-Cantona backing for Blanc
-Holyman: Things to get right

Winning people over, namely fans, is an absolute priority for Blanc given his history as a former Marseille player. The 47-year-old's arrival with a somewhat-damaged reputation after the France debacle in Euro 2012 has also contributed toward the muted reception in Paris.

However, he appeared to accept he was nobody's first choice, saying, "It's not a problem not to be top of the list. The most important thing is to be chosen."

To his credit, he largely hit right notes during his unveiling.

"I'm very proud to coach a club like PSG," the 1998 World Cup and Euro 2000 winner declared. "It's an exciting challenge, but a difficult one too. I will put everything into trying to achieve the objectives that will be set and serve up a beautiful spectacle. As you know, I like good football."

Despite appearing in control and happy with his new position, there is a sense Leonardo is still calling the shots. Blanc suggesting he has to OK new backroom staff arrivals with the Brazilian before going ahead with any additions is perhaps indicative of the real flow of power at the Parc des Princes.

With preseason training getting underway on Monday, Blanc has a number of immediate tasks to take care of.

Actually meeting the players and making a good impression is first and foremost, and he will get that chance early next week when the team reports, minus Thiago Silva, Lucas Moura and Salvatore Sirigu, who have been on Confederations Cup duty.

Blanc singled out Zlatan Ibrahimovic as one of the team's star talents, and the Frenchman's first meeting with the prolific Swedish international will be vital to his hopes of winning over the dressing room.

"He's an important player for PSG," Blanc said. "He'll need coaching just the same as the others. He's proven that he's a great player and a great professional."

"I hope he'll be an example to others. He's one of the leaders."

It won't just be gaining the respect of experienced players familiar with his achievements like Ibra that is the only challenge. The former Bordeaux coach will also need to educate the likes of the talented but relatively inexperienced Moura of his pedigree.

The Brazilian, back in his homeland for the Confederations Cup, recently said he is not too familiar with Blanc.

"A new coach is always a challenge for all the players," he said.

"Blanc is a great name for sure and I can't wait to meet him. But I will have to ask some of my Brazilian teammates for more information about him first."

Next on the agenda will be transfer targets and negotiations in and out of the club.

Lille's talented young left-back Lucas Digne was believed to be close to sealing a switch to the capital club pending Blanc's say-so, but newly promoted Monaco have now reportedly shown interest in the Frenchman.

Should Les Monegasques snatch the 19-year-old from under PSG's noses, the club's prolonged search for a new coach will have cost them a valuable domestic talent.

It is also believed that Blanc favours a move for Newcastle midfielder Yohan Cabaye, who performed well for Les Bleus under the former France coach. Such a move would mean making space for him in an already overcrowded midfield with Mohamed Sissoko, Mathieu Bodmer and perhaps now even Thiago Motta all surplus to requirements.

According to Toulouse coach Alain Casanova, talented young midfielder Adrien Rabiot has reportedly been told he will not be re-joining Toulouse on loan. This begs the question of whether PSG intend to give him a chance, as Ancelotti showed he was willing to do last year, or sell him outright despite only being 18.

Either way, Blanc will need to see him up close before making a decision.

Then comes the issue of staff.

Ancelotti has taken trusted assistants Paul Clement and Giovanni Mauri with him to Madrid, while Claude Makelele has taken a more hands-on coaching role at PSG and Blanc's perennial assistant Jean-Louis Gasset has come in to replace Englishman Clement.

Blanc suggested Thursday he would have to OK staff proposals with Leonardo. Sitting down with the Brazilian as early as possible and finalising his technical staff is a pressing matter.

Getting players into training and finding the best formation to get the team playing attractive, winning football immediately will only be possible once this happens.

It sounds like an easy task with PSG's squad brimming with talent, but Ancelotti struggled at times to accommodate certain players, particularly Javier Pastore, and Blanc will face the same problem.

The Frenchman was confronted by a similar situation at Bordeaux with enigmatic talent Yoann Gourcuff and came out winning; he will need to do the same at PSG but much faster than he did at the Stade Chaban-Delmas.

Finally there is the issue of domestic players.

Blanc will be faced with a number of potentially problematic situations with a variety of players who experienced mixed fortunes under him with the national side.

Kevin Gameiro could yet be swayed from leaving, as it was Blanc who persuaded him to join PSG to boost his chances of international recognition. But Blaise Matuidi and Mamadou Sakho were largely overlooked by the coach with Les Bleus, though they have since become important members of the national first team.

Clement Chantome is another important domestic talent, particularly in terms of club identity, and Blanc will have to fully analyse all their merits before making decisions on the futures of the three French internationals.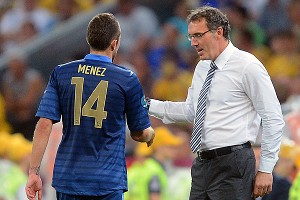 PatrickHertzog/AFP/GettyImagesJeremy Menez's controversial history with the French national team when Laurent Blanc was the manager adds a bit of drama to their new relationship at PSG.
The most intriguing confrontation will be with Euro 2012 troublemaker Jeremy Menez.

The 26-year-old was among the players guilty of misbehaving in Ukraine and Poland and received a ban after France's exit.

Despite being viewed as an important part of Blanc's French team plans, he was a negative influence off the pitch and acted unprofessionally the last time he played under Blanc against Spain.

"I don't know whether I want to extend my contract or not," Menez recently told L'Equipe. "I'm waiting to see whether the board really counts on me.

"Yes I gave a bad impression against Spain but I apologised, and things have always gone well between Laurent Blanc and myself. He knows me, he knows how to use me."

If Blanc's goal of a French-speaking dressing room is to be achieved, the current crop of underrated talent already within PSG's ranks will be an important asset.

But if PSG, which open the Ligue 1 season Aug. 9 at Montpellier, start poorly, then all of Blanc's other efforts will prove futile. He will be spared no pity as a former Marseille man and must win the fans over with results alone, starting immediately.