PSG get their man… finally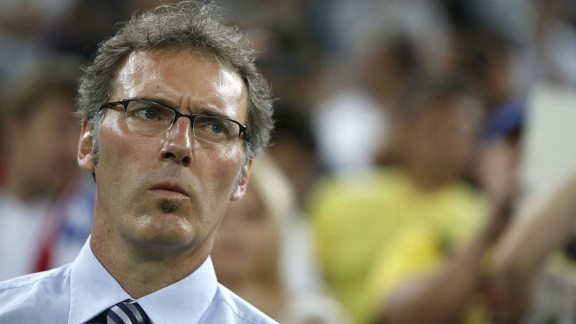 PA PhotosLaurent Blanc: Not the star name PSG wanted but he has credibility
After over a month of searching for Carlo Ancelotti's replacement, Paris Saint-Germain finally found their man. In a process that included no less than 10 realistic candidates, the team signed Laurent Blanc this week to a two-year contract.

Having been rebuffed by numerous others, most recently by Russia coach Fabio Capello -- who was unable to free himself from his contract in Eastern Europe -- PSG settled for the former Bordeaux and France coach. The decision has been met with tepid reaction, to say the least, as Blanc was hardly the big-name appointment expected.

- Real hire Ancelotti, Blanc joins PSG

Blanc is a far cry from the impressive hire thought necessary to earn the respect of the team's players and build on PSG's upward trajectory. Not only that, but Blanc did not even seem to be on the capital club's initial managerial shortlist. He was close to taking over at Roma before the Italians opted for Lille's Rudi Garcia instead.

But credibility, at least in France, should not be a problem for the 47-year-old.

Firstly, Blanc is French, a "qualification" seen as vital in the eyes of many fans. He also has the respect of many in the European game, given his World Cup and European Championship-winning achievements.

He held an impressive record with Les Girondins and had them playing exceptional football, somehow getting the best out of enigmatic characters such as Yoann Gourcuff. The same skill will be required at PSG when dealing with the likes of Argentine international Javier Pastore.

That too, Blanc won 57% of his top-flight matches as the coach of Bordeaux, the best ratio in the club's decorated history.

However, those past claims will extend only so far in the PSG dressing room.

Questions remain about his ability to gain the trust of strong characters such as Zlatan Ibrahimovic and Thiago Silva. Although the pair have claimed -- through their agents -- that they are happy with the appointment, Blanc will have to learn fast from his previous mistakes with France.

Speaking with Journal du Dimanche, the Ibrahimovic's agent Mino Raiola said, "Laurent Blanc is a big name, we're going to respect him. I've said it, and I repeat: Zlatan is staying at PSG."

The stains on Blanc's resume stem mostly from his time in charge of the national side. Under his reign, Les Bleus came up short at Euro 2012. He also suffered a well-documented falling-out with players on that team.

By accepting the PSG job, many have suggested that the former defender is jumping out of the frying pan and into the fire.

His past association with bitter rivals Marseille, though short and largely unsuccessful, will also be a massive bone of contention among fans.

Despite the fact that the partnership was brief -- between 1997 and 1999 -- and towards the twilight of his career, it will simply be another obstacle to overcome.

However, it must be remembered that Blanc's star was rapidly rising just three years ago. At that time, he had led Bordeaux to its first domestic title in a decade, before leaving the Gironde for the national side.

Some might question his relative lack of coaching experience, but Blanc's achievements speak for themselves.

Christophe Dugarry, a former 1998 World Cup and 2000 European Championship winner alongside Blanc, believes that the potential ego problem at PSG is overblown.

"This story about stars' egos, it's completely stupid. Those who cause problems are fake good players, the guy who thinks he's better than he is because he's had two good games and his entourage tell him he's the new Zidane," the former Bordeaux, Marseille and Barcelona star said.

"Those who play at PSG, the Ibrahimovic's, the Thiago Silva's and the others, are guys who know the importance of dialogue and respect of the coach. Laurent won't have problems with them. PSG's players are perfectly manageable, and Laurent knows that. PSG isn't a club that's ruined by egos. There are other clubs like that, but not there."

Whether Dugarry's words will prove true remains to be seen. For now, it appears that Blanc will be welcomed with open arms.

The appointment, though, does feel a touch underwhelming, given the caliber of other names mentioned to fill the vacancy. The likes of Capello, Jose Mourinho, Andre Villas-Boas, Rafael Benitez and Guus Hiddink were all reportedly approached.

Had the deal with Blanc been announced immediately, fans undoubtedly would have been more open to the idea than they are now. But after an exhaustive search period without success, it feels as though PSG have settled for the last baguette in the supermarket.

The other suspicion -- and a valid one at that -- is that Blanc is simply keeping the Parc des Princes seat warm for Arsenal coach Arsene Wenger.

Why else would he accept a short-term deal when others had turned it down?

The Gunners boss has long been reported as a target of PSG's Qatari owners. Blanc's one-year deal with an option for a second must be an insurance policy, allowing the club to keep dreaming of Wenger leading the side in 2014.

Blanc's appointment, though, could turn out to be a blessing in disguise. With such low expectations, he could surprise everyone.

Granted, that might not be so straightforward with the emergence of Monaco as a genuine threat domestically and the dangerous precedent set with the team's impressive Champions League performance under Ancelotti.

However, one positive thing we can expect from Blanc's tenure is a renewed focus on domestic talent. That process will likely start with the arrival of Lille's talented, teenage left-back Lucas Digne, who is currently away on Under-20 World Cup duty with France.

With a coach now secure, PSG can at last push ahead with plans for the new season. After such a tedious waiting period, that closure -- more than the choice itself -- may be the best thing for the club.