When can PSG expect to see the best of Moura?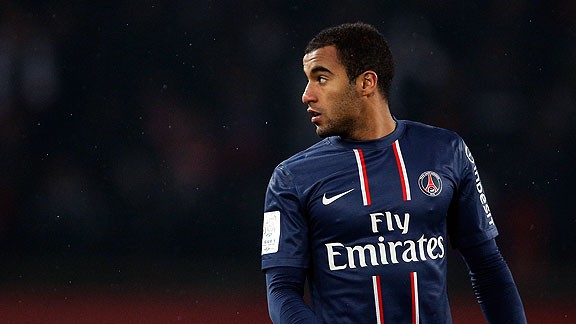 Dean Mouhtaropoulos/Getty ImagesPSG supporters want Lucas Moura to be more involved when the next Ligue 1 season gets underway.
It was hard not to think, as Brazil's Lucas Moura coolly slotted his stoppage-time penalty kick against France past Hugo Lloris in Porto Alegre last Saturday, that the sight of him running off to celebrate a goal is one that Paris Saint-Germain have not yet grown accustomed to. Six months into his stay in the French capital, and the 20-year-old Brazilian sensation has a no-goal against PSG's bitter rivals Marseille and a handful of assists to show for his early foray in Ligue 1.

The samba star has hardly set the world alight since arriving from South American giants Sao Paulo for a whopping 45 million euros in January. But, realistically he was never going to live up the ludicrous expectations that the side from the capital had signed "the next Lionel Messi." It may not have been the spectacular start that everyone was anticipating, but rightly nobody has started getting on the youngster's back yet because there have been glimpses of his astonishing talent in the 15 appearances he has made for the club.

PSG's managerial situation has been taking centre stage of late, but a number of the club's star talents will be on display at the Confederations Cup over the next fortnight in Moura's homeland. However, by the time that Lucas and Thiago Silva are finished, the rest of the club's senior players will be coming back from their summer holiday as the pair head off on theirs -- hardly ideal preparation after Moura's half-season.

But it is not that he has been bad so far in his time at the Parc des Princes, far from it in fact.

The early signs were very good; an all-action debut in a frustrating goalless draw at home to Ajaccio was followed by a 1-0 victory at Bordeaux, in the toughest possible circumstances for a newcomer after the death of Head of Performance Nick Broad, in which he provided the crucial assist for Zlatan Ibrahimovic.

It was his performance at Toulouse a few matches later that really set the pulses racing though. The Brazilian was at his whirling best, with 90 minutes of pure running and trickery capped by two superb assists for a headed double by Ibrahimovic and Mamadou Sakho.

It was an electric demonstration of a precocious talent, and one that the club had done fantastically to poach from under the noses of Sir Alex Ferguson and Manchester United. That was to be pretty much the zenith of his time at PSG so far, but if he repeats that calibre of performance next season, then European football will surely have a new darling.

Injuries derailed him a bit after that bright opening spell, and he missed over a month of action at the end of the campaign before reappearing for the final game of the season at Lorient.

Being played despite injury was evidently a difficult experience for him, not least in 'Le Classique' against Marseille. It was quickly obvious that he was nowhere near match-fit for the David Beckham debut bonanza, but despite that, he thought he had scored an 11th-minute opener in a 2-0 win until his effort was judged as a Nicolas N'Koulou own goal. Images of him nursing a heavily-iced ankle against Troyes in April, his second-to-last performance of the season, was evidence he was not fully fit and had been playing through the pain barrier the whole time since.

The sublime Champions League performance at Valencia that contrasted so wildly with his muted showings in the two legs against Barcelona where he looked jaded is a further taste of things to come when he returns for PSG fully fit. That is not being overly critical of him, it must also be remembered that he arrived in Doha (where he was unveiled mid-season) on the back of a successful extended season in Brazil, only to immediately be thrown into an attritional title race when a gradual introduction would have perhaps been more ideal.

The current Confederations Cup is a blessing and a curse for PSG in that respect. On one hand it is excellent to have another Brazilian international selected alongside Silva, and likely a second member of the Selecao or the World Cup on home soil next year. It is a ringing endorsement for the club's achievements in the past two years to boast such talents.

On the other, particularly in the case of Moura, it is the prolonging of a long and arduous period without a break and that has been physically taxing. The pair's late arrival for pre-season training will be frustrating for whoever replaces outgoing coach Carlo Ancelotti later this month.

If rumours are to be believed though, Corinthians midfielder and compatriot Paulinho or Lazio's Hernanes, another samba star, could join the duo in the French capital at the start of the new season. A new coach though remains a stronger priority for the Parisians right now. Tottenham's Andre Villas-Boas' Portuguese could come in handy if he ends up taking Ancelotti's place on the PSG bench. But whoever it may be, Moura and Silva will be undoubtedly figure heavily in their plans.

"All Brazilian players have the dream to become the best player in the world and I am no different," the soon to be 21-year-old declared upon his arrival in Doha in January. "I will fight to achieve this ambition and to become number one!"

That is a goal likely shared by another Brazilian teammate and prodigy who will be plying his trade in Catalonia in the near future.

A fully fit and reinvigorated Moura could be PSG's best "new" signing ahead of the new campaign, regardless of whoever else may walk through the door. But ahead of a season where new Barcelona arrival Neymar will no doubt be the talk of Europe as his first foray into Europe comes under intense scrutiny, Moura could benefit from flying under the radar to enjoy a highly productive year ahead of next summer's showpiece in Brazil.