Managerial uncertainty gives PSG hope of keeping domestic talent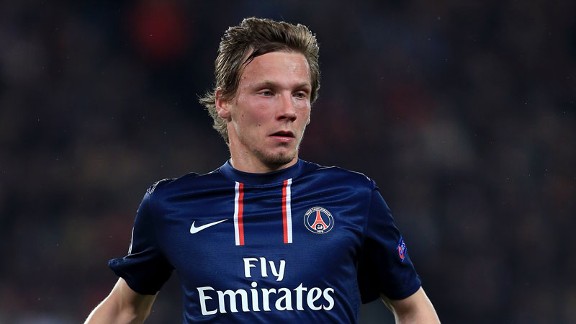 GettyImagesAcademy product Clement Chantome is considering a move away from PSG
"Marseille are a big club, their interest makes me happy," said Paris Saint-Germain midfielder Clement Chantome in an interview with France Football earlier in the week.

His words will have had a chilling effect on the French champions' hardcore support base, as there are few sentences more likely to strike fear into the hearts of PSG fans than hearing one of their own players saying that about their loathed rivals OM. Not least one who has come through the youth academy, after joining as a 13-year-old.

But that is the situation Chantome finds himself in, although he is not the only one.

A number of the capital club's French players have made their frustrations known at various points in the season and are now considering a move away from the Parc des Princes as a result of falling down the pecking order under Carlo Ancelotti. But the Italian's uncertain future, one that surely now lies at Real Madrid, means that the club are currently stymied with regards to incoming transfers until a resolution is found. However, with Ancelotti's exit seemingly imminent, those who were set on leaving earlier this year are now thinking twice.

Chantome, regarding his situation, continued: "After last season, I feel that I have experienced what I wanted to with the club.

"I want to leave PSG but if I have to stay, I will do it with pride. I want to experience something else. PSG is not my whole life.

"I want to play in the Champions League and in big matches. I also want to be a candidate for the French national team again."

It might be painful to hear, but it is hard to disagree with the man who has given PSG 12 years of loyal service.

Chantome, despite making almost 40 appearances in all competitions this season (a vast improvement from last year), has been overlooked for many of the team's key matches, particularly in Europe. Although they might not have given the side from the capital the same length of their careers, Kevin Gameiro and Jeremy Menez are also in similar situations.

Gameiro has made over 30 appearances this season, but rarely as a starter. In fact, the 26-year-old only started on seven occasions in the league and despite that he scored eight goals and finished the season as PSG's second-highest goal scorer. His frustration came to a head when substituted early for a second consecutive match away at Troyes in April. Reacting angrily after being replaced by Thiago Motta, he kicked out at a water bottle before audibly shouting "it is the same thing every time!"

Quizzed days afterwards on the topic of Gameiro's future, sporting director Leonardo said: "I hope he does not leave. He has scored some vital goals this season. Without him we would be nine points worse off."

The Brazilian makes an important point.

Without Gameiro, victories over Sochaux, Reims and Montpellier, not forgetting former club Lorient on the final day, would not have happened. The Frenchman contributed 12 important points that without would have left PSG on the same total as runners-up Marseille.

Menez is in a similar position, but was a regular starter in Ancelotti's teams until the arrival of Lucas Moura in January.

The French international made 42 appearances in all competitions during the season, and despite his five goals and seven assists in the league not matching last year's seven goals and 12 assists, he only started 24 of this term's matches compared to 33 last. Essentially, he was more effective this year. Menez also laid on six of Zlatan Ibrahimovic's 35 goals in all competitions this campaign, more than any other team-mate.

The 26-year-old's situation reached boiling point in the Champions League in February when he was due to replace the injured new boy Moura shortly after half-time in Valencia. Despite being asked to warm up early on, was not introduced until much later in the match.

Menez revealed his disappointment after the 2-1 victory in Valencia: "I need to feel I'm trusted here and the day that I no longer feel that, a solution will have to be found.

"We'll see what the club want to do at the end of the season. Everyone has to make an effort, and perhaps I have to do more."

Menez, to his credit, fulfilled his part of the bargain and the club continued to use him, although he did pick up a reckless suspension for insulting referee Tony Chapron in the home clash with Nice. That landed him a four-match suspension that carries on into next season.

Despite having played a big role this year, not least netting the goal that officially sealed the title at Lyon, the former Roma man has been linked with moves back to Italy with Inter Milan and former club Monaco.

Mamadou Sakho is different to the trio in that he is even more a part of the PSG furniture and has already captained the side despite only being 23-years-old. Having seen himself overlooked by Ancelotti in favour of the cumbersome Brazilian Alex for certain big matches, the youth academy product told the French press he would consider his situation in the summer.

Sakho revealed to L'Equipe earlier in the year: "Next season will be important with the World Cup. It's been a tricky year-and-a-half in Paris. I'm 23, and to continue improving, I need to play all the time.

"Of course, PSG are my club, I feel at home here. But if there comes a time when I have to leave to flourish, especially if I'm pushed towards the exit, it's clear that I have to think of my career.

"In the mind of the current PSG coach, I know I'm third choice. I've accepted it, even if I don't really understand it."

Sakho might be saved by the fact that Alex is reported to be homesick, meaning that the capital club will likely view the French international as a crucial part of starting XI next season, although it is merited on performance alone.

But in terms of Les Bleus, this season is an important one for PSG's entire domestic contingent.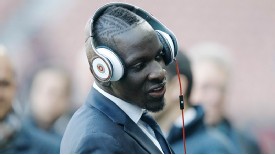 GettyImagesMamadou Sakho "is the future of the club" according to PSG assistant coach Claude Makelele.
With the World Cup in Brazil just under one year away, Chantome was recognised by France coach Didier Deschamps this season but needs regular big games in the capital. Menez and Sakho are different, they are already an important part of Deschamps' plans, but they need to play regularly too to ensure that they don't lose their places. Gameiro on the other hand, has not even been considered for France since June 2011, despite a dearth of attacking options facing Deschamps.

Current PSG assistant coach Claude Makelele summed up the players' situation best when talking about Sakho's dilemma earlier this year.

"Mamadou is the future of the club," Makelele told Le Parisien. "It is impossible for him to leave. Of course he needs to hear that he is important but sometimes he has to remain quiet. Mamadou cannot act like a child and ask for affection anymore. He is a professional.

"The more Mamadou performs on the pitch, the more it will be impossible to not play him."

The same goes for the entire current French contingent. Every French member of this current side is important, but they also have to accept that intense competition is what is necessary to take PSG to the next level.

Christophe Jallet is another regular in the French setup. But after losing the captaincy to Thiago Silva last season, there is no guarantee that he will continue to start regularly after Dutch right back Gregory van der Wiel showed signs of improvements towards the end of the campaign.

With PSG's seemingly vacant coaching position still under scrutiny, Guus Hiddink and Roberto Mancini appear to be the favourites for the role, although former France and Bordeaux boss Laurent Blanc remains possibility despite denying being approached.

The two former names arguably offer a greater sense continuity ahead of next season. But as far as Chantome, Gameiro, Menez and Sakho are concerned; perhaps the appointment of a coach like Blanc, someone who champions the value of domestic talent, would be more appealing.

If the situation remains the same under a new coach, particularly for Gameiro who unfortunately cannot expect his situation to change with Ibrahimovic still at the club, then some players have no choice but to leave.

However, it is wrong for the club to dispose of the likes of Chantome and Menez that easily, and not just from a domestic bias point of view regarding European football.

It goes further than that.

Not only is there club identity at stake on the subject of Chantome and Sakho, but there is also the plain and simple fact that some of these players are a better option for the future than some of their competitors currently at the club.

Thiago Motta and Alex were brought in as players that Ancelotti could trust and, although both are valuable members of the first-team squad, they are no longer guaranteed starters over the likes of Sakho and Chantome.

Motta's injury-hit last year in Paris has opened to the door to the talented though erratic, Marco Verratti, who Chantome has proven himself more reliable than. Sakho has shown regularly that he is more of an all-round presence, and at least a physical equal, to an ageing and clumsy Alex. Menez has also proven his worth up top, out of position, as well as out wide where Javier Pastore has mainly been deployed, despite being a central-based player.

The current uncertainty surrounding the coaching position is doing PSG few favours, but one positive that can be taken from the situation is that it is allowing everyone plenty of time to reflect on last season.

PSG's French contingent in particular needed that time as they are still struggling to come to terms with their altered, though still highly valuable, roles in the team. Had the summer continued unchecked by the Ancelotti situation, the majority of those stars would probably have left before the start of the coming campaign. Now, having had time to put things into perspective, some of those domestic talents that form the spine of this PSG side, but often go unsung, could yet stay in the French capital next season.