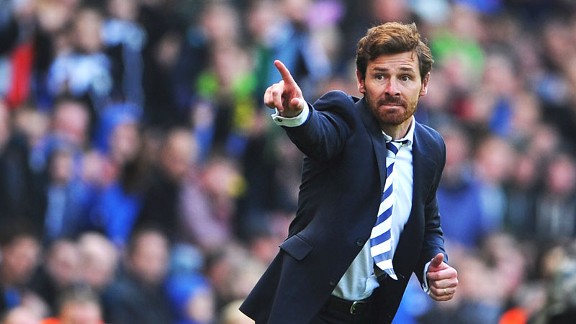 Michael Regan/Getty ImagesTottenham Hotspur boss Andre Villas-Boas has not yet spent more than one year as coach of a particular club
Shortly after being rejected by Anzhi Makhachkala boss Guus Hiddink, who elected to sign an extended contract in Russia, Paris Saint-Germain turned their attentions to a new candidate to replace wantaway coach Carlo Ancelotti. Late on Tuesday night a story surfaced in the Daily Mail that the side from the French capital had made initial contact with Tottenham Hotspur's Andre Villas-Boas in London, those claims were quickly backed up by a number of English, and then Italian, journalists.

With PSG now apparently chasing the former Porto and Chelsea man, he becomes the ninth candidate that the French champions are thought to have considered this summer after Hiddink, Arsene Wenger, Jose Mourinho, Walter Mazzarri, Rafael Benitez, Manuel Pellegrini, Fabio Capello and Roberto Mancini. The latter is still considered to be a possibility, but Ancelotti is proving a difficult man to replace.

- PSG consider AVB approach - reports
- Blanc coy on PSG, Roma links

Shortly before informing the club that he wished to leave the Parc des Princes, the Italian posed this question during a press conference: "I came here for a project. In fact, I want to understand: Did I come here for a project or for results? That's my question."

The fact that Ancelotti immediately requested to leave the club after meeting with president Nasser Al-Khelaifi and sporting director Leonardo indicates that it was a negative answer to that question. However, it is the resulting managerial merry-go-round that really demonstrates that this is no longer an ambitious project built to last, but simply a results-based venture, with no real long-term direction, that demands immediate success.

As a result of this drawn-out pursuit of a replacement for Ancelotti, the club are losing face and a considerable amount of damage has already been done to their ambitions of long-term success. Everything surrounding PSG, at present, appears to be mired in the short term, and for the club to even approach such a number of highly rated tacticians only to come away empty-handed every time suggests that there is something not quite right about the position on offer in Paris.

The idea of an interim replacement is something that has surfaced in recent weeks, with Leonardo looking the favourite to land the job depending on the outcome of his appeal over a nine-month ban for barging into a referee. Indeed, had he not been caught up in the debacle, PSG may well have already named the Brazilian their temporary coach, allowing Ancelotti to join Real Madrid, while PSG wait for Wenger to become available in 2014, and the capital club could push forward with their plans for next season.

But an ambitious pursuit of Arsenal coach Wenger, it seems, has become an unhealthy obsession for the club's hierarchy. In its current state, the team is a highly attractive proposition; they are league winners, a vibrant side with some top-quality talent, Champions League football is guaranteed and they have a lot of money to spend. However, nobody is willing to take the job and that is likely because they have been told that they will be nothing more than an interim coach, keeping the Parc des Princes hot seat warm for Wenger when his Arsenal contract expires next summer.

There is of course no guarantee that the Frenchman will even take the position, and recent speculation suggests that the Gunners are going to try to tie him down to a new contract before the end of the year. Should that happen, PSG would be made to look foolish if they do eventually find someone to fill the void left by Ancelotti on a temporary basis, as their openly public swooning over the former Monaco chief only strengthens his negotiating power in North London.

The fact that the PSG job now appears less of a long-term project and more a results-based position will be a turn-off for Wenger in itself. Currently the club are actually killing all chances that they might have potentially had to snare Wenger at a later date by openly demonstrating that they are no longer following the path that they laid out for themselves.

As for Villas-Boas and PSG, if the interest is genuine and there is a chance that PSG are prepared to overcome their short-sightedness to focus on the situation in hand, then the Portuguese is an interesting candidate for the long-term. 'Mini-Mourinho' has proved his credentials with Spurs this season, even though they eventually failed to qualify for the Champions League, after a damaging spell with Chelsea.

However, despite being the youngest coach to ever win a European trophy and having enjoyed immense success in a relatively short space of time at Porto, the 35-year-old has yet to stay at any club for more than one year. That may not have been entirely his choice each time, but PSG now find themselves in the odd position of being interested in a coach who, like his mentor Mourinho, does not stick around for long, but also of trying to persuade a man with a proven track record of short-term success to take on a long-term role.

The idea might be a nonstarter if PSG offer Villas-Boas the same interim role as the others, but if they play the long game the Portuguese may well be tempted, especially if Spurs have no choice in the matter and the reported €10 million release clause (seven and a half of which might be recouped if Ancelotti joins Real) is exercised.

Until that happens though, it is all a case of ifs, buts and maybes. Currently Ancelotti is the one with most at stake here. The longer PSG and Real are at odds over his compensation cost, the closer it pushes the Spaniards to naming someone else, perhaps Zinedine Zidane, as coach instead. It also makes the possibility of Ancelotti keeping the job in Paris that he desperately wants rid of much greater.

With the club's indecision leading players such as Zlatan Ibrahimovic and Thiago Silva to now consider their future once they return from holiday, PSG need to act fast and make a definitive decision that is not just designed to keep alive their hopes of one day capturing Wenger.