Heynckes 'no' to Real Madrid puts pressure on PSG and Ancelotti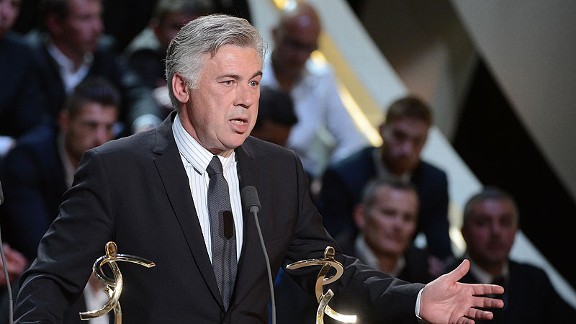 Frank Fife/AFP/Getty ImagesCarlo Ancelotti wants to join Real Madrid, PSG want him to stay
The decision by treble-winning Bayern Munich coach Jupp Heynckes to take a break from football means he has firmly closed the door on Real Madrid. The German's confirmation of his desire to wait before potentially taking on another coaching role has a significant knock-on effect on Paris Saint-Germain.

With the club and current coach Carlo Ancelotti in limbo following the Italian's request to leave after securing PSG's first Ligue 1 title in 19 years, Heynckes has made the two-time Champions League winner's departure more likely. The outgoing Bayern coach also hinted that the Spanish giants' interest was real, meaning that Ancelotti staying in Paris had been a strong possibility until this point.

- Heynckes to take break, not join Real
- Perez: Zidane could replace Mourinho
- Ancelotti awaits future resolution

"I will go on holiday now," said Heynckes in a televised press conference. "I am not fickle but other clubs were interested in signing me. The rich clubs where money does not matter, and other clubs where I could have spent time in the sun."

Perhaps most tellingly though, he followed that up with this:

"And also one club that right now is not on a level with Bayern that stands out internationally. But I will go on holiday and will not work in Germany or abroad from July 1."

Both Bayern and Real are European heavyweights, but there is no comparison between the two when it comes to current competitiveness on the continental stage. Heynckes suggesting that Los Blancos were keen to welcome him back to the Santiago Bernabeu for a second spell in charge, having led them to the 1998 Champions League title in his solitary season in Madrid.

The removal of the German from the equation puts PSG and Ancelotti, who has also been sounded out by Real, back under pressure. Nasser Al-Khelaifi and Leonardo have dug their heels in and now have even fewer possible replacements to choose from after the better of the unattached candidates for the job have already taken new posts.

Ancelotti's future had been a source of speculation months before the season even finished, but since he confirmed his desire to leave Paris the scrutiny has increased. The future of a number of players in the squad are reported to be linked to the 53-year-old's future plans, despite the club and those players insisting that they will remain in the French capital regardless of his decision.

Zlatan Ibrahimovic, currently on international duty with Sweden, seems to have accepted the situation. The towering striker is one of those reported players and had this to say when quizzed on the subject of Ancelotti's future in Stockholm on Tuesday.

"It's about what he wants, I must respect his and the club's future decision," he said.

One potential solution to the problem, which would have enabled the club to allow Ancelotti to leave, against their wishes, but also to keep the current squad intact, would have been for sporting director Leonardo to take over on the bench as an interim coach.

That potential avenue has now been closed though by the Brazilian's nine-month, handed down for pushing referee Alexandre Castro following PSG's 1-1 draw with Valenciennes.

On Leonardo's suspension, Ibrahimovic defended his colleague in typical Ibra fashion, despite recent reports that the pair's relationship had soured.

"They should have banned the referee for nine months instead," he told the Swedish press.

The only potential saviour could be legendary French footballer Zinedine Zidane, a former Real Madrid player and now sporting director in the Spanish capital. In a press conference moments after Heynckes' had ended, Real President Florentino Perez claimed that the former Bordeaux and Cannes player has what it takes to take control at Real.

"Zidane could be the coach," he said. "He has the qualifications and he is a Madridista.

"We have not yet thought about it because we have been very scrupulous with the steps. But he fulfils all the requirements, for sure."

The news will fill PSG and the capital club's fans with some hope, but in reality the likelihood of Zidane taking over at the Bernabeu should still be regarded as slim.

As Perez said in the same conference: "I do not want to say that it is risky, but he needs to be battle-hardened."

With Heynckes now out of the race, the onus is on the French champions to come to a compromise. There is little point in keeping a coach who does not want to be at the club in Paris, despite the lack of suitable options available.

Keeping an unhappy player at the club is different to keeping an unhappy coach. You can take the player out of the team, limiting his role and ensuring that he does not play a key role again until he has resolved his issues with his employers. The same cannot be said of a coach, he can't be dropped or disciplined because of the influence that he has for every game.

The emergence of Monaco as a genuine domestic threat, despite how long it will likely take them to gel as a unit, puts extra pressure on the side from the capital to make a decision. PSG can ill-afford to start the season with an unhappy Ancelotti having been forced to stay; it would almost certainly prompt an early-season coaching change that could seriously harm their chances of defending the title.

Continuity is a key part of any winning strategy, just look at Heynckes' progress at Bayern between this season and last, and it is the PSG hierarchy's failure to grasp this concept that has put them in the position in the first place. The time has come to make their choice and to stick with it, or to risk the club's ambitious project falling apart at the seams.