A fond farewell to "Mr PSG", Sylvain Armand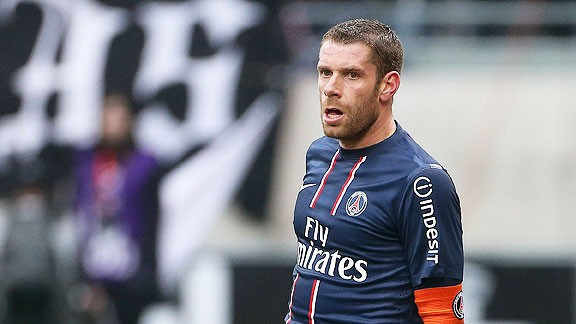 John Berry/Getty ImagesSylvain Armand was a stalwart for Paris Saint-Germain over the course of nine seasons.
After nine years in the French capital, Paris Saint-Germain will bid farewell to their longest-serving player, Sylvain Armand, after it was announced on Monday that the 32-year-old is to join Philippe Montanier's Rennes. The former Nantes man is one of the respected elder statesmen of the current side, and one of a limited few whose commitment to the Rouge-et-Bleu cause stretched over the past decade. After finally landing a second Ligue 1 title of his career this past season, to add to his first with Les Canaris in 2001, Armand will take his leave of the Parc des Princes.

- Lugano ready for PSG return

Of course that won't be the last time that PSG see the player who started his career with this season's Coupe de la Ligue winners and hometown club Saint-Etienne all the way back in 1994. He will likely return to the capital with former Real Sociedad coach Montanier's new side as part of an ambitious project driven by youth, but aided by a few canny signings from the French tactician.

Armand is the first of those sage investments.

Since joining PSG in 2004, the versatile left-footed defender has been a dependable presence on Les Parisiens' back line. No player in the team deserves the title "Mr PSG" quite as much as Armand for his nine seasons of service, although Mamdou Sakho runs him close and will certainly take over the mantle.

He joined the club in 2004, when the side from the capital were under the command of Bosnian coach Vahid Halilhodzic and in the Champions League. Eight years later he competed in Europe's top club competition once again as PSG made an impressive return. Immediately, he was a consistent performer for the side, despite the club's largely inconsistent performances in the seasons after his arrival, and he became a leader both on and off the pitch, later being named captain.

Perhaps he will be best remembered for the crunching tackle that he made on Marseille's former PSG player Fabrice Fiorese in a fondly remembered 'Classique' encounter in Paris. Fiorese had controversially left the capital club for their bitter rivals as soon as Armand had joined the club. It was a raw topic to say the least when he returned to Paris in November 2004 shortly after making the move, and having already received a Luis Figo-esque welcome from the irate PSG fans, Amand dished out perhaps the best possible retribution on behalf of the Parc des Princes.

The hosts went on to win the match 2-1 thanks to a sensational strike from Pauleta and a rare Edouard Cisse goal, but Armand left his mark on France's most prestigious club clash and became an instant PSG hero. But it was his continued commitment to the club, through good times and bad, that has endeared him so much to the club's fans. He has seen European football in the capital, but also almost tasted heart-breaking relegation as well as a number of domestic cup triumphs along the way.

However, the pinnacle of his PSG career will be winning the club's first Ligue 1 title in 19 years earlier this season, something that had been his objective since arriving in the capital in 2004.

"It was a beautiful moment for me," he told the club's official website. "I think it has an added importance because I have been chasing it for nine years since I arrived at this club."

"I have remained patient, even if we won other titles over the years, and I have had some fantastic experiences here."

Indeed Armand had plenty of opportunities to leave the capital for more potential success, but stayed loyal to the club and was finally rewarded with the victory that was confirmed in Lyon last month. The title triumph is a testament to his staying power, given that the club also suggested to him to leave last season, but the player insisted that he wanted to remain in Paris to finally taste success with his beloved PSG.

"The victory has a special taste. I experienced some extraordinary things this year and before, like going to play in Barcelona. Even if things have not always been easy, it has been a fantastic season."

My personal memories of Armand hold him in the highest esteem. From the moment he arrived in the capital, playing behind Jerome Rothen on the left flank, you could tell that he was a PSG stalwart in the making. In fact, he never made fewer than 20 league appearances until this season when he was used just 18 times. He was committed, brave, composed and fantastically consistent and his left-sided defensive partnership with another former Nantes player, the Colombian Mario Yepes, should have been better rewarded. While others moved on, he stayed -- though sometimes to the detriment of his career – all while showing the sheer determination to bring PSG victory.

He finally did that this season and departs the French capital with one Ligue 1, one Coupe de la Ligue and two Coupe de France titles to his name.

Although it is sad to see a club legend leave, the likes of Sakho, Clement Chantome and Blaise Matuidi will surely pick up the baton.

Merci Sylvain!