PSG - France's forgotten men, or are they?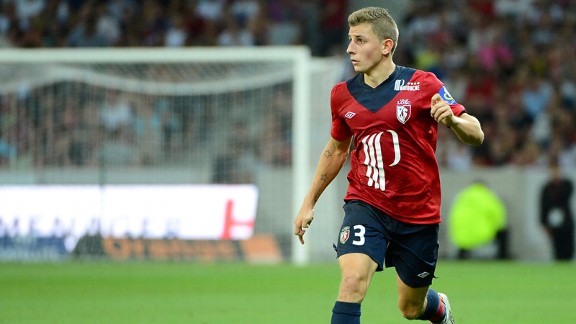 PA PhotosLeft-back Lucas Digne is swapping Lille for PSG
With Monaco dominating the headlines in French football since the end of the domestic season, Paris Saint-Germain have taken a back seat through their lack of transfer activity so far. While the Principality outfit have been splashing their cash on the likes of Falcao, Joao Moutinho and James Rodriguez, the side from the capital have been focused on resolving their issues with want away coach Carlo Ancelotti, who is wanted by Real Madrid.

So far, the closest PSG look to be towards making a signing is that of Lille left-back Lucas Digne. The 19-year-old Frenchman is a rising star in Ligue 1 and is a current youth international although he is yet to make his breakthrough at senior level. Les Dogues look resigned to losing the marauding defender who has become an integral part of Rudi Garcia's side, and with the news that the coach is supposedly off to pastures new, Digne would be a shrewd investment for Les Parisiens should they complete the deal - despite the premium pricing policy adopted by PSG and Monaco's Ligue 1 opponents so far.

- PSG tell Rooney to 'name his price'

Indeed sporting director Leonardo had warned earlier this year that this summer's transfer window would be quieter than normal and that PSG would be looking closer to home for new talent. "The market is opening up," he said. "The idea of seeing great French players here is something that I like."

A move for Digne is in-line with that policy and would also be a sensible move as it allows Maxwell to be rotated next season, something that was not possible with Siaka Tiene as back-up. The Brazilian enjoyed a strong season at left back, but at times was asked to play when others were being rested. He coped admirably and performed well both domestically and in Europe, but PSG need better cover in a number of positions next season and left-back is a good place to start.

As well as speaking about his desire to boost the capital club's domestic bias within the side, Leonardo also said: "I do not rule out big signings, but only if there is a suitable opportunity."

It would appear that opportunity has presented itself this summer as the club have reportedly met with Wayne Rooney's representatives to discuss a possible move to France. The England international asked to leave Old Trafford towards the end of the season, and PSG president Nasser Al-Khelaifi is believed to be a big fan. However, any potential deal for Rooney, at this point, depends largely on the future of Ancelotti. Until it is clear whether he is staying or going, a big-money move like this cannot be completed.

So with Les Rouge-et-Bleu in limbo currently, the club need to wait for the Ancelotti-Real Madrid issue to be resolved and, if it does, then take care of their own ties with the Italian depending on the outcome. Until then, PSG fans will have to get used to the sight of Monaco welcoming a new star name on a weekly basis, although it should be remembered that this has been the capital club's privilege over their Ligue 1 rivals since the club was taken over by Qatar Sports Investments in 2011.

PSG also don't necessarily need to splash into the transfer market that much depending on who leaves this summer. If the club are able to keep a hold of their star talents, only letting go of some of the peripheral players, the team will be in a very strong position at the start of next season. Monaco are buying in a plethora of new talents, but those new arrivals will not necessarily gel immediately. PSG's players come into the season with the experience of having won the Ligue 1 title for a first time in 19 years last season, and will be favourites to do so again if the same side is kept intact.

A lot, of course, depends on Ancelotti, but for now the issue is out of PSG's hands. If Heynckes announces to the press that he is joining Real Madrid on Tuesday then the capital club have no problem and it is the Italian instead who has some tough decisions to make. If Heynckes elects to retire though, then the French champions have an important call to make over whether they continue to play hardball over their coveted coach.

Planning for the future with or without him either way makes it impossible for PSG to compete with Monaco's massive transfer dealings for now. Just don't expect the side from the capital to stay quiet for too long.