Paris Saint-Germain 2012/2013 Season Review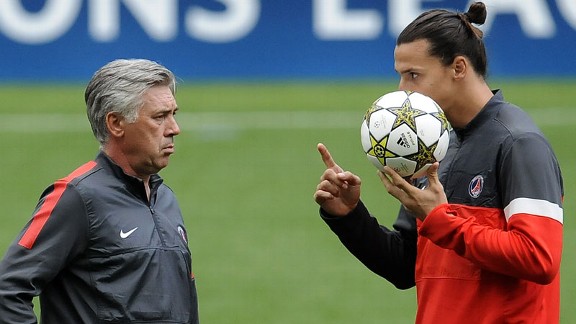 APZlatan Ibrahimovic: 35 goals and 14 assists in 45 games for PSG
Paris Saint-Germain's 2012/2013 season came to end with a 3-1 win over Lorient, and with a first title in 19 years finally sewn up, the French capital club can reflect on a successful campaign. This time last year, you'd have been hard pushed to find many people who could have predicted how this term would pan out. But after the disappointment of seeing Montpellier claim last season's Ligue 1 title, the club's ambitious project has really come to fruition in the past 12 months.

It has been an up and down campaign for PSG, with more ups than downs, but despite a relatively disappointing domestic trophy showing, the team's progress in Le Championnat and the Champions League has been impressive. Considering that this was a semi-new team after the additions of Zlatan Ibrahimovic, Thiago Silva, Ezequiel Lavezzi and eventually Lucas Moura, Carlo Ancelotti has done a sensational job of turning a top-heavy side into a fully functional unit. Ibrahimovic summed it up best when he recently said: "There are not many coaches who could do the same job." Once again the Swede is on the money.

- Ancelotti awaits future to be resolved

Ancelotti remains adamant that he wants to quit PSG this summer and that is the biggest negative to take from this season. The man who has made a first title since 1994 and genuine Champions League contention possible, having battled back from the brink of losing his job before Christmas last year, wants to leave. Replacing him will be very difficult indeed, but there is still a chance that he will be in charge at the Parc des Princes next season with the club firmly refusing to sanction his exit.

Although the Italian's potential departure is a big blow, it should not overshadow what has been an excellent second season under the ownership of Qatar Sports Investments.

Player of the Season:
Blaise Matuidi and Thiago Silva provided him with stiff competition, but Ligue 1 player of the year Ibrahimovic has to be PSG's player of the season. His incredible campaign ended with a haul of 30 goals and seven assists in the league alone, 35 goals and 14 assists in 45 games if you include all competitions, almost single-handedly leading Ancelotti's side to the title.

What a debut it has been in French football for the Swedish international and it almost ended in European success with PSG only getting eliminated in the Champions League quarter-finals on away goals by Barcelona. Often accused of being a selfish player, Ibra was able to lay on seven goals in Europe as well as his fantastic scoring feats in Le Championnat.

Equalling Jean-Pierre Papin's 30-goal haul from 1989/90 has also been an undoubted highlight.

Young Player of the Season:
Marco Verratti has had his ups and downs this season, but the young Italian has been a revelation considering that nobody was expecting him to play such a big part in the first team this year. Initially he was expected to go out on loan or be a bench player at best, but the 20-year-old took everyone by surprise, playing a major role from the first match of the season.

There are question marks over his temperament, this league campaign he has collected 11 yellow cards and one red, and his agent has even spoken out in defence of his client in the face of criticism of his aggression. But a nomination for this year's Ligue 1 young player of the year award was merited, in playing terms at least, particularly because of his early season form.

Losing out on the gong to Bastia's Florian Thauvin might be a good thing in the long run. Next season, under Ancelotti or another coach, he must continue to work on curbing his temper.

Surprise of the Season:
Unlucky not to be chosen as player of the season, Matuidi has been an absolute revelation in the midfield for PSG this year. After starting the first match of the campaign against Lorient on the bench, it looked like Matuidi was slipping out of favour at the Parc des Princes.

Since his 33-minute cameo against Les Merlus, the French international has gone on to become an indispensable member of Ancelotti and Didier Deschamps midfield at international level. Tenacious, hard working, composed and a leader, Matuidi has bossed the PSG midfield on the domestic and continental stages.

An absolute revelation because of his previously limited impact in his first season at the club, the 26-year-old is now considered as important to the team as Ibrahimovic, Silva or Lucas Moura. Had he not been up against Ibrahimovic, he'd have been player of the season.

Disappointment of the Season:
The biggest disappointment this season has arguably been PSG's inability to field more than 3.9 French players on average per match. Prior to QSI's arrival, championing domestic talent was not a problem for the capital club, but now even French internationals like Mamadou Sakho are struggling for consistent minutes.

Kevin Gameiro, in particular, has proved time and time again this season that he has been capable of playing more matches than he has been allowed, and eight goals in only seven starts can console him that he has done everything possible to break into Ancelotti's plans.

It would be unrealistic to have started ahead of Ibrahimovic regularly given the season the Swede had been having, but Gameiro expected to be involved more and there have been games that he should have started where he has found himself on the bench.

Highlight of the Season:
This season's main objective was to win a first Ligue 1 title in 19 years and that was achieved. After that the club wanted a respectable showing in the Champions League, they got that too. Admittedly they did not expect to exit both domestic cups before the final, but the progress Ancelotti's side have made in the league and Europe far outweighs domestic cup progress for now.

PSG have a pedigree to live up to and, with eight Coupe de France titles and three Coupe de la Ligue to their name, are one of France's most successful sides across both cups. Those performances this year will need to be improved next season, but neither cup was exactly a priority so it would be unfair to judge Ancelotti too harshly on that.

A first league success since 1994 and Champions League progress as far as the quarter-finals has been a good season's work.

Lowlight of the Season:
Although it is tempting to say the riots that interrupted the team's title celebrations in the aftermath of victory over Lyon, the bad patch of form pre-Christmas when Ancelotti came under-fire is probably the lowest point of the season. That run of matches, culminating in a 2-1 loss at Claude Puel's Nice, saw the Italian fighting for his job when PSG hosted Porto in the Champions league in early December.

Now that run looks costly as Ancelotti has not forgotten that the club were looking to replace him before he managed to turn things around.

What do PSG Need Next Season?
First and foremost, PSG need to take care of the current situation regarding Ancelotti. The players, the club and the fans are all unanimous in that the two-time Champions League winner is the best man for the job, but he looks set to leave and it would be difficult to keep a coach against his will.

An adequate replacement will be very hard to find as there are so few coaches of the same ilk, but the club need to try instead of handing over to sporting director Leonardo. Though the Brazilian cannot be faulted for his successful acquisitions, a number of the duds have been very disappointing. However, it appears that many at the club are losing patience with him, especially after his erratic behaviour towards the end of the season. His presence on the bench in place of Ancelotti could spark an exodus of players.

Outside of that, the club need to strengthen in a few keys areas. But otherwise, if the majority of the team stays intact, PSG can look at potentially bettering this season's achievements on the domestic and European fronts.

Another left-back to challenge Maxwell, a centre midfielder (possibly Etienne Capoue) and a striker to provide a natural foil for Ibrahimovic would all be welcome additions. Depending on who is released or leaves the club at the end of the season, some defensive reinforcements could also be needed.

Overall Score (out of 10):

7/10 - This season has been a big step forward for the capital club and the most tangible proof so far, that QSI's ambitious plans for success are on track. The league title and a Champions League quarter-final fulfilled two key objectives, but the disappointing showing in the domestic cups detracts a little from the campaign as a whole.

The club's dispute with Ancelotti over his future has marred the end of the season somewhat, but even so it has been an excellent 12 months for PSG. There is room for improvement, but after the final day misery last season when Montpellier snatched the championship, the 19-year wait for a Ligue 1 title is finally over and that was the club's priority this season.